Summer term classes have just started on campus, and I spotted Lily looking effortlessly chic on one particularly warm day. She stood out among the other students who were just in plain shorts and tank tops – her accessories really made the look! Read on to find out more about Lily.
Lily 101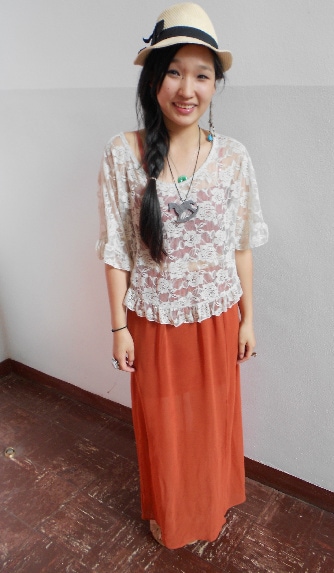 Name: Lily
College: Oregon State University
Major: Apparel Design, minor in Merchandising Management
Year: Senior, class of 2013
Let's Talk Fashion
Who or what inspires your style? "Nothing specifically. It's all really random. I do look at the designer shows on style.com a lot, and I'm really into colors that fit each season."
Where do you like to shop? "Around Corvallis, there is only Ross and TJ Maxx, not many options. But otherwise I like Modcloth, and then Forever 21 is really good because I get bored and go through my clothes a lot. That way, if it's not the best quality, it's okay because I won't wear it for very long anyway. "
How would you describe your sense of style? "Hmm, I would say my style is very girly and feminine."
Why did you choose this particular outfit? "I knew it was going to be hot today, so I wanted something flowy and not constricting. I always plan my outfits around where I'm going and the weather."
What fashion advice would you give to other students looking to improve their style? "Don't just wear sweats and UGG boots. Also leggings as pants, if you must, then at least find the right underwear! And pajamas in public are not okay."
What are you favorite trends right now? "I'm really into sheer and crop tops, also wedges and wrap bracelets. I love colored pants, especially on men. It really switches things up from regular jeans."
Who are your favorite designers? "Vera Wang, Derek Lam, and David Koma."
What do you like to do for fun? "I like hanging out with friends and watching movies, listening to music, also playing board games. It's kind of outrageous how much I play board games!"
Elements of Lily's Outfit
1. Eclectic Necklaces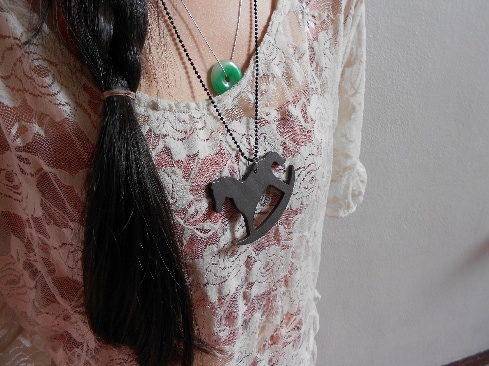 I love Lily's layered necklaces: The sweet rocking horse necklace brings youthful charm, while the shorter green pendant necklace adds extra interest and a pop of color.
2. Fedora Hat and Hook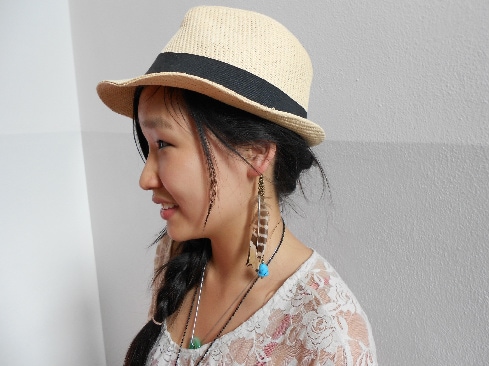 Lily's fedora, paired with a side braid, is super simple and yet looks so polished. The feather hook charm (a hook that wraps behind your ear) adds a boho twist to the other side of her head to balance the side braid.
3. Rings Galore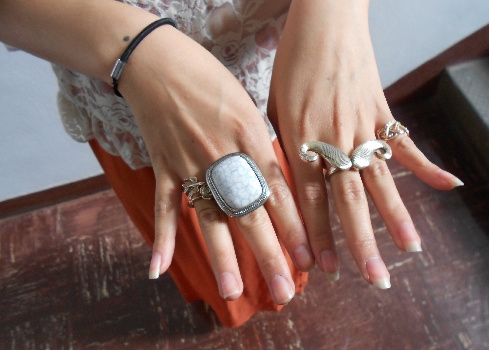 Multiple rings can really spice up an otherwise simple outfit. Look at how Lily wore a variety of very different rings, but they all seem to go together because of the antique gold color similarities. And how adorable is the mustache ring?!
4. Chic Wedges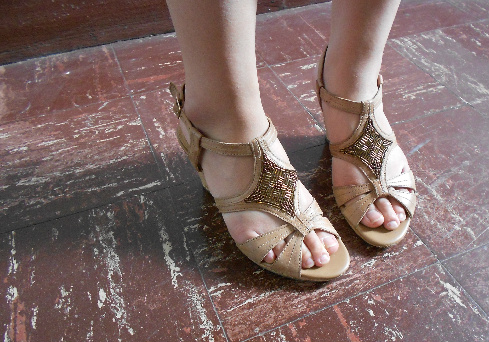 These tan wedge sandals with sparkly beading are very casual and sweet but still help pull the outfit together. The wedges are only an inch or two and Lily said they are so comfortable – low heels like these are a great way to dress up your look without sacrificing function.
What do you think?
What do you think about Lily's look? Would you wear a feather hook? Multiple rings? Are you rocking low heeled wedges this summer? Let us know with a comment!