It's that time of year again – the weather is finally heating up, and air conditioners across the country are turned up high. And as we all know, this means an extra challenge in the mornings: We not only need to dress for the sweltering weather, but also for sitting inside in ice cold buildings!
So when I saw Liberty rocking this look on campus a few weeks ago, I knew I had to take her photo for CF! She puts a fun spin on a layered outfit, mixing colors, prints, textures and styles. The buttoned up collar adds a little prep, the cable-knit sweater adds a little vintage and her floral print shorts, a little playfulness. She tops it off with a bold pop of color — her blue suede shoes!
Keep reading to learn more about Liberty and her fun approach to springtime/early summer fashion.
Liberty 101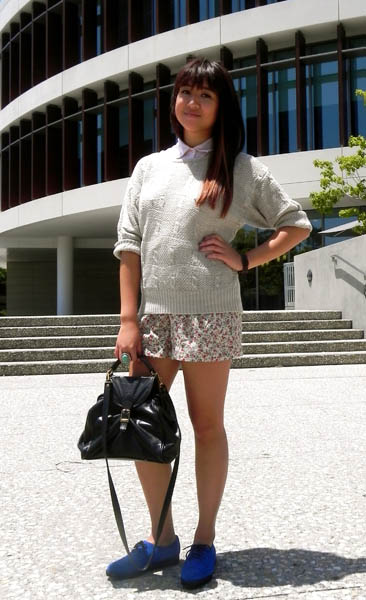 Name: Liberty
College: Loyola Marymount University
Class Standing: Senior
Major: Communication Studies
Hometown: Santa Clarita, CA
Hobbies/Interests: "Going to concerts, watching movies and reading books. I'm an artsy nerd."
Let's Talk Fashion
Who or what inspires your style? "I think mostly my friends, along with fashion shows – depending on which designers I like for the season, I'll get inspiration from them too. My favorite designer right now is Alexander Wang. Older movies also inspire me."
Where do you like to shop? "I'm a bargain shopper. I like warehouse sales – I got these blue Jeffery Campbell shoes at a warehouse sale for $15, originally priced for $130! I also like thrift shops like Buffalo Exchange or Crossroads Trading Company, plus shopping at cheaper stores like H&M."
How would you describe your sense of style? "I dress simple yet trendy. Overall, I'm pretty minimalist, but then I'll add a bold piece in a bold color, like these shoes."
Why did you choose this particular outfit? "I'm really into nude colors right now and I like printed shorts a lot, especially florals because the weather is getting hotter. And I'm always a big fan of button ups and knits – I really like the menswear style. I think my outfit is different but makes a statement at the same time."
What fashion advice would you give to other students looking to improve their style? "I would say to stay confident in what you're wearing. You can always tell when someone is doubting their outfit or when they don't like what they're wearing. Don't worry too much about what other people will think. Trust yourself and your taste."
What are your favorite trends right now? "Menswear for women. And flare jeans and wedges – I love '70s-inspired wear."
If you could raid anyone's closet, who would it be and why? "I would raid two closets: Rachel Bilson's and Nicole Richie's. We're about the same size and I've always liked what they've worn. Neither of them has had a bad outfit in my opinion. They're usually ahead of the fashion curve trend-wise and they know how to wear their clothes well."
Elements of Liberty's Outfit
Neutral-colored pieces are timeless classics. They're great staples for every wardrobe and allow for endless mixing and matching. This season, pairing your light neutral pieces together makes for a fresh look for springtime.
1. Slouchy Trapezoid Cross-body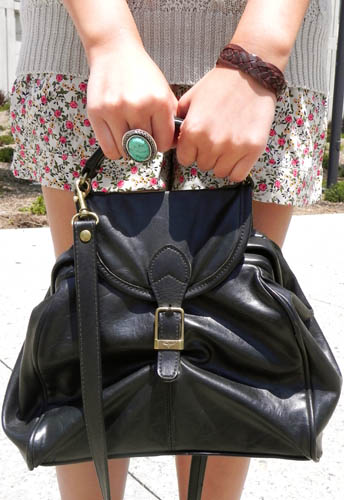 I love Liberty's uniquely shaped cross-body satchel. It resembles a classic black leather bag, a staple for every girl's arm, but its trapezoid shape and slouchy front closure give it a unique twist. The two straps make it versatile so you can wear it as a handbag or use the long strap across your body as you walk around campus. Next time you're shopping for a new bag, try picking up one in a cool shape like Liberty's.
2. Floral Print Shorts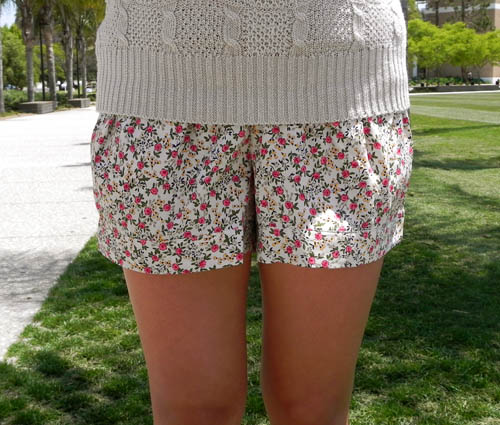 Spring is here and floral prints are in full bloom. Liberty's botanical-print shorts are a youthful and girly take on the trend. They're a fun update from your staple denim shorts and are the perfect way to add a cool pop of print to a casual look.
3. Blue Suede Shoes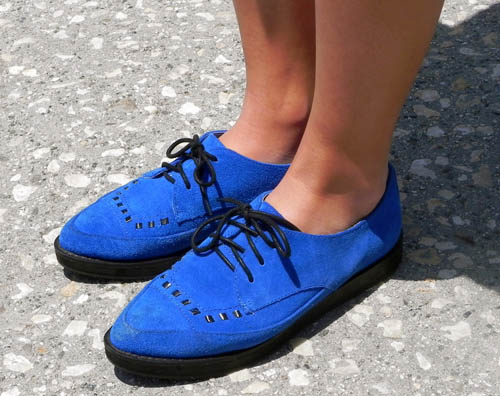 Elvis may have made them famous back in the '50s, but Liberty's blue suede shoes are as modern as ever. The pointed toe shape, intricate stitching, and stud details definitely make a statement, adding a splash of color to her feet. Liberty wanted to make the shoes the standout piece, so she kept the rest of her look simple and neutral — a wise choice if you're trying to rock one bold item.
What do you think?
What do you think of Liberty's style? Are you in love with her neutral outfit like we are? Aren't those blue suede shoes adorable? Are you rocking the floral trend this spring? Let us know with a comment!