When the weather is poised on the fence between sunshine or showers, what's a girl to do? It seems the common answer would be to arm oneself with a heavy pair of rain boots and a thick jacket. But Lia's look was just the opposite.
Lia's fun and sophisticated sense of fashion is something I think we could all learn from. She was definitely hard to miss in a sea of cautious overcoats and rubber soles on the IU campus! Naturally, I just had to ask her about her style. Read on to learn more about her unique fashion sense.
Lia 101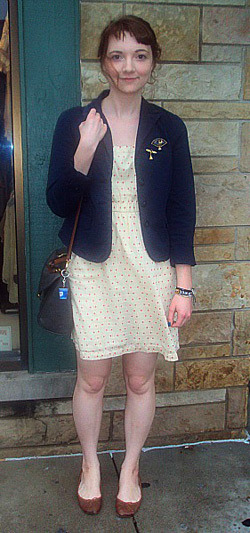 Name: Lia
School: Indiana University
Year: Freshman
Major: Art History
Hometown: Fishers, Indiana
Hobbies/Interests: "My hobbies are video games, painting, and reading."
Let's Talk Fashion
Why did you wear this outfit today? "I chose this dress because it's kind of warm outside, and I chose the jacket to combat any rain if there were any. I love to layer things, too."
Where do you like to shop? "If I had unlimited funds, I'd say J. Crew. I also like Gap a lot!
How would you describe your sense of style? "Lately I've been going for more tailored pieces. I used to love more comfy, oversized clothes, but now I'm looking for some more structure in the pieces I choose."
What fashion advice would you give to other students looking to improve their style? "I would always say to err on the side of looking too classy rather than not put-together!"
Who are your favorite designers? "Proenza Schouler, Rodarte, and Marc Jacobs are probably my favorites."
If you could raid anyone's closet, who's would it be and why? "Undoubtedly Zooey Deschanel! I love her."
Describe your style in three words: "Structured, classy, eclectic."
Elements of Lia's Outfit
To say that I'm a fan of this outfit is a huge understatement. I absolutely adore Lia's whimsical, ladylike style! She looks put together for a day of classes, yet still effortlessly laid-back with her polka dot dress and clean lines. Beautiful!
Here are a few of the standout elements of Lia's ensemble:
1. Personal Pins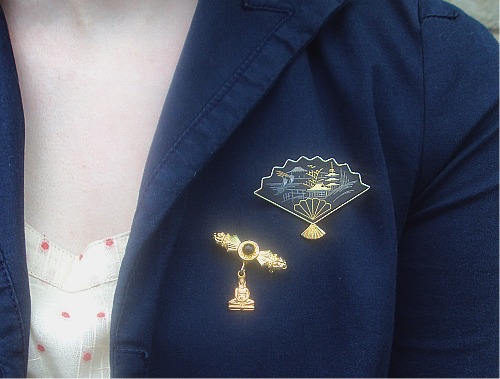 These fun pins add texture and character to Lia's otherwise basic blazer. I love that they are so unexpected yet classy, and they add the perfect amount of shine to her outfit.
2. Ladylike Bag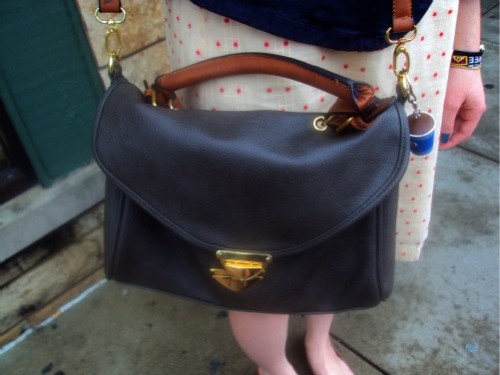 This bag is just adorable – what more can I say? This structured satchel is the perfect complement to Lia's stylish outfit. The color is rich and adds depth to her ensemble, while the funky coffee cup keychain from Urban Outfitters gives it a touch of personality and humor! I love that Lia is unafraid to mix a serious piece with an offbeat accessory.
3. Trusty Flats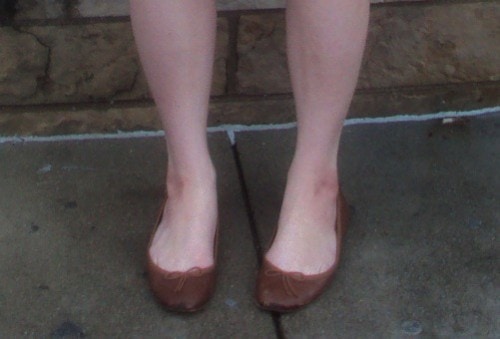 These J Crew flats are the perfect shoes to finish off Lia's look. So often, it seems that girls overlook flats in favor of more complicated, perhaps more exciting footwear. However, the simplicity and function of a great, sturdy ballet flat adds just the right amount of elegance to any outfit.

What do you think?
What do you think about Lia's style? Do you like her feminine aesthetic? Do you opt for flats on spring days? Let us know with a comment!