The weather in Flagstaff has been increasingly finicky lately – some days are beautiful and sunny, while others are so cold and windy that all you want to do in snuggle deeper under your covers.
Since the weather has been so unpredictable, many girls have fallen back on the campus uniform of leggings, snow boots, and NAU hoodies. However, Leyna's style popped out in a sea of lookalikes. While still being comfortable and fashionable, multiple layers and boots gives her outfit functionality in such erratic weather.
Leyna 101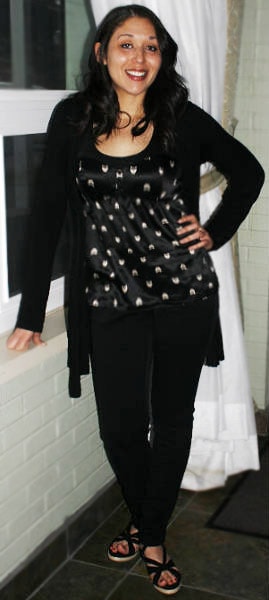 Name: Leyna
School: Northern Arizona University
Class Standing: Sophomore
Hometown: Scottsdale, AZ
Major: Photography
Let's Talk Fashion
Who or what inspires your style? "I would say Urban Outfitters really inspires me a lot. I like to go places and just put things together, but I would say they inspire me most."
Where do you like to shop? "Target, Forever 21, Urban Outfitters. I actually got my To Kill a Mockingbird shirt on sale from UO!"
How would you describe your sense of style? "I would say cute but comfortable. It's hard trying to balance looking good while staying warm living in a cold place like Flagstaff."
Why did you choose this particular outfit? "I like it because of the layers. It keeps me warm but I still look good!"
What fashion advice would you give to other students looking to improve their style? "You can never go wrong with layering and accessorizing!"
What are your favorite fashion trends right now? "I really like cowboy boots, multiple rings, scarves, and patterned tights."
What do you do for fun – do you have any unique hobbies or interests? "I love photography. I like to draw and write for fun. I also pride myself on my Harry Potter knowledge."
If you could raid anyone's closet, who would it be and why? "I would raid Emma Watson's closet because she always looks amazing, no matter what. I have seen pictures of her at Brown and she always looks cute!"
Elements of Leyna's Outfit
1. Boots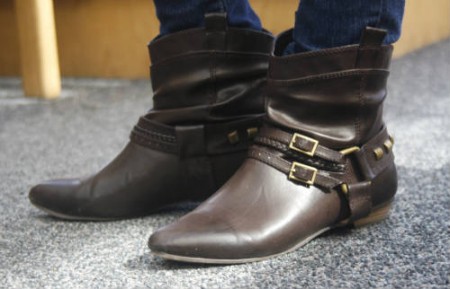 Snow boots and UGGs are the go-to shoes on campus whenever the threat of rain or snow looms near. However, Leyna manages to be both trendy and practical with her brown boots. The studs and pointed toes give the boots an edgier vibe, and the leather makes them durable for all types of weather. As Leyna shows us, there are fashionable alternatives to the basic snowboot.
2. Layers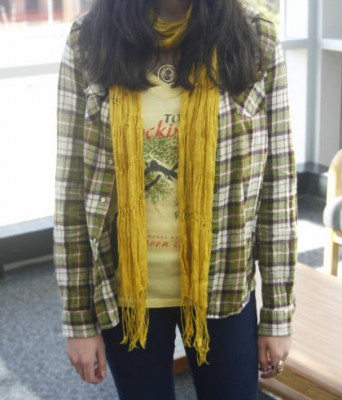 Layering is key when you're living on a campus where it could snow at any moment and then be fifty degrees the next. Embracing the warm flannel trend, Leyna gives her simple graphic tee an updated look for winter. Her scarf adds to the yellow color palette of her outfit, while acting as both an accessory and a necessity for a cold day.
3. Time Turner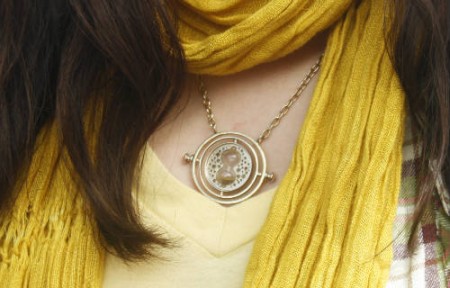 As an avid Harry Potter fan (she even took a class at NAU about it!), Leyna incorporates her love for the series into her outfit by wearing a Time Turner necklace that her boyfriend bought for her. Not only does it add quirkiness to her outfit, but it's also a one-of-a-kind necklace!
4. Owl Ring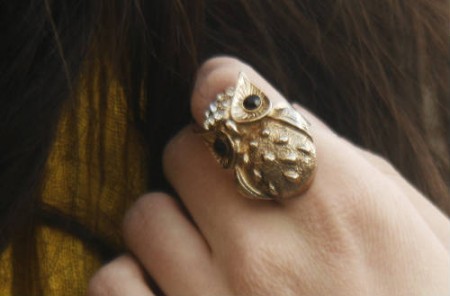 Leyna's adorable owl ring echoes the yellow and gold hues of her outfit. It also ties into the whimsical aspect of her outfit, along with the Time Turner, giving it a very fun vibe!
What do you think?
Do you like Leyna's style as much as we do? What do you think of her quirky accessories? Do you like her flannel shirt and graphic tee combo? Let us know in the comments!