Lexie's style is best described as a cool, eclectic mix of edgy, soft, rock, and boho vibes. It's undeniable: Lexie owns her completely unique look with Beyoncé-level confidence. (And that is saying something. Watch out, Bey!)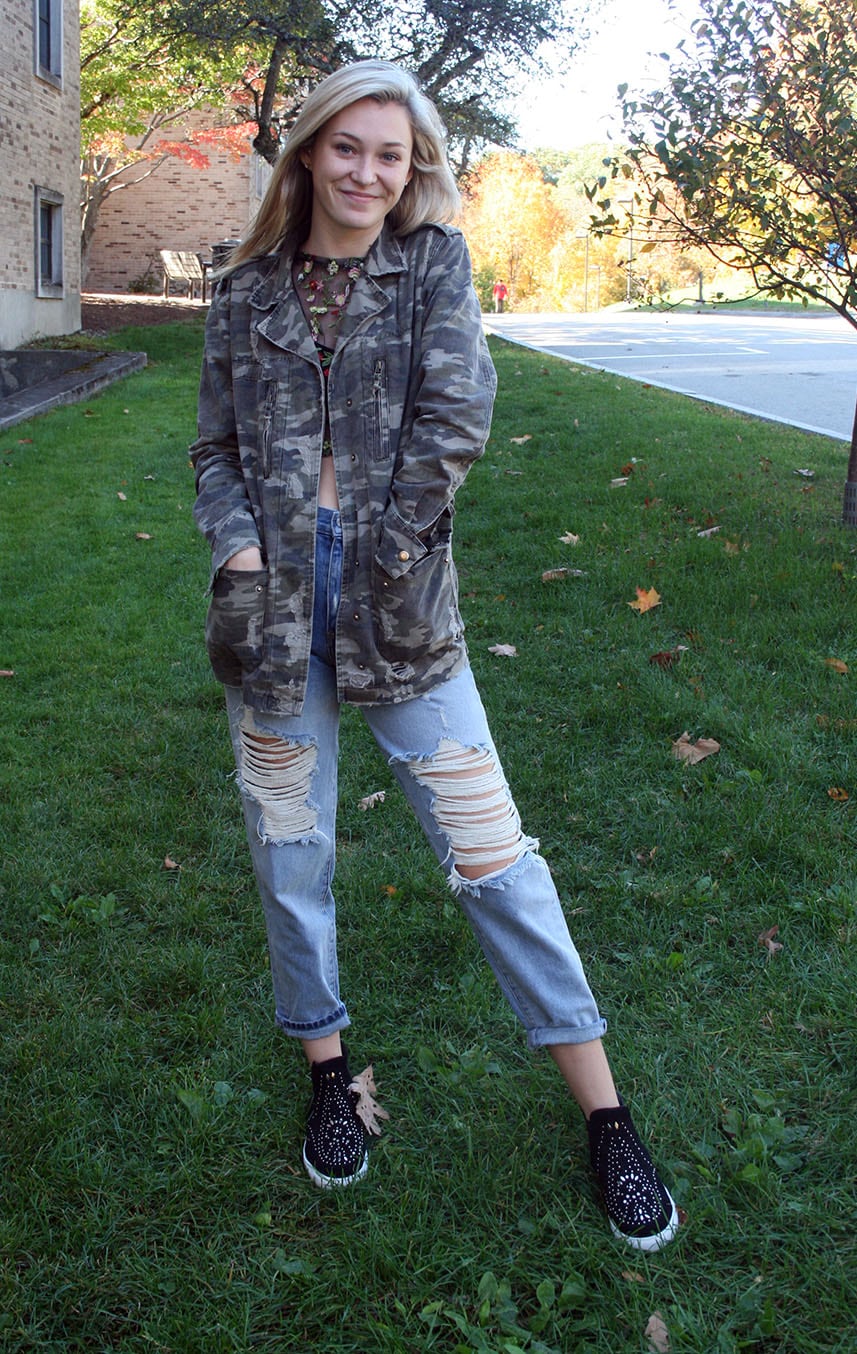 Lexie 101
Name: Lexie
School: Assumption College
Year: Freshman
Major: Special Education
Let's Talk Fashion
Who or what inspires your style? "The store LF. I want everything they have. If you look at their pictures, they have the studs, the black, and the camo. But they also have a sweet side with pink satin. It's a little bit of everything which is what I want."
Where do you like to shop? "Obviously LF. I also like Nordstrom and Free People. My whole closet is Free People. And a little bit of Urban Outfitters."
How would you describe your sense of style? "Not basic. I love statement pieces that I can make a lot of outfits around."
Why did you choose this particular outfit? "I love this outfit. When I went shopping a while back, I went specifically to get this top. I feel like it has everything that I love combined into one piece. It's really unique – nobody else would have it – it's black, it has sheer sleeves which are really trendy right now, and florals [which are] are wicked cute."
What fashion advice would you give to students looking to improve their style? "Stop wearing jeans and tank tops when you go out! Be bold! Wear whatever you want even if you think it's crazy. You have to think outside of the bubble you're in. You want to be noticed for your outfits."
What are your favorite trends right now? "I love the camo trend, obviously. This is one of my favorite jackets. Also anything that's coming back from the '90s, like velvet. I love velvet."
Do you have any favorite fashion designers? "The classics I guess. I love Yves Saint Laurent and of course Chanel. All the big names, how could you not?"
What do you do for fun? Do you have any hobbies or interests? "Shop[ping] and binge watch[ing] Sex and the City."
If you could raid anyone's closet who would it be? "Carrie Bradshaw or [Arielle from] Something Navy."
Elements of Lexie's Outfit
1. Torn Jeans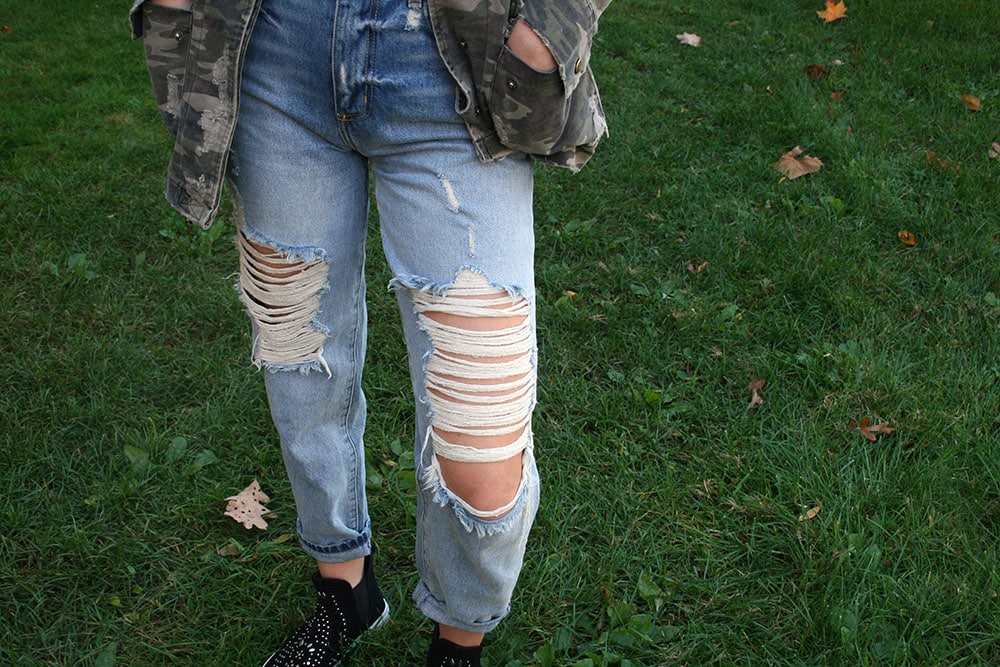 The light wash, mom fit, and distressing on these jeans will make any '90s girl's heart skip a beat. Even though they are completely shredded, think of all the outfit possibilities here!
2. Sheer Floral Blouse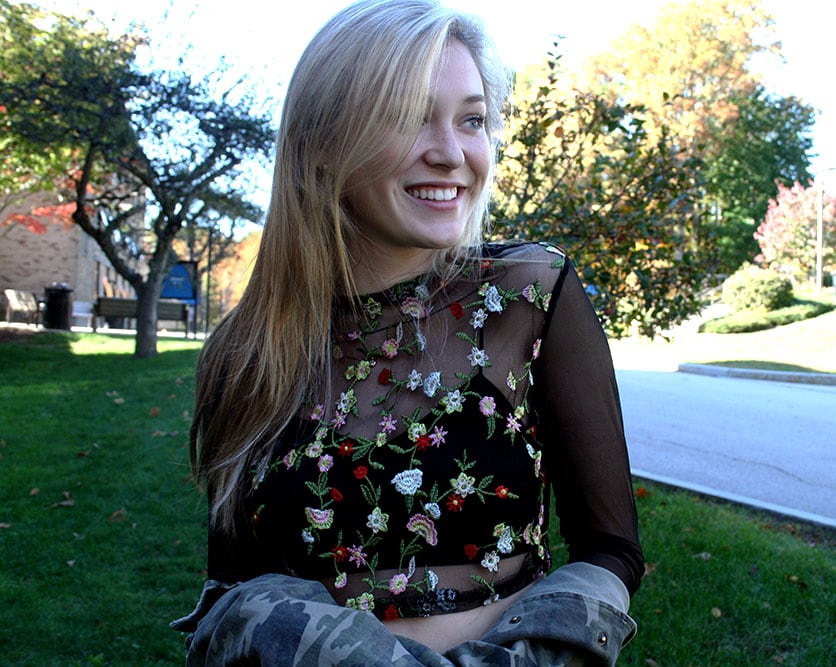 As Lexie said, this blouse combines a lot her favorite fashion elements into one fantastic piece. The muted flowers are really pretty colors for autumn and add a sweet touch to her tough girl jacket and jeans.
3. Studded Slip-Ons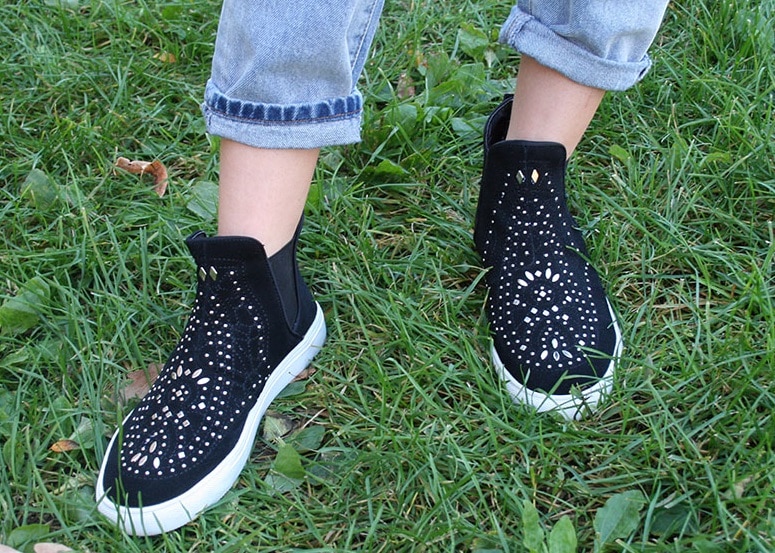 Lexie's high-top slip-on sneakers finish off her yin and yang style. Her edgy shoes are perfectly accented with girly studs. So cool!
What do you think?
Are you loving Lexie's style mix? Have you ever shopped at LF? Are you all about the '90s too? Sound off in the comments.