Lexi's style is a breath of fresh air compared to the crowds full of girls wearing shorts with UGG boots here at NAU. On such a small campus, it can be hard to come by someone who has strong personal fashion sense. But Lexi caught my eye because she incorporated vintage and quirky elements into her outfit without looking like she was trying too hard. Not only is she as cute as a button, but, as I learned when I interviewed her, she's also incredibly sweet!
Read on to learn more about Lexi's boho-chic sense of style!
Lexi 101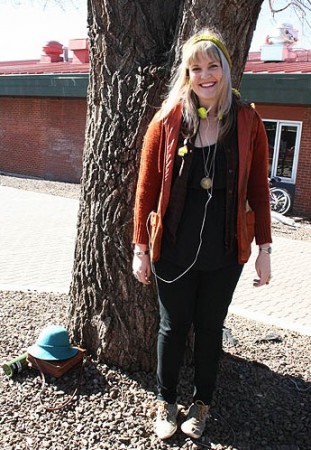 Name:
School: Northern Arizona University
Class Standing: Sophomore
Hometown: Mesa, AZ
Major: International Affairs and Foreign Languages
Hobbies/Interests: "I like being crafty and making things – I made a beanie recently. I also have a pattern for a poncho and I think it would be awesome to make one. In my apartment, half of my closet is filled with craft materials. I like being outside and hiking, too."
Let's Talk Fashion
Who or what inspires your style? "I'm really hung up on the 1970s – I love the music. My jacket is from that era and I wear it all the time."
Where do you like to shop? "Import stores, thrift shops, and old antique shops – they have clothes like nowhere else. You can find pieces no one else has."
How would you describe your style? "I would say my style is 'world-traveler' – I love to travel. I have a lot of Asian-inspired clothing. I also collect pins from different antique stores – I really like old political pins. And for the most part, I always try to add a splash of color."
Why did you choose this particular outfit? "I feel like this is my 'go-to' comfy outfit. It's put-together but not too flashy, and it's super comfortable."
What fashion advice would you give to other students looking to improve their style? "You just have to find what you like and go with it. Go with whatever feels good to you and know what you're comfortable in. You can't necessarily judge people by what they wear, but you can get a sense of a person through their sense of style."
What are your favorite trends right now? "I like the boot trend, it seems like a lot of people are wearing boots now. The color tan is popular too, which I like."
If you could raid anyone's closet, who would it be and why? "My mom has a bunch of old clothes from when she was in high school in the '70s. I love wearing that sort of stuff."
Elements of Lexi's Outfit
1. Bright accessories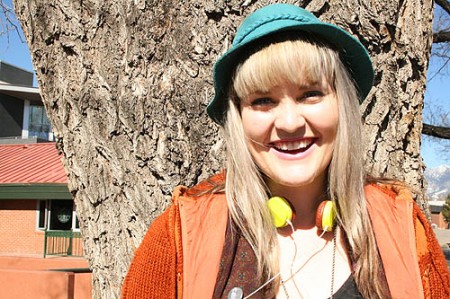 Lexi's teal hat and brightly-colored headphones add an unexpected pop of color to her neutral outfit, giving it a really cool vibe. The hat makes a great alternative to beanies or hoods in cold weather, and her headphones are just plain awesome!
2. Statement Pins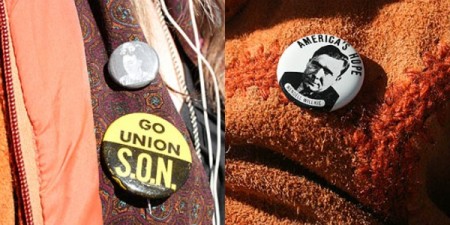 With her love of pins, Lexi gives her outfit a quirky touch by adding various ones to her jacket that she has found at antique stores. I love her Frida Kahlo and Wendell Willkie pins – they make for one-of-a-kind accessories!
3. Cultural Jewelry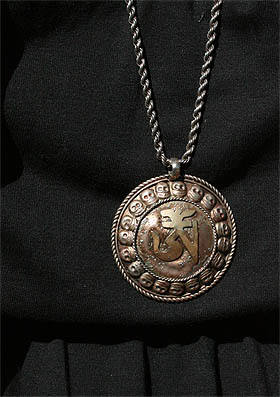 I love how Lexi incorporated pieces from various cultures into her outfit. This necklace not only adds to the '70s vibe of her look, but it also contrasts nicely with the bright colors of her hat and headphones.
4. Canvas Sneakers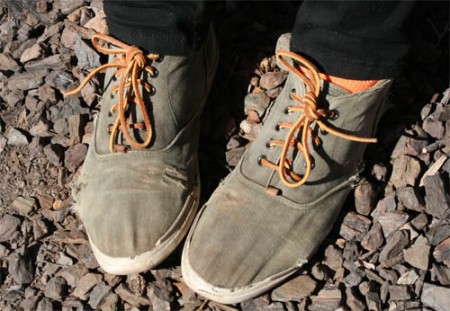 Lexi's rugged and worn canvas sneakers add a laid-back feel to her outfit and make it all seems effortless. Plus, I love how the shoelaces unintentionally match her jacket!
Share Your Thoughts!
What do you think about Lexi style? Do you collect pins, too? What about the world-traveler vibe – do you like to channel that look in your ensembles? Do you wear vintage accessories? Are you inspired by the '70s? Share your thoughts with a comment!