With her bold, brave style and sparkling personality, anyone can see that Lex stands out from the crowd. It's impossible not to find yourself smiling when talking to Lex, and her style reflects her fun nature.
While she enjoys wearing a wide range of styles, she admits that her most defining fashion feature is her hatred for pants… even though she was once spotted by a street style reporter for Seventeen magazine wearing a pair of oversized camo pants. The horror!
Lex concluded our interview by saying, "kawaii princess forever!", which sums up her look. I'm really grateful her graphic outfit caught my eye, so I had a chance to talk to fashion royalty!
Lex 101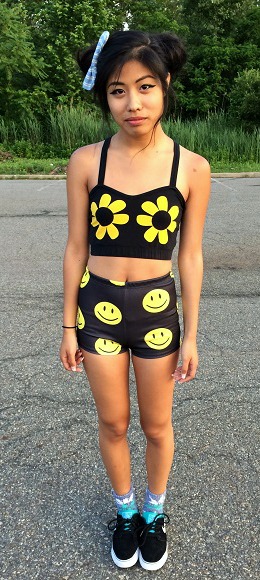 Name: Alexis – "But please call me Lex"
Year: Senior
Major: Fashion Merchandising Management, specializing in Product Development
School: Fashion Institute of Technology
Let's Talk Fashion
How would you describe your style? "It's like Clueless meets Freaks and Geeks. I guess it would be considered 'alternative vintage.' Just imagine pin-up girl legs and a lot of black. I'm very drawn toward mythical and magical symbols and designs right now, but I also want to be a Lolita/fairy kei Harajuku girl, as well as a forest fairy – so I guess my sense of style is very versatile! I just mostly don't wear pants."
What inspired this outfit? "Rave culture. I studied in London last term, and while I was a basshead and loved electronic/deep house/trance/all of that before, my English friends took me out to some sick places and introduced me to some cool artists. This outfit is perfect for making shapes, but still looking cute and comfortable!"
Who are some of your favorite designers? "Marc Jacobs, Miu Miu, Meadham Kirchhoff – whom I just discovered last week! – Jeremy Scott, Christopher Raeburn, and Mary Katrantzou."
When did you really start to develop your style? "As basic as it is, since I could dress myself. My mom put me in the worst clothes; I would wear sweats on sweats, and I remember in second grade a girl told me I should watch how I dressed. I'd always get into fights with my mom about my outfits. In middle school I fell into the 'scene' trend and since then have always been attracted to a more alternative style."
Since you're studying fashion, what are your hopes and dreams for yourself within the fashion industry? "New York has a sick streetwear background, but a ton of brands are coming out of LA.. London has interesting publications and Japan has a rich fashion culture. I don't really know what I want to do yet; I just know that I want it to involve middle market street wear.
Long term, I want to make an impact. I took a class on ethics in the fashion industry and it gave me further insight on what we can do as customers and producers to not harm the people or environment around us."
What fashion advice would you give to other students looking to improve their style? "Find a story that you like and pay attention to different outfits. Look on the internet for inspiration. Expensive items do not equal good style. Look for key wardrobe pieces to maximize looks and minimize spending. Also, see that you can DIY or thrift.
Basic advice, but when you're trying to find your own vibe, don't listen to what anyone says about you. Your personal style should reflect your personality. If you like how you feel in it, nothing else should matter."
Elements of Lex's Outfit
1. Prints on Prints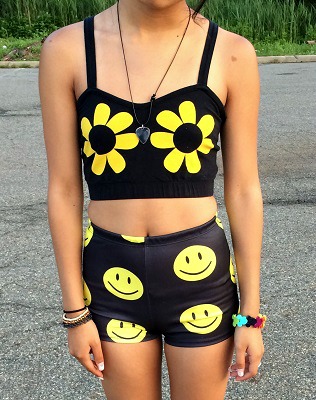 Did you think the top and shorts were sold together in a store? I definitely did! However, Lex fearlessly and perfectly paired this Lazy Oaf flower crop top with shorts found at Gypsy Warrior.
Lex's outfit is a stylish example of how you shouldn't be afraid to mix unlikely prints; maybe you didn't naturally associate smiley faces with flowers, but they look great together on this fashionista!
2. Fun Accessories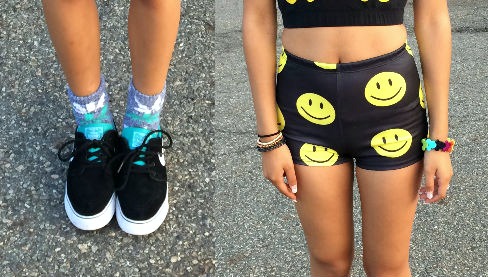 In case you didn't get the memo from the happy face shorts, Lex has a vibrant personality that she continues to show off with a rainbow Mickey Mouse bracelet she bought at Disney World. Her accessories walk the line between adolescence and adulthood, with one wrist showing off her strong love for Disney while the other is adorned with more subdued yet still coordinating bracelets.
Lex wore sneakers and gray socks with her outfit. Her footwear of choice was unexpectedly comfortable and casual, but worked well with her look.
3. Double Buns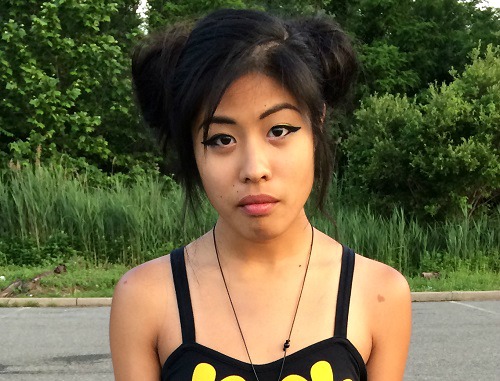 This super-cute double bun hair style is easy and adorable. As noted before, Lex takes adolescent elements from childhood and wears them in a fresh and on-trend way. When is the last time you wore pigtails? Take a cue from this street style maven and try them out!
What do you think of Lex's outfit?
Would you ever wear two bold prints together? Are you sold on adorable hair buns? Leave a comment below and let us know what you think!