Although it's supposedly summer down here in Brazil, the weather in Porto
Alegre has been pretty gloomy and rainy, but still very hot. This has left a lot
of people – myself included – with difficulty choosing what to wear
outside. Letícia, however, seems to have adapted with ease!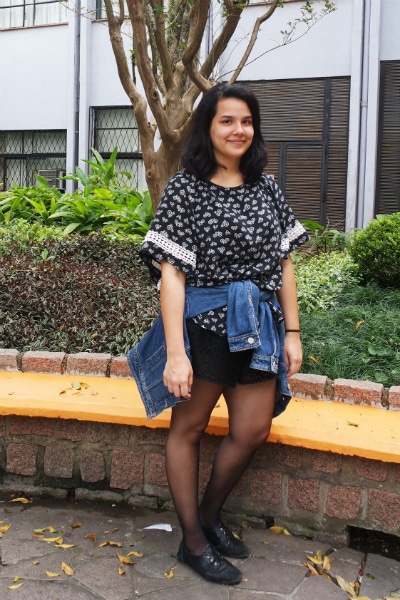 Letícia 101

Name: Letícia
School:
Pontifícia Universidade Católica do Rio Grande do Sul (PUCRS)
Major: Journalism
Semester: Second
Let's Talk Fashion

How would you describe your
sense of style? "Alternative."
Who or what inspires your style? "Luanna90 [AKA Luanna Perez-
Garreaud], author of the street style blog Le Happy."
Where do you like to shop? "At Chica Bolacha [small boutique in
Porto Alegre, Brazil], Forever 21, Eme, and Youcom."
What you do for fun – do you have any unique hobbies or
interests? "In my free time, I like to photograph and look for new bars."
What do you consider a closet essential? "Tights, shorts, and
skirts!"
Elements of Letícia's Outfit

1. Printed Blouse + Lace Shorts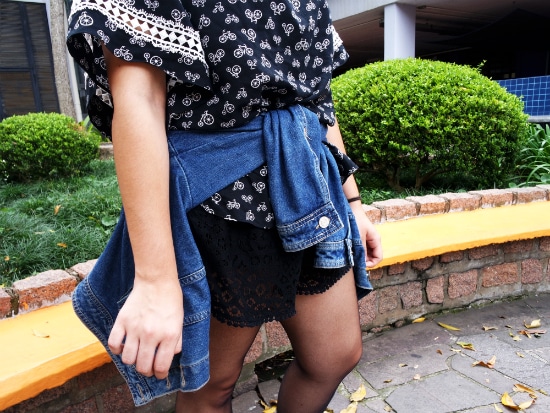 When comfort is something you want out of an outfit, going with a loose fit is always a great
option. Leticia did so with both her top and bottom and, although the background colors were
the same, the different textures and the cute bicycle pattern took any monotony away from
the look. I also loved how the white detail on her blouse is lace, just like her black shorts!
If you're okay with a loose fit but fear looking boxy, don't worry – you can always bring
attention to your waist with a belt or, like Leticia, go '90s with it and tie a jacket around your hips!
2. Black Oxfords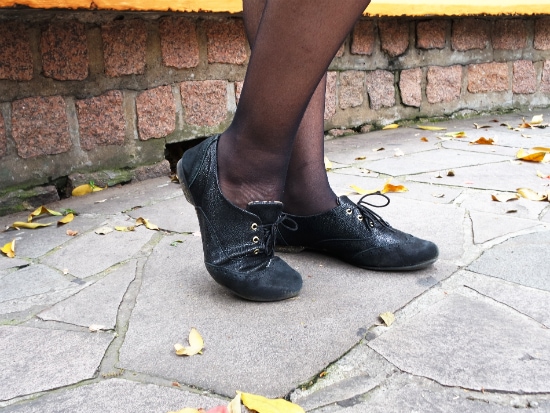 When looking to dress comfortably, shoes are of extreme importance. I applaud
anyone who manages to gracefully walk around campus in 5 inch heels, but that is not
happening anytime soon on my sore and clumsy feet.
If you're like me, you'll find flats
are one of your great friends. If you want to bring a bit of androgyny to an outfit
without being too edgy, oxfords are the answer! And, as always: when reluctant about
investing in something, remember – black never goes out of style.
What do you think of Letícia's style?

Would you wear her black oxfords? What do you think of her '90s throwback look? Comment below and let us know!