Working at a summer camp at the University of Oregon gives me the chance to see all of the best fashion around campus while on the job. I saw Lauren (who actually goes to Webster University in Missouri) waiting to meet a friend on campus and was immediately awestruck by her graphic booties. Her outfit was fresh, fun, and summery, so I had to photograph her!
Lauren 101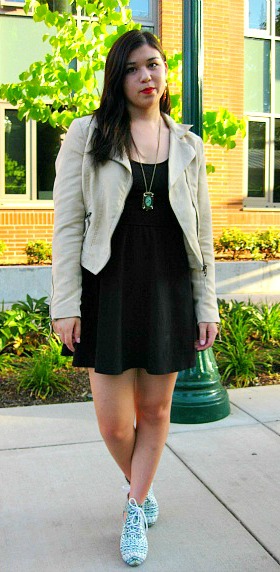 Name: Lauren
School: Webster University (St. Louis, MO)
Major: Special Education
Year: Junior
Hometown: Eugene, OR
Let's Talk Fashion
Who or what inspires your style? "I'm really into classic styles, but I also like to throw in one or two modern pieces."
Where do you like to shop? "Since I'm a college student on a budget, I usually shop at places like H&M, Forever 21, and Francesca's. They always have the latest trends and they're inexpensive enough for me to try new things out. I invest in big items, though, like coats, shoes, and purses."
How would you describe your sense of style? "My style is classic and girly; I wear a lot of neutrals, but I try to throw in one bold or eye-catching piece."
Why did you choose this particular outfit? "I love dresses because they always look put-together, you can dress them up or down, and they're easy! They're especially nice when it is really hot out in the summer."
What fashion advice would you give to other students looking to improve their style? "Wear things that flatter your body and fit your personality, and don't be afraid to try new trends!"
What are your favorite trends right now? "I'm pretty obsessed with bright lipstick, especially for the summer. I also love wearing mixed metals and clothes with back cut-outs."
Do you have any favorite fashion designers? If so, who? "I love following fashion, but because I can't really afford designer clothes on my budget, I can't say I have a favorite designer right now. Check with me in five years!"
What do you do for fun– do you have any unique hobbies or interests? "I've done circus arts since the end of high school, particularly aerial, like silks and lyra."
If you could raid anyone's closet, who would it be and why? "Zooey Deschanel, no question. Her clothes are always fun and feminine, and her wardrobe is appropriate for all occasions."
Elements of Lauren's Outfit
1. Mixed Metals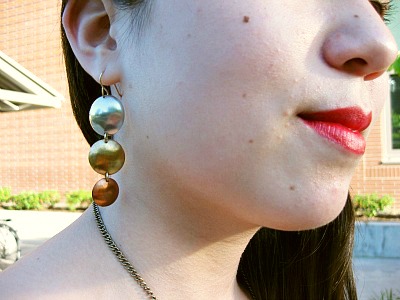 These earrings are classic in their shape and design, but their mixed-metal look makes them on-trend, as well. They fit perfectly with Lauren's fashion aesthetic! She found them at the local Saturday Market, so not only is Lauren rocking a hot fashion trend, she's helping out a local artist, too. What's better than that?
2. Graphic Booties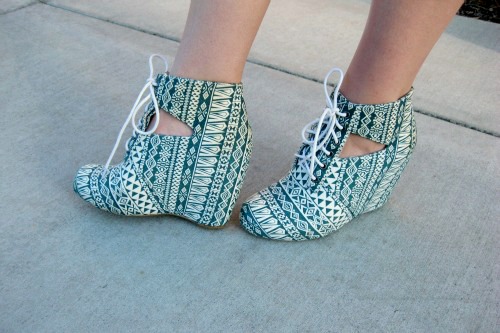 These booties were what originally caught my eye about Lauren's outfit – they are bright and bold with a comfy-chic vibe. Lauren found these on sale at Anthropologie and couldn't resist their charm.
3. Crisscross Back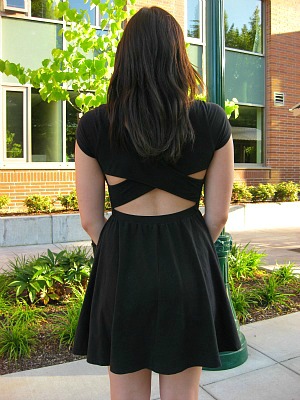 This dress is a perfect example of how an LBD can be transformed from fancy to casual with the right accessories. This dress, from Forever 21, is a staple in Lauren's wardrobe because it instantly makes Lauren look put-together and elegant. Plus, the cutout detailing on the back keeps this classic wardrobe staple fresh and on-trend.
4. Dooney & Bourke Purse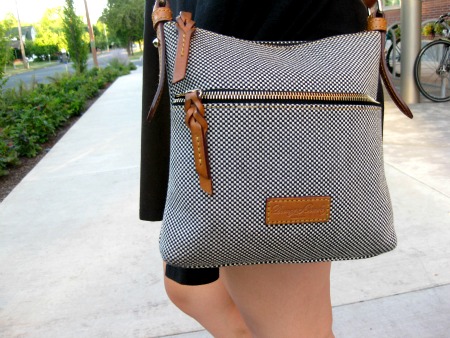 Lauren's Dooney & Bourke purse was an accessory I could not miss. Its timeless style and fun pattern makes it a versatile and appropriate bag for any occasion. Though a little on the pricy side for the typical college student, a classic purse like Lauren's is always worth the investment, as you'll use it for years to come.
What do you think?
What do you think of Lauren's outfit? How would you wear her awesome booties? Do you look for pieces with cut-outs when you're shopping for your summer wardrobe? What are you wearing this summer? Let us know in the comments!