Lauren goes to school with me at the University of South Carolina. We both studied abroad in different parts of Italy this past semester, and I've always admired her sleek style. So when I spotted Lauren during her first week back in the US, I couldn't resist asking her a few questions about her fashion sense!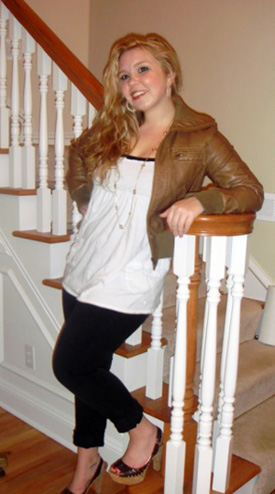 CLICK IMAGE TO ENLARGE.
Who I Spotted:
Name: Lauren
Hometown: Cleveland, Ohio
School: University of South Carolina
Age: 21
Year in College: Senior
Major: Fashion Merchandising
Q&A with Lauren
How did living in Italy for a semester influence your fashion choices?
"Italy is one of the fashion capitals of the world, and I was constantly surrounded by amazing fashion there. Whether I was walking down the Ponte Vecchio and admiring the gold, buying scarves in the markets, or shopping for genuine leather shoes and handbags, I was so inspired and was always thinking about how I could incorporate Italian style into my wardrobe in the States. Europeans dress with a sense of sophistication that is different from how people in the States dress; they appreciate quality items more and see the real value in them."
What are your wardrobe essentials?
"Long necklaces and scarves are essential for me because they can make any simple outfit stand out. When I am in a hurry and throw on jeans, flip flops, and a basic T-shirt, I can add a long necklace like the one I am wearing, or a scarf and handbag, for example, and instantly bring the look from basic to stylish! Accessories are my favorite part of fashion."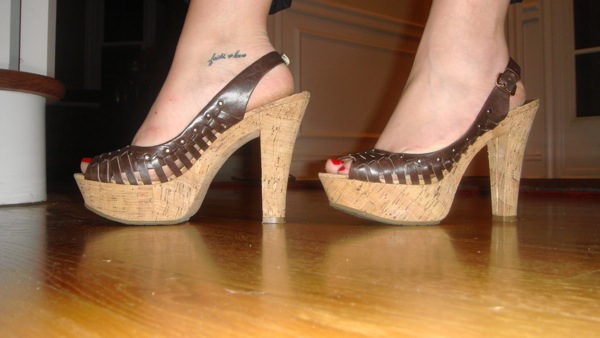 Who is your biggest style inspiration?
"When it comes to classic style, Audrey Hepburn and Coco Chanel are my icons. They made flats, skinny pants, black and white, and pearls famous. All of these items are still in style today and will probably be in style forever. I love spending more money on items that will last a lifetime over seasonal fashion items that will be out in a few months."
Why do you love the look you're wearing?
"I love the look I am wearing because its very basic and easy to put together. I can wear this during the day with a pair of flats and add the heels and a bag at night to go out. I am loving skinny jeans right now, and I got these black cropped ones in Italy which makes them more special. The leather jacket is from Paris, and is one of my favorite things in my closet because I can wear it all the time with so many things. I can either add or take away things with this outfit to make it something different and great. Take away the jacket and put a big scarf and earrings and the outfit instantly changes. Black and white are canvases to add different things to make a statement!"
What do you think?
Do you share any of the same fashion beliefs as Lauren? What do you think about her style? Let us know!