With finals week quickly approaching, it has become less common to see people still wearing stylish outfits. With the abundance of yoga pants and sweatshirts around campus, Lauren was easily spotted wearing a perfect spring outfit. Her bright top and comfy sweater were what really made her look stand out.​
Lauren 101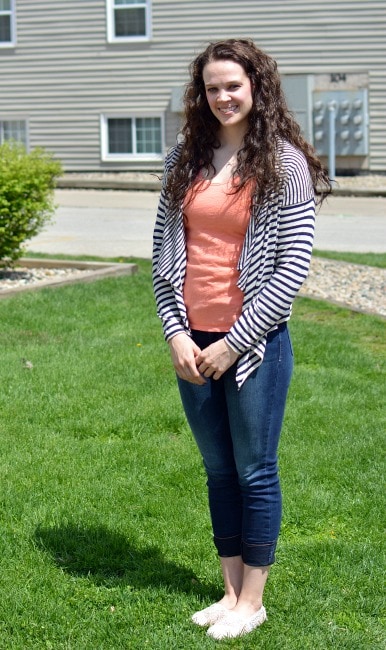 Name: Lauren
University: Illinois State University
Major: Exercise Science
Year: Senior
Let's Talk Fashion
Who or what inspires your style? "My friends have a lot to say in what I buy and I look at things a lot online. Most of it is just me trying things out on a whim."
Where do you like to shop? "I do most of my shopping at Express, Old Navy, Forever 21, Pacsun, and American Eagle."
What fashion advice would you give students trying to improve style? "If you really like something, then you just have to wear it and be proud of it. Try out new things because you never know what will end up looking good on you."
What are your favorite trends right now? "I really like oversized cardigans because they go with everything and are comfy and cute. I also really like fun leggings because [they are] a great way to express your personality through your style."
If you could raid anyone's closet who would it be? "I want to raid some of my friends' closets and be able to wear all of their clothes."
What do you do for fun – do you have any unique hobbies or interests? "I am part of the Gamma Phi Circus here at ISU and I also really like crafting and cooking."
Elements of Lauren's Outfit
1. Mango Tank + Striped Sweater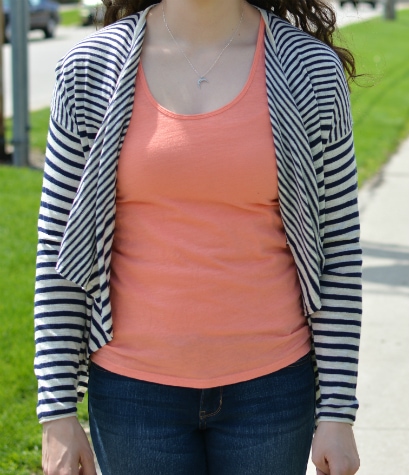 Lauren's bright tank top from American Eagle is perfect for the warming spring weather. The bright coral color contrasts nicely against the more muted neutral colors found throughout the rest of her outfit.
This top pairs perfectly with her open cardigan, too. The striped sweater is both comfy and styish, and the pattern is bold yet classic.
2. Moon Necklace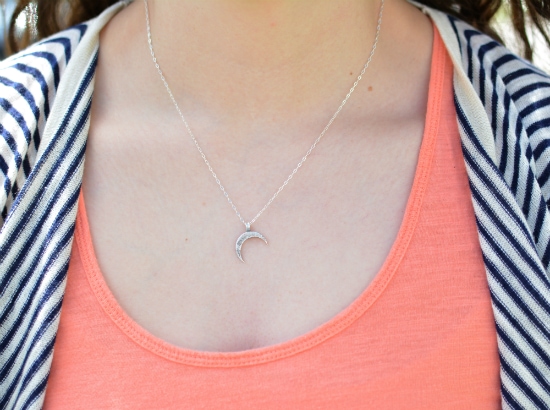 Lauren's necklace is a chic yet simple piece that adds a hint of sparkle to her outfit. The moon-shaped pendant was given to her by a friend who purchased it from Etsy.
3. Lace TOMS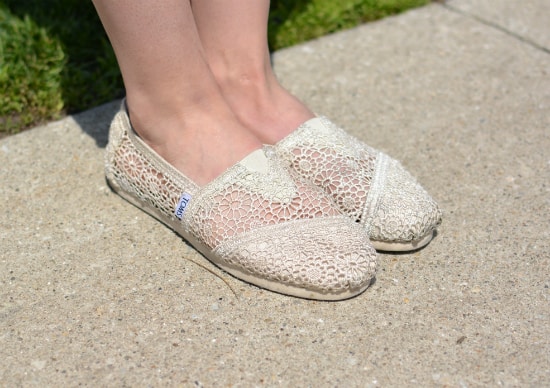 Lauren's lace canvas TOMS are a great addition to her outfit. These shoes are not only comfortable for walking around school, but the crochet lace gives them a unique look. The lightness of these shoes really makes them stand out against her dark jeans.
What do you think?
Do you love Lauren's lace TOMS? Would you wear her outfit? We want to know, so comment below!