Lauren and I had class together a few semesters ago and she always walked into the room looking polished and put-together. She never failed to impress me with her fun take on fashion – after all, she is definitely not afraid to take chances with bright colors or bold platforms.
A few weeks ago, I finally got the chance to ask Lauren about her style. As a native of Los Angeles, she knows about all of the best places to shop and find great deals. Read on to learn more about Lauren's look and her style secrets.
Lauren 101
Name: Lauren
Class Standing: Senior
Major: Communication Studies
Hometown: Beverly Hills, CA
Hobbies/Interests: "I love going to electronic music shows at Avalon and Cinespace in Hollywood. I'm interested in becoming a writer for movies or TV."
Let's Talk Fashion
Who or what inspires your style? "I think my style is like a less-punk version of Gwen Stefani. When I studied abroad in London, I got a lot of inspiration from European style as well."
Where do you like to shop? "I shop a lot at ShopNastyGal.com, Planet Blue in LA, and American Rag (their boutiques). I also find really great high-end designer pieces at swap meets and flea markets for cheap — that's where I got my vintage Chanel earrings."
How would you describe your sense of style? "Eclectic. Bold. Very Edgy."
Why did you choose this particular outfit? "I wanted to wear all black and mix it with something really bold, so I picked this leopard print jacket from H&M. And accessories are my favorite – I like to mix high-end pieces with vintage and I love bold watches."
What fashion advice would you give to other students looking to improve their style? "Try wearing one really bold piece that you know would turn heads. I also think it is really important to get a good pair of black skinny jeans and a good blazer for basics. Then you get can flashy with jewelry, shoes, bright pumps, and so on."
What are your favorite trends right now? "Combat boots, boyfriend watches, oversized rings, and lots of bracelets."
Do you have any favorite designers? "Yeah, I really like Young Fabulous & Broke and anything Vintage Chanel."
If you could raid anyone's closet, who would it be and why? "Rachel Zoe. She knows how to pick the best of everything and that's why she is the leading celebrity stylist."
Elements of Lauren's Outfit
1. Leopard Blazer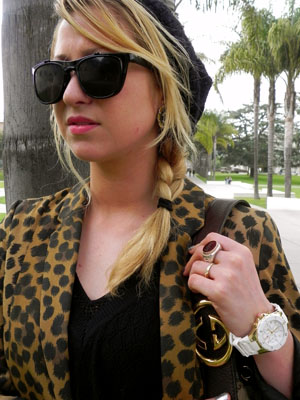 Animal print is always stylish and I love Lauren's bold leopard print blazer. It's definitely a statement piece that stands out well against her all-black outfit. In addition, blazers are flattering on most figures and add a polished touch to your look. Next time you're out shopping, think about picking up a trendy, bold, colored or printed blazer to add to your closet.
2. Accessories, Accessories, Accessories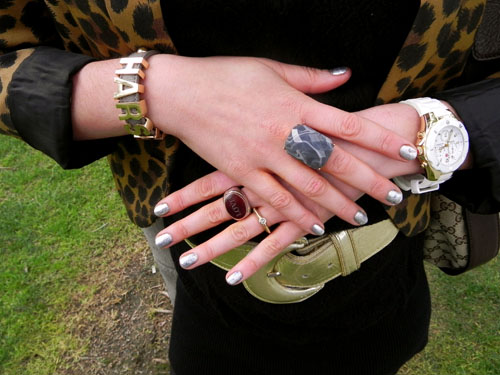 Lauren told me that she is guilty of always wearing tons of accessories. They don't all match perfectly, but I think that is part of what makes Lauren's style so eclectic and edgy. So if you have a basic outfit, why not spice it up with colorful and bold accessories? They'll definitely give your look more of a playful edge.
3. Classic Black Riding Boots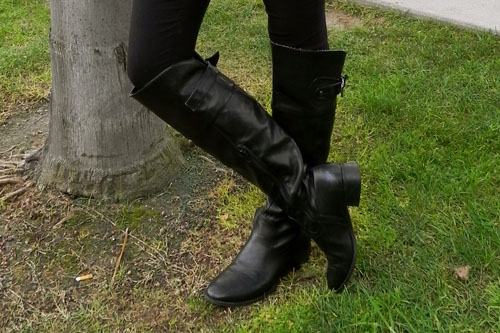 Every girl should own a pair of classic black leather riding boots. Why? They go with everything, they're comfortable, and they come in tons of different styles to fit your look. I love Lauren's boots as they just graze the knee, which really lengthens her legs. There is even a little bit of a heel to give her that added height.
What do you think?
Do you like Lauren's style? Do you own anything in animal print? Do you own a bold blazer? What do you think of Lauren's edgy look? How do you feel about riding boots? Let us know in the comments!