Spring has finally sprung in Spokane, and since the weather often dictates what we wear, students are starting to shed layers as the temperature begins to rise.
Being on the dance team with Lauren, we normally only see each other in gym clothes at practice. However, when I saw her around campus wearing this fashionable outfit, I knew I had to talk to her about her fabulous sense of style! Keep reading to learn more about Lauren.
Lauren 101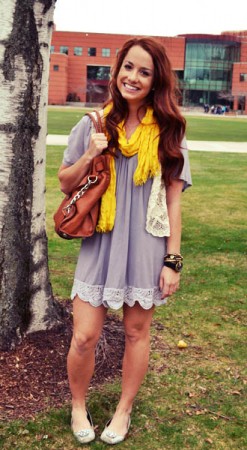 Name: Lauren
Year: Sophomore
School: Gonzaga University
Major: Business/Marketing with a minor in Public Relations
Hometown: Scottsdale, Arizona
Hobbies/Interests: "I'm on the dance team, I love spending time with friends and family, traveling – I'm going to study abroad in Florence this fall – and I like to write."
Let's Talk Fashion
Who or what inspires your style? "I'd say I get inspiration from looking at fashion magazines. As far as specific celebrities go, I like Rachel Bilson. Also, walking around the mall and looking at the window displays gives me inspiration, as well as what friends are wearing and seeing different people's styles."
Describe your style in 3 words: "Classic, feminine, and effortless."
Where do you like to shop? "This season, I don't want to spend a lot of money on trendy things – I like to invest in more timeless pieces, so I like Nordstrom, H&M, Gap, and J. Crew. But I'd rather spend more money on shoes, handbags, and jewelry – Michael Kors and Kate Spade are two of my favorite brands."
Spring and summer trends: which ones are you excited for this season? "Coral has always been one of my favorite colors – it can also be a good color for redheads, so I love it! I don't know how I feel about flared jeans. I love summer white, loose, soft fabrics, and lace and crochet. And I do love headbands and head scarves. Also, big sunglasses. Wearing big sunglasses can make an outfit look a lot more glamorous and chic than it already is."
Do you have any advice for other students looking to improve their style? "I'd say invest in a few classic pieces that you love and that will never go out of style. A good handbag can last forever. And having a pop of color makes the outfit look fun and effortless."
If you could raid anyone's closet, who would it be and why? "I would combine Blair Waldorf's style with some of Rachel Bilson's looks. I would really like the combination of the two of them!"
Elements of Lauren's Outfit
1. Timeless Watch with Matching Bracelets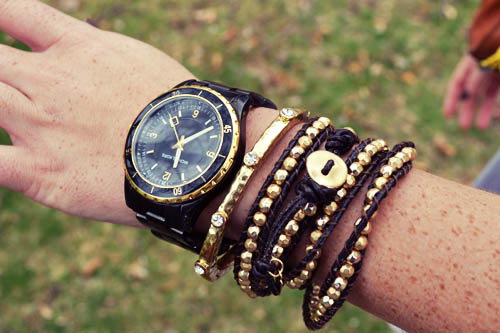 I just love Lauren's watch! Her watch-and-bracelets combo was the first thing I noticed about her outfit. Gold and black is a combination that will always be in style, and Lauren's Michael Kors watch is especially timeless (ha). While white and colorful watches are cute but trendy, black and metallic watches are classic wardrobe staples.
2. Crochet Vest and Yellow Scarf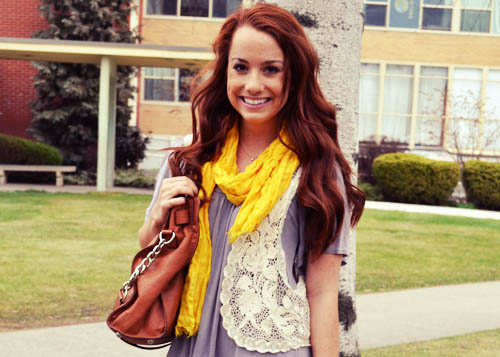 Lauren's crochet vest is on-trend for spring and summer and adds texture to her light dress. Her yellow scarf creates a pop of color against the outfit's neutral palette and is a nod to the sunshine of the season. By keeping the look natural and neutral, Lauren is able to play with color – switching up the color or pattern of the scarf could be an easy way to transform her entire outfit!
3. Classic Handbag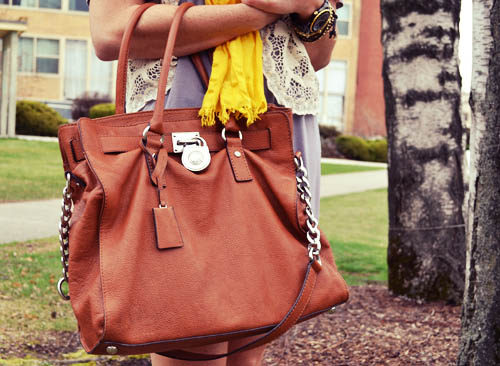 "A nice handbag can make an outfit," Lauren told me, and her classic bag definitely makes a statement! A large, sturdy bag like this one is perfect for toting your essentials around campus, and if you get one in a neutral, like brown, it'll go with everything. Having a handbag this size not only makes for a fashionable accessory, but can be a stylish alternative to a backpack when toting books to class.
What do you think?
What do you think about Lauren's style? Do you like crochet? What about that fabulous watch? Any other redheads out there that like wearing coral-colored pieces too? Let us know with a comment!