I first met Laurel at a meeting for a study tour we were both attending, and I immediately thought she looked glamorous. Her amazing maxi skirt is what first caught my eye – it's a look I've been wanting to try but haven't worn on campus yet. Once I noticed the rest of her chic ensemble, I knew I had to talk fashion with her.
Laurel 101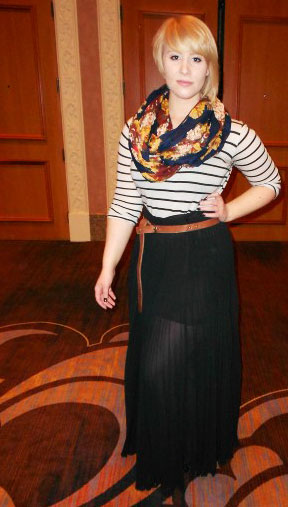 Name: Laurel
College: Oregon State University
Major: Merchandising Management with a minor in Business & Entrepreneurship
Year: Junior
What do you like to do for fun? "I work for fun! I work with the student program council (MUPC) on campus and get to help with the Mom's weekend fashion show. I get to collaborate with models, photographers, and designers. I enjoy tapping into other people's creativity and working with them. I also use Pinterest and put a lot of time into that. And I have a goal of 80 books to read by the end of the year; goodreads.com keeps me on track."
Let's Talk Fashion
Who or what inspires your style? "Kate Lanphear, the style director of Elle USA. I also look at a lot of street blogs."
Where do you like to shop? "I do so much online shopping. I love sites like tobi.com, stylemint.com for t-shirts, and shopcuffs.com for vintage and unique accessories. I also love to go thrifting, especially for vintage blazers."
How would you describe your sense of style? "Very streamlined, tailored to a T. Polished, everyday glamour. I really try to put some effort into my appearance. Every day is a new opportunity to show the world a different side of your personality."
Why did you choose this particular outfit? "I was really excited to wear my new skirt, so I planned the outfit around it. I'd been looking for a sheer maxi skirt for a long time and finally found it at Bebe."
What fashion advice would you give to other students looking to improve their style? "Just try to be inspired; you may not be able to make amazing outfit ideas in your head, but there are so many places for inspiration – blogs, amazingly dressed women. Side note: put away your North Face and UGGS, and step out of your comfort zone!"
What are you favorite trends right now? "Maxi skirts, an obvious one. Also, over-accessorizing the hands, especially to highlight the femininity of them. Then, for every move you make, the accessories will shine and jingle."
Who are your favorite designers? "Alexander Wang. I also love Trisha Summerville's Girl with the Dragon Tattoo collection for Target, it was really well done. Also, accessories by Kate Spade, and this company called Scotch + Soda."
If you could raid anyone's closet, who would it be and why? "Oooh! Victoria Beckham. Or Mary-Kate and Ashley Olsen: Their joined closets must be insane."
Elements of Laurel's Outfit
1. Scarf and Striped Shirt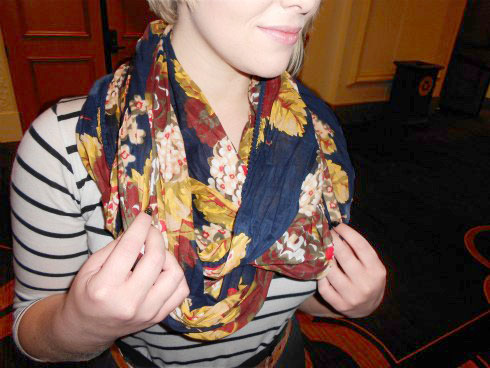 Print mixing is a huge trend right now, and Laurel executed the look perfectly by mixing florals and stripes. The striped shirt is the Lennox tee by stylemint.com and she found the floral scarf in a boutique in Amsterdam.
2. Belted Maxi Skirt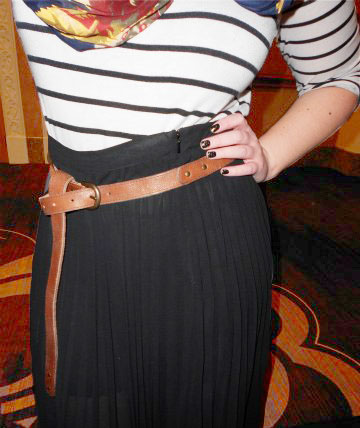 Laurel found this beautiful sheer maxi skirt with a solid mini skirt underneath it at Bebe. She paired it with a perfectly slouchy Urban Outfitters belt to emphasize her waist and add interest.
3. Pointed-Toe Flats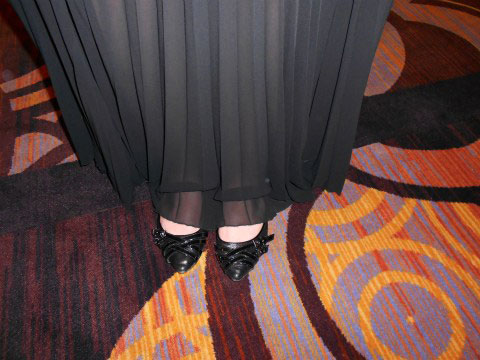 These comfy black pointy toe flats from Kenneth Cole are perfect for a day spent walking around campus. They work perfectly with the laid back vibe of Laurel's maxi skirt while still being dressed up and classy.
What do you think?
What do you think about Laurel's style? Would you wear a sheer maxi skirt? What would you pair with it? What do you think about mixing prints? Let us know with a comment!