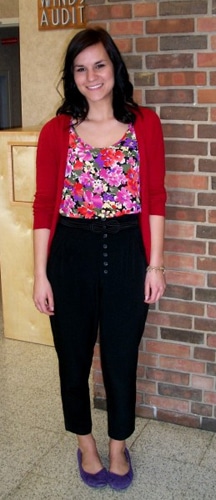 CLICK IMAGE TO ENLARGE
Laura's amazing style and bubbly personality have been brightening me up during boring lectures on media law all semester. After class, I had to capture such a sunny look on the first pretty day Missouri has seen in months!
Read on to learn more about Laura and her awesome sense of style!
Who We Spotted
Name: Laura
Year in College: Senior
Major: Fashion Communications
What inspires your style? "I guess I would have to say costuming and the 1950s…and being comfortable!"
Where do you shop? "I love Goodwill! Thrift stores are great, too. I love the challenge of the chase and knowing no one else will have the same things I will. Also, Urban Outfitters. That's a given!"
What spring styles are you looking forward to rocking? "Definitely florals and light fabrics. I also love slimming silhouettes; anything feminine."
Elements of Laura's Outfit
Bright Florals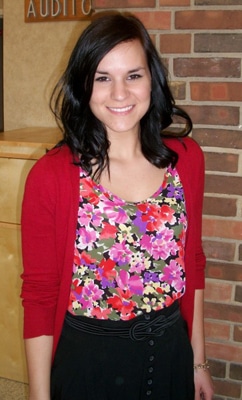 Click image to enlarge.
This top perfectly mirrors Laura's upbeat personality, as well as the beautiful weather we've had at Stephens College. It's bold and makes a statement, without being over-the-top. Laura does a nice job of toning down such a bold pattern by adding a simple cardigan that matches one of the colors in the design.
High-Waisted Trousers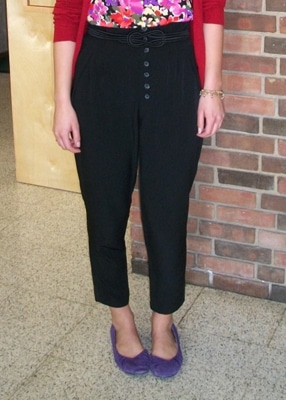 Click image to enlarge.
These peg-top pants are absolutely adorable and on-trend for this season! They are made to be cinched at the waist, baggy on top, then tapered to the ankle. Since the pants are black, they are fairly simple, but the column of buttons adds the perfect little detail to make them stand out. The great thing about these pants is that they are flattering, stylish, and comfortable enough to wear all day!
Bright Shoes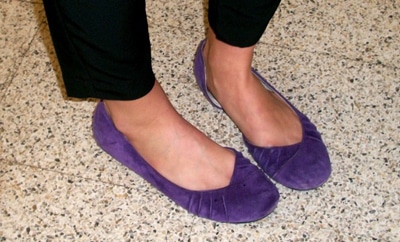 Click image to enlarge.
The thing I love most about Laura's style is that she always seems to surprise you. Here, she does this by adding another pop of bright color to her ensemble. Most would think the bright purple shoes are too much, but she pulls them off with ease and tremendous style!
Looks Inspired by Laura
This look takes the basic components of Laura's outfit and turns them into a more subdued look by using a lighter color palette. The high-waisted peg trousers are almost identical to Laura's, while the floral top uses more girly colors. I added the peach cardigan to bring out the sweet peach color of the flowers and light green shoes to tie it all together. Laura chose bracelets, but a flower ring is a perfect way to welcome spring!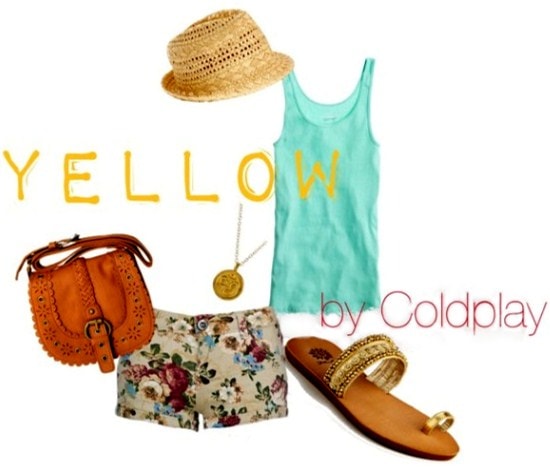 Product Information: Cardigan- Target, Floral Top- Top Shop, Ballet Flats- Old Navy, Trousers- ASOS, Flower Ring- Forever 21
Here is a look inspired by Laura that would be perfect if you are more into dresses than baggy pants. The bold floral pattern of the dress will make you stand out. Because there aren't any pants to break up the boldness, try a cardigan in a coordinating neutral, like black, and go for bold shoes and funky bracelets.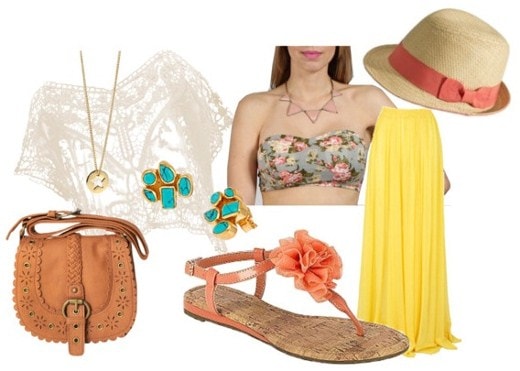 Product Information: Dress- Forever 21, Cardigan- J.Crew, Flats- Go Jane, Bracelet- Tilly's
What do YOU think?
Do you like Laura's spring look as much as we do? Would you wear high-waisted trousers? What spring trends are you liking so far? Leave a comment and tell us!