Since returning home for the summer, I've been spending a lot of time in New York City. While hanging around Lincoln Center on a particularly beautiful day, I happened to spot Larkin.
By a funny coincidence, she'd noticed my printed leggings at the same time I noticed her amazing outfit, so she actually approached me first! We sat down outside the Metropolitan Opera House to chat about her love for music, ballet, and (of course) fashion.
Larkin 101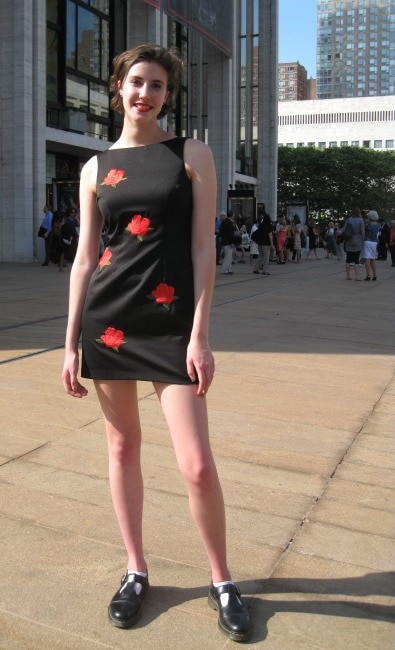 Name: Larkin
Year: Incoming Freshman
Major: Music Performance
School: Illinois State University
Hometown: Ann Arbor, MI
Let's Talk Fashion
Where did each piece come from? "The shoes I got from Urban Outfitters. Somebody did a collab with Doc Martens and they were selling these shoes. They're kind of like a nice t-strap, except they can give me really bad blisters… but I wear them anyway because I like them so much! And the dress I actually got at a thrift store where I live."
Why did you choose this particular outfit for today? "Well, I looked at the weather and I saw that it was not going to rain, so I could wear whatever I wanted. This is actually an outfit that I kind of wear a lot; it's one of my go-to outfits. I wear a lot of dresses all the time since they're kind of just easier to wear than having to coordinate a top and a bottom."
Where do you like to shop? "I do a lot of thrifting. I went into Zara today and really liked all the clothes that I saw there, except I didn't buy any since it's really expensive. But sometimes I buy some of their sale stuff. American Apparel sometimes. Their clothes don't fit me very well. I've actually been buying a lot of their men's clothing recently; their men's pants fit me really well."
Do you have any favorite trends? "The trends that I've been following lately, I guess [are] kind of the return to, like, '90s silhouettes, although I think I've been doing '90s silhouettes a little differently than other people have, but that's okay!"
What about favorite fashion designers? "Whose collections have I liked recently… honestly, Dolce & Gabbana never does me wrong. There's this one designer who had a really good spring collection, but I totally forgot who it was! Oh man, I'm blanking on all of these names right now. I run a fashion blog, this is terrible!"
Can you tell me more about your blog? "It's called Tchaikovskette. It's kind of like a combo fashion/ballet blog, which is kind of why I'm sitting in front of Lincoln Center right now, just waiting to see if any important people come out. Granted, some of my fashion choices are definitely influenced by ballet."
Would you say that ballet is one of your largest style inspirations? "I'd say probably. Also, my mom. I get a lot of my old clothes from her. I do a lot of making old clothes look like new outfits depending on how you can shape them."
If you could raid anyone's closet, who would it be and why? "There's this Chinese pop star, her name is Li Yuchun, and I think, man she's just been killing it recently! She kind of has like a more masculine style. She wears a lot of cool pantsuits and stuff. She also goes by the name Chris Lee, if you want to look her up. She's kind of been my inspiration in the last couple of months."
What do you like to do for fun? Any hobbies? "Play[ing] music and learning languages."
What languages have you learned recently? "Russian [and] Japanese… kind of. Sometimes I invent my own."
Elements of Larkin's Outfit
1. Red Lip + Short Hair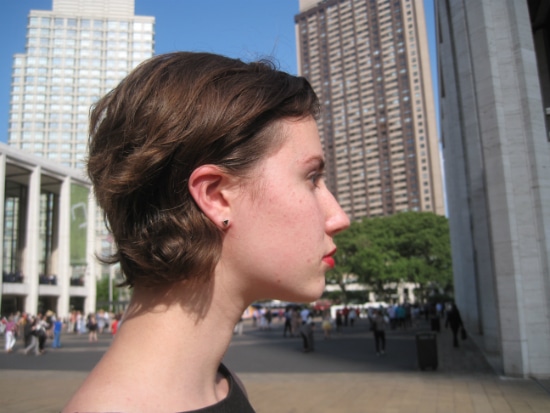 Larkin's entire outfit had a timeless feel to it and her hair and makeup definitely enhanced that vibe. Her short hair fit in perfectly with the clean lines of her look, while her Taylor Swift-approved bright red lipstick expertly matched the color of the roses on her dress.
2. Embroidered Roses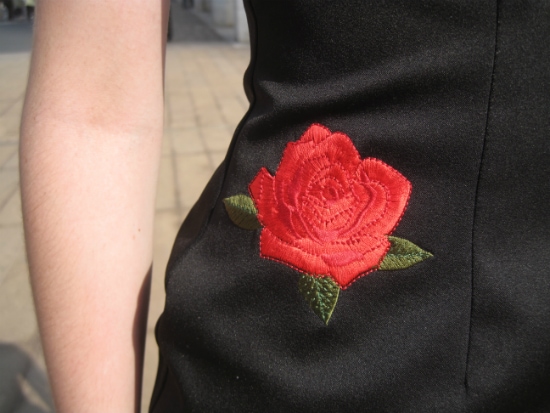 The bright red roses all over Larkin's dress were the first thing I noticed about her outfit. The pops of color and detailed embroidery contrasted sharply against the sleek black fabric, making her stand out instantly in the crowd.
3. Doc Marten Shoes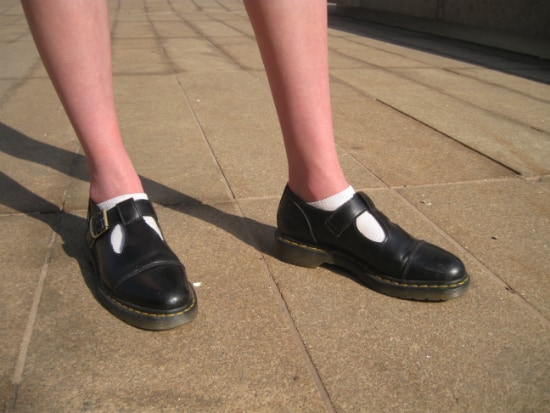 Although she admitted they aren't the most comfortable shoes, Larkin is willing to sacrifice comfort for style when it comes to these Docs. They added a slightly masculine flair to her look, which makes sense given her professed love for menswear.
What do you think of Larkin's shift dress?
Do you dig her style as much as we do? What do you think about her shoes? Comment below and let us know what you think!