I first met Lacey at a meeting for our fashion club, and ever since, I've looked forward to seeing her unique style each week. Today, she surprised me again with her chic and original outfit, and I knew I had to snatch a couple shots of her before letting her go. I love the way she thinks about fashion, so read on and learn about how she manages to look fabulous yet comfortable on a school day.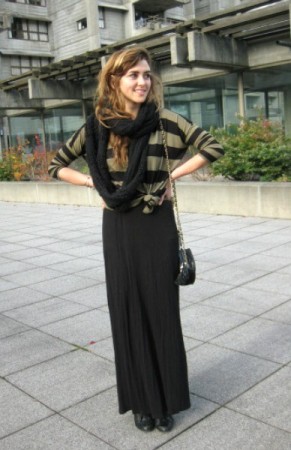 Lacey 101
Name: Lacey
Class Standing: Freshman
Major: Visual Design and Communication
Occupation: Student and Salesperson at Free People
Hometown: Encinitas, CA
Hobbies/Interests: "All kinds of art, music and traveling."
Let's Talk Fashion
What does "fashion" mean, according to you? "To me, fashion is a way for people to use their creativity to express their individuality."
Who/what inspires you in terms of fashion? "Street style and all kinds of online goodies. Who What Wear, Cobrasnake and tfs are some of my favorite sites."
Where do you like to shop? "I love to shop at thrift stores because I love finding unique, one-of-a-kind clothes."
What are the staple pieces in your wardrobe? "Now? Probably my black knit circle scarf, a few long pendant necklaces, a sheer black top and my knit cardigan."
Where did you get this outfit (including accessories, shoes, etc.)? "My top and dress are from H&M and the wedges and scarf are from Forever 21. The jewelry is mostly from flea markets."
Any fashion tips? Or fashion do's and don'ts? "It shouldn't be a hassle to get dressed in the morning; make it fun. Also, remember that you don't have to be fashionable to have style."
What's on your fashion wish list right now? "Creme knit sweater or a sheer maxi."
What are some trends you love/hate right now? "Love, love, love the knit sweater look. Comfortable fashion is my favorite."
Elements of Lacey's Outfit
Lacey's look is polished, yet still looks comfortable enough to walk around the campus in. Let's see how she achieved her comfortable yet fashionable look by breaking down some of the elements of her outfit.
1. Circle Scarf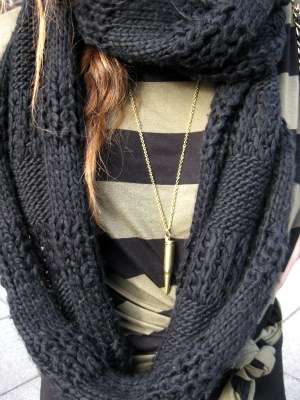 The all-time classic circle scarf is warm enough to keep you cozy, versatile enough to match any outfit, and stylish enough to earn you some fashion points! Also, one of the best aspects of a circle scarf is that it can be used as a hood when it gets too cold or rainy.
2. The Knot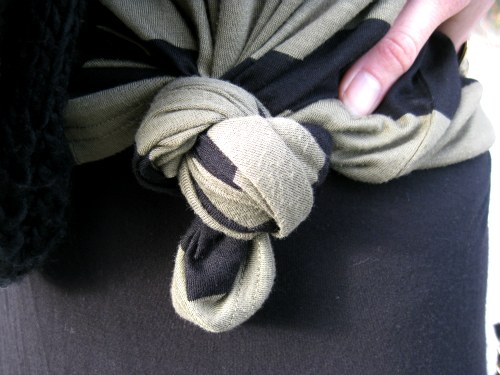 I love how Lacey tied a knot in her shirt! It looks very casual and at the same time it balances the proportion of the maxi skirt to add some curves to her body.
3. Maxi Skirt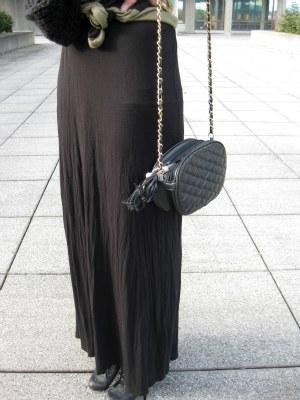 It's hard not to notice a girl in a maxi skirt! An Autumn maxi skirt has been on my wish list since the beginning of this season, and I love the way Lacey styled her simple maxi skirt for a chic look.
4. Miscellaneous: Similar Color/Tone Accessories and the Lace-up Wedges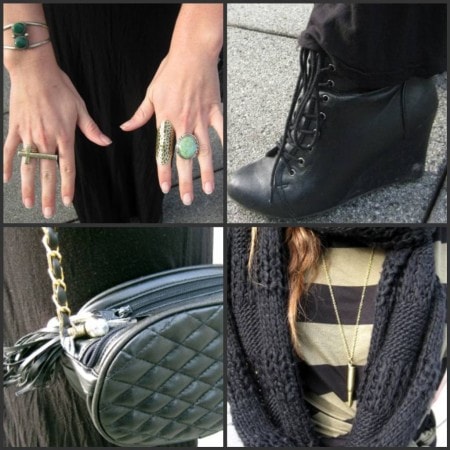 Other than the three aforementioned comfortable-fashion elements, Lacey had a few more neat details in her outfit. I appreciate how she added accessories in gold, green and black, which combine to look very put-together yet vintage-chic. Finally, her amazing black lace-up wedges work perfectly with the maxi skirt to add some height and personality.
Share Your Thoughts!
What is your opinion on 'comfortable fashion?' Have you rocked the maxi skirt this season? And do you love Lacey's look as much as we do? Let us know with a comment!