Ever since I met Kyra, all she could talk about was her devotion to fashion. She attends Pomona College in Claremont, California, but is home for the summer working as a lifeguard and taking classes at California State University, Sacramento.
In this trend-centric outfit, Kyra mixes her summery prints with a laid-back Southern California vibe. She's also trying to keep – and look – cool in the scorching summer heat, and I think she succeeded!
Kyra 101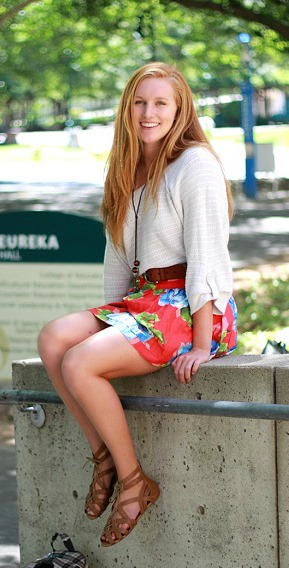 Name: Kyra
School: Pomona College (summer term at CSUS)
Class: Sophomore
Major: Economics
Hobbies: Drawing, swimming, shopping
Let's Talk Fashion
Who or what inspires your style? "I get a lot of inspiration from what I see on campus. Since college has such a diverse student population, there's always an expanse of styles to inspire you every day. I also browse Pinterest to get an idea of how I can make the styles I see my own."
Where do you like to shop? "Anywhere with a 50% off sign in the window! Besides those shops, I do tend to find myself at American Eagle Outfitters, Pacsun, and Forever 21."
How would you describe your sense of style? "I'm all for that cute, comfortable, Californian style. I love short shorts, loose tops, and accessories that don't get in the way whether I'm working in class or running to swim practice."
Why did you choose this particular outfit? "I was trying to beat the heat and feel the breeze between my knees! Plus, summer is the time for fun colors and prints, so I figured why not?"
What fashion advice would you give to other students looking to improve their style? "Wear what feels right; what makes you feel confident, beautiful, and you. And definitely dress for weather. You are not meant to suffer [in] 100 degrees in black pants, no matter how cute it looks."
What are your favorite trends right now? "Fun with prints and flower power!"
Do you have any favorite fashion designers? If so, who? "Not really, I tend to look at the prices more closely than the brand or designer names."
What do you do for fun – do you have any unique hobbies or interests? "I swim competitively for Pomona College, which takes up a lot of energy, so my favorite hobbies have become napping and Netflix-binging. I draw and paddleboard as well."
If you could raid anyone's closet, who would it be and why? "Probably Taylor Swift. I love how she can look cute, casual, and polished all at once! She has her own personal flair that I appreciate."
Elements of Kyra's Outfit
1. Contrasting Tones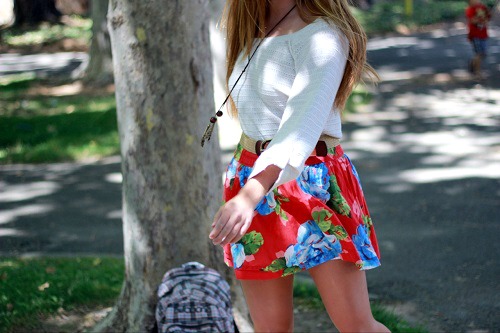 Kyra's cream-colored American Eagle sweater brings out the light tones in the blue petals of the flowered skirt. Her focus was clearly on one standout piece: the Gilly Hicks skirt. She plays off that vibrancy with the neutral tones in her top, DSW shoes, and accessories.
2. Dare to Bare!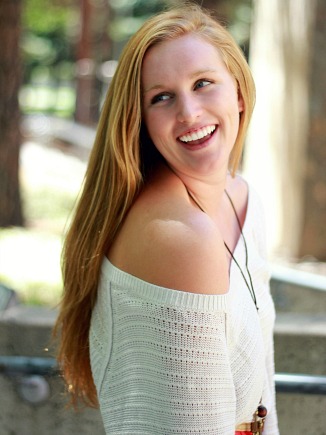 Kyra's skirt and belt combo gives her the perfect hourglass figure, and this off-the-shoulder top highlights her toned swimmer's shoulders. These shoulder-baring tops are everywhere this summer, and it's a great way to show off some skin without feeling self-conscious.
3. Laid-Back Accessories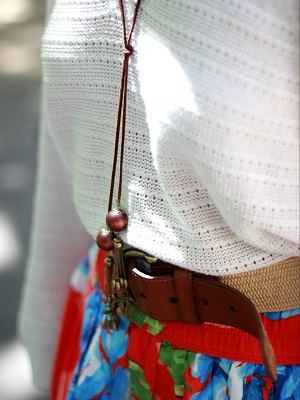 These leathery accessories reflect the chill California vibe Kyra brings to the table, while her skirt brings out Kyra's summery, sunshine-y personality! Kyra found this richly toned belt at American Eagle, which works perfectly with her boho chic tasseled necklace. These fun, breezy elements make this the ideal outfit for withstanding the intense Cali heat.
Do you love Kyra's bold skirt?
How do you feel about off-the-shoulder tops? What is your favorite element of Kyra's look? Let us know what you think by leaving a comment below!