Kylie is no doubt one of the most fashionable girls I know. We met in high school, and I've been in love with her fashion sense ever since. Now, thanks to College Fashion, I finally have a legitimate reason to ask her about the secrets of her style!
Kylie kindly provided me with some photos of her daily outfits via e-mail, and I think they're a great source of outfit inspiration, especially as the weather gets warmer. This girl rocks the floral trend a lot, which is perfect for spring. Plus, Kylie is a student from Singapore, so for those of you who want a taste of student style from across the globe (or may be studying abroad there soon), pay extra attention! 😀
(PS – If you know a stylish girl we should feature here, including yourself, please email outfit photos and info to zephyr AT collegefashion DOT net!)
Kylie 101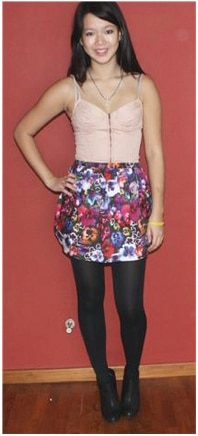 Name: Kylie
School: Lasalle College of the Arts
Home town: Singapore
Class Standing: Freshman
Major: Undecided
Hobbies/Interest: photography, drawing, and painting.
Let's Talk Fashion
Who/What inspires you in terms of fashion? "When I was younger I loved looking at high fashion magazines but now I am inspired more by street fashion and fashion inspired by music. I like the look of ordinary people who may not even own that many clothes but always put their own spin on things."
Who is your fashion idol? "I don't have one, it could be any girl on the street who not only has trendy clothes but really has her own style."
Where do you like to shop? "A lot of my clothes are H&M or Topshop. There are also a lot of individual clothing shops available here [in Singapore]. I wouldn't mind a thrift/vintage store or two though, but there are basically no good ones here!"
Any fashion tips? Or Fashion Do's and Don'ts? "Be comfortable, there's no point looking lovely for a night out if your feet are in too much pain for you to dance with your friends."
More of Kylie's Looks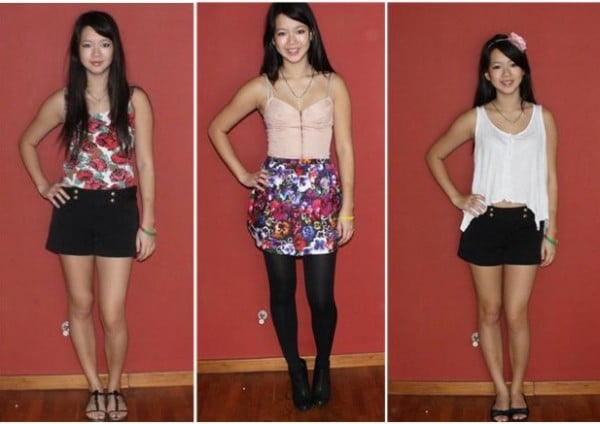 Get Inspired
I don't know about you, but I love how Kylie incorporates florals into her outfits. The key to making florals work is to have only one floral focus in the outfit, so it won't look too "garden" and "flowery." Kylie demonstrates three ways to wear floral prints above, and here are the three inspired outfits I put together.
1. Top/Dress
What can I say? This outfit screams spring! I paired the dress with a beige cardigan for a very relaxing look, which would be perfect for a romantic picnic! Also, the fedora is not only cute and trendy but also practical under the sun. If you think this look is too holiday-like, then consider Kylie's look above – I love how she still looks cool and put-together while rocking flower patterns.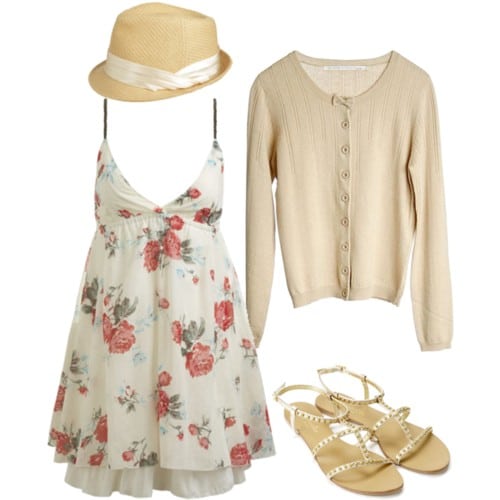 Product Information: Fedora- Arden B, Floral Dress- Wet Seal, Sandals- Monsoon, Cardigan- Must Haves
2. Bottom
The floral pattern is subtle in this outfit, so it would be perfect for someone with an edgier sense of style. On the other hand, Kylie's look above is more daring, if that's more your taste. In addition, I've found that high-waist floral skirts look very flattering on most girls, and can be purchased at many stores like H&M or Forever 21, so it's an easy look to try for yourself.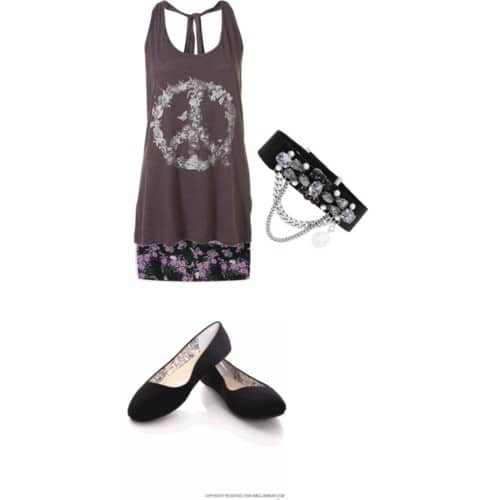 Product Information: Top- Top Shop, Skirt- Forever 21, Flats- Amiclubwear, Bracelet- Zappos
3. Accessories
If you are really not a flower person, try floral accessories for just a taste of the trend! The headband below will definitely attract attention, and I love how the colors look in this outfit.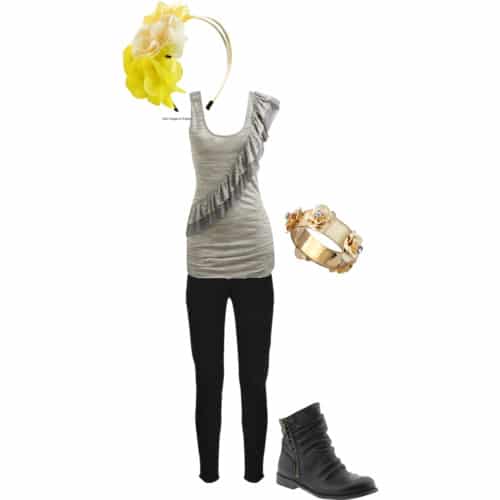 Product Information: Headband- My Diva's Closet, Top- Arden B, Boots- Piperlime, Jeans- Net-a-Porter, Bangle- TopShop
Share Your Thoughts!
I hope you enjoyed reading this post! What do you think of Kylie's "fashion theory" and outfits? And which type of floral look would you go for? Leave your thoughts in a comment.