Androgynous style seems to be the uniform for many around Loyola's campus. It must be the colorful, fashionable history of New Orleans that influences this dapper style.
Kyleah is a fellow history major who's also in my Medieval Women class. One day, Kyleah waltzed into class in a very smart outfit that stood out from the sea of t-shirt-and-jean pairings. She combined casual shorts with a dressy vest and tie to create a sporty yet stylish outfit, which you can check out below:
Kyleah 101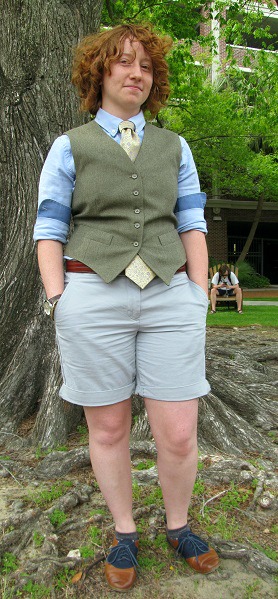 Name: Kyleah
School: Loyola University New Orleans
Year: Senior
Major: History and Religious Studies
Let's Talk Fashion
Who or what inspires your style? "I really like the dapper queer aesthetic. Sites like Queer Fashion and Dapper Q give a lot of inspiration."
Where do you like to shop? "Thrift stores and consignment shops. I usually go to Gap, Banana Republic or H&M."
How would you describe your sense of style? "I usually dress more simple [and] practical. Like I mentioned earlier, I really like the dapper aesthetic."
Why did you choose this particular outfit? "It's really beautiful and sunny outside, but I wanted to dress up a little bit, so this was a really good compromise."
What fashion advice would you give to other students looking to improve their style? "Go with what you like. If you want basic advice, trade out school tops for [a] navy blue t-shirt. Trade your ratty jeans for chinos. Oh, and button-ups – you can be casual and dressy in a button-up!"
What do you do for fun do you have any unique hobbies or interests? "I play soccer, a lot of instruments, and I do a lot of activism in the city."
If you could raid anyone's closet, who would it be? "Ellen DeGeneres and Pharrell Williams."
Elements of Kyleah's Outfit
1. Button-Down, Vest, and Tie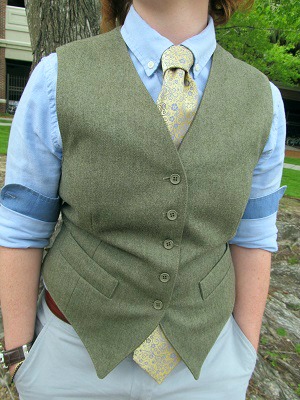 Kyleah's button-down is a crisp and classic piece every student should own, and her vest adds to the menswear style that she loves. Kyleah's vest dresses up her outfit, but is still casual enough to wear to class. Personally, I wear a black waistcoat with skinny pants and loafers to create a chic and comfortable outfit. You can also pair a luxe fitted vest with a skirt for a mix of masculine and feminine. I love that Kyleah finished her look with a tie – it's a great layered look that really works on her.
2. Two-Tone Oxfords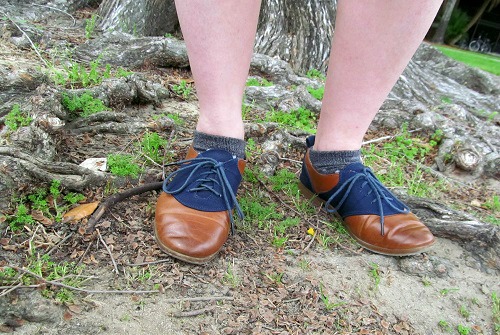 Oxfords have a classic yet dapper vibe, and they're very on-trend this season. These shoes are comfortable and can be dressed up or down, which makes them an excellent addition to any wardrobe. Pair oxfords with a dress for a playful look or with a button-down and tailored shorts for a menswear-inspired ensemble. Kyleah's two-toned pair is so adorable, plus the neutral color means they can be mixed-and-matched with a variety of outfits.
3. Brown Belt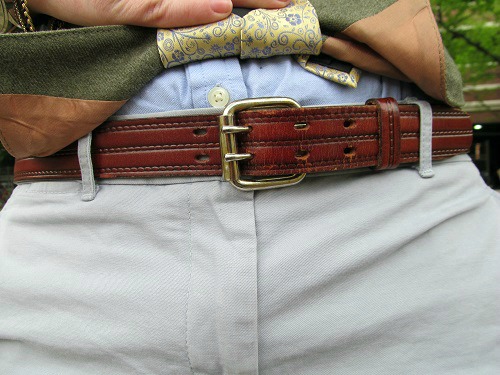 You can never go wrong with a brown leather belt. While the concept sounds basic, Kyleah's belt is far from boring! The gold buckle and bold stitching really make it stand out, plus it's ultra-versatile. Try wearing a brown belt wrapped around the waist of your favorite dress, cinch it around a sweater, or grab it to add a little something extra to your skinny jeans.
Do you love Kyleah's look?
Do you wear vests and ties? What about your multi-colored oxfords? What are you favorite menswear pieces? Let us know what you think by leaving a comment!