Midterm season is in full swing at Berkeley, which means stressed out students are trekking to the library in sweatpants and t-shirts. It's definitely difficult to dress well while studying and focusing on exams. But when I saw Kristie on campus, I knew Berkeley had not lost all hope. Her neutral outfit complemented the grey weather while still looking fresh, and her oversized sweater is a fab piece to bring into fall.
Kristie 101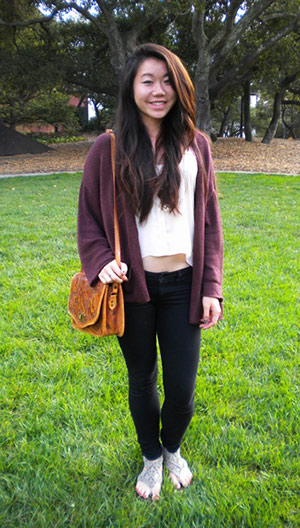 Name: Kristie
School: University of California, Berkeley
Year: Freshmen
Major: Business and Psychology
Hometown: Irvine, California
Let's Talk Fashion
Who or what inspires your style? "I really love Alexa Chung. She is one of my favorites."
Where do you like to shop? "That depends. I always love Urban but they can be really expensive so I actually really like going to thrift stores and vintage shops."
How would you describe your sense of style? "That changes depending on my mood but I like to keep it classic with a trendy edge."
Do you have fashion advice for girls looking to build their personal style? "Just wear whatever you know suits you. Do not always just follow the trends."
Any fall trends you are looking forward to? "I really love the peplum trend! I want to get a dress like that."
Who are your favorite fashion designers? "I like Balenciaga and Céline. I love Marc Jacobs, too and 3.1 Phillip Lim."
Any interesting hobbies? "I love to sing and I love hiking. Those are my two favorite things."
Elements of Kristie's Outfit
1. Detailed Shoulder Bag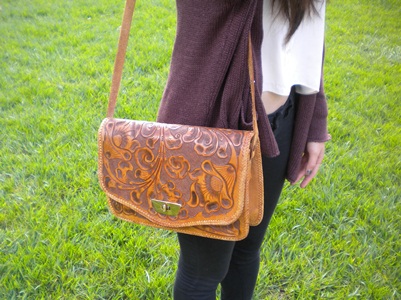 Kristie's gorgeous shoulder bag is the perfect accessory for school; it is large enough to hold all her supplies including books and even a laptop. But the bag also adds the perfect touch to her outfit. The detailed leather is interesting and elevates the entire look.
2. Cool Jewelry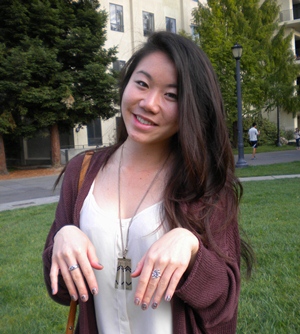 Kristie's subtle jewelry complements the neutral tones of her outfit, but the mixed metallics keep it interesting. "I always go to flea markets for accessories. Those are the best places to find amazing pieces," Kristie said.
What do you think?
What do you think of Kristie's outfit? Do you shop at flea markets? Do you mix metals in your jewelry? Let us know with a comment!