I ran into Kristen after class and immediately fell in love with her look. The first thing I noticed was her lovely necklace, but her bright tights also got my attention! I loved how her outfit was feminine and girly but still had a little edge to it.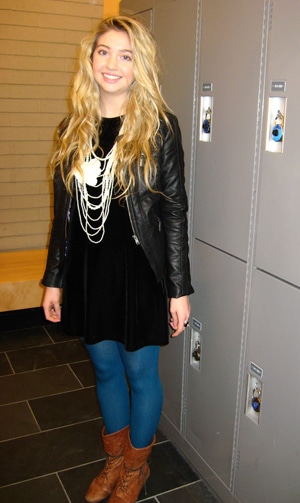 Name: Kristen
School: University of Guelph-Humber (Toronto, CA)
Age: 18
Year in University: 1st year
Major: Public Relations – particularly interested in Public Relations for fashion
Hobbies/Interests: I'm quite athletic; I've been playing soccer for 14 years. I also play badminton, volleyball, tennis, and I like bike riding. I also like to paint and research fashion by looking up collections online.
Favorite Designers: My favorite designer is Luella Bartley because I love the London vibe of her clothes; her pieces are very girly and I love the floral prints and cute dresses. I also love her shoes; they are so cute and remind me of Barbie doll shoes! Her collection is far from generic. I'm also a fan of Anna Sui for similar reasons.
Describe your style: I think my style is quirky. I like pops of color in all my outfits, and I like to mix old with new. I like to think of myself as a nature girl in a way; I like to wear florals and neutrals a lot of the time. My outfits always depend on my mood, and I like to switch it up by adding accessories or a blazer.
Who/what inspires your style? I get my style inspiration from the runway, and as I mentioned before I'm constantly researching the latest collections. I then go and try to mimic the avant-garde styles in my everyday wardrobe. The same idea goes for my hair and makeup – I'm currently searching for the perfect shade of coral lipstick for spring!
Where do you like to shop/find clothes? I love going to Value Village (a vintage store) a lot! I also like to shop at Urban Outfitters and H&M – they're my staple stores to go to when shopping downtown. I sometimes get hand-me-downs from my cousin (like this dress I'm wearing now), and I also like to go to Winners the odd time; they have nice clothes if you look hard enough.
Elements of Kristen's Outfit:
1. Bold Jewelry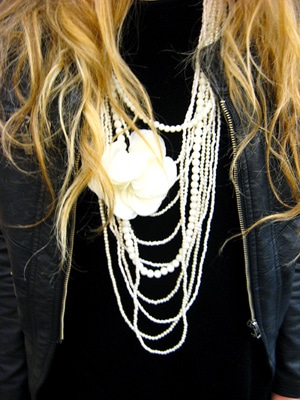 This necklace is a statement piece and the white really pops against the black backdrop of her dress. The necklace adds a nice girly feel and the pearls give the outfit a classy touch.
2.Bright Tights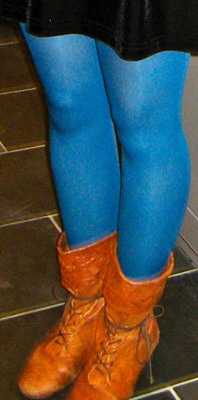 As seen in our article Trendy Tights for Winter & How to Wear Them, Kristen's look is a great example of how to pull of bright tights with ease. These tights give color to her look, set against the neutral tones of her black velvet dress and cognac booties.
Looks Inspired by Kristen:
Outfit 1:
The little black dress in this look is really the core of this outfit, inspired by Kristen's look. Everything else works around the dress to give the outfit a polished-yet-eclectic feel. The leather jacket also gives the dress a bit of edge, but in a soft way.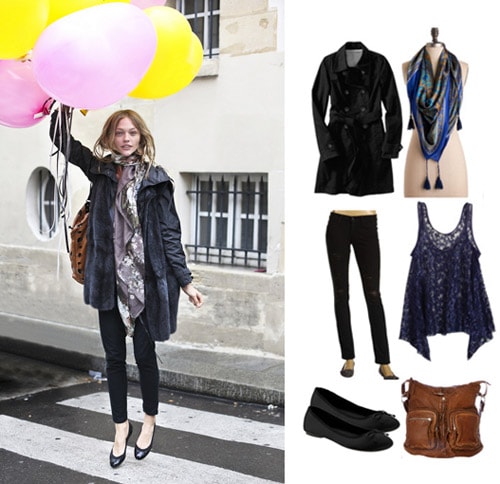 Product Information: Velvet Dress – Shopnastygal, Tights – WeLoveColors, Boots – Asos, Ring Set – Forever 21, Necklace – Forever 21, Jacket – KRMA
Outfit 2:
This outfit combines the same basic elements as the first: the little black dress and bold tights, but it's a bit more subtle with casual fabrics. Also, this time, the pop of color is in the footwear rather than the tights.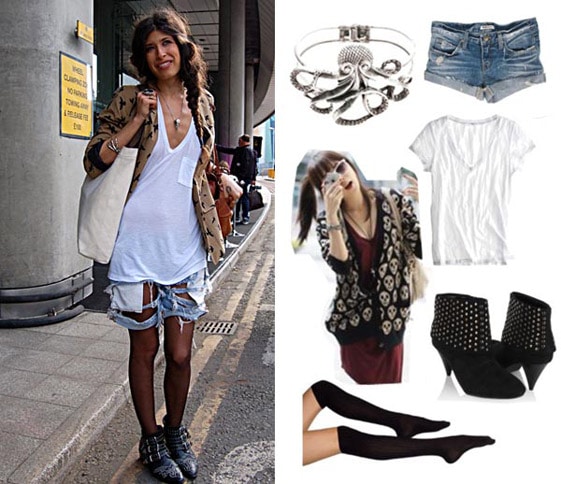 Product Information: Dress – Forever 21, Blazer – TopShop, Tights – Forever 21, Boots – Nine West, Bracelets – Wet Seal, Hair Flower – Flower Clip
What do you think of Kristen's look?
Are you a fan of the bright tights trend? Are you wishing you could steal Kristen's incredible necklace like we are?! Leave your thoughts in a comment.