Komal met me after class with a huge grin, super giddy that I asked to feature her style. She looked so relaxed in her layered outfit on this unseasonably warm day in the Canadian winter. I couldn't wait to dive right in and learn more about the girl behind this gorgeous outfit.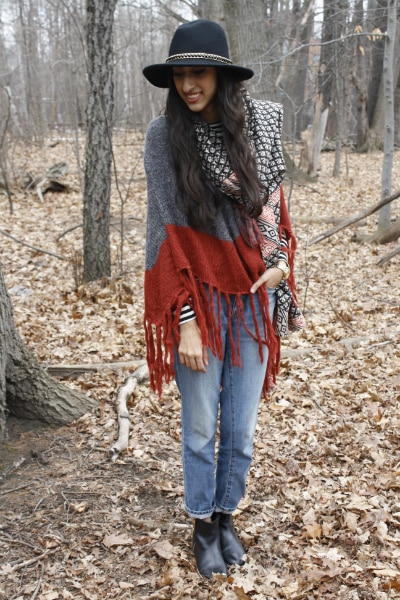 Komal 101
Name: Komal
Year: Third Year
Program: Digital Enterprise Management
School: University of Toronto
Let's Talk Fashion
Who or what inspires your style? "I get my inspiration mainly from Pinterest and Instagram. I feel like you can use posts from people who inspire you to help piece together outfits that are unique to your style."
Where do you like to shop? "My go-to places are Zara, H&M, and Forever 21. Tory Burch, Michael Kors, and Watch Station International are amazing for their watches and handbags. Aldo is also great for shoes."
How would you describe your sense of style? "I would probably describe my style as street, preppy, and chic. I like to go for a classy look yet still be comfortable. I believe that you don't need to show skin to look good. Fashion and modesty can go together and show one's true self."
Why did you choose this particular outfit? "In the winter I like to go for darker colors but pair them with jeans to make it causal for school. I also like mixing and matching colors and prints because it represents who I am. For me, watches are one of the most important details you add to your outfit – that and rings. They are elegant pieces that complete your entire look."
What fashion advice would you give to other students looking to improve their style? "You have to feel comfortable in what you wear. Choose a color palette and find what works, then piece together outfits that suit you. Instagram and Pinterest are great for finding what appeals to you. Fashion is very personal. Dress to impress yourself, not others."
What are your favorite trends right now? "I'm currently liking boyfriend jeans, ankle booties, bohemian [looks], and abstract prints as well as oversized shawls – I literally have 20 that I just rotate through! Natural makeup is also really high on my list right now. I like trends that can transition throughout the entire year, those that aren't limited to just one season."
Do you have any favorite fashion designers? If so, who? "I like Coco Chanel, Michael Kors, Tory Burch and Burberry. They all have timeless pieces. I'm currently saving up for a Burberry trench. The coat is so elegant. I think what catches my eye about each designer is their versatility, they are all in so many facets of the industry."
What do you do for fun – do you have any unique hobbies or interests? "I like photography – nature, fashion, makeup, babies – it doesn't matter, I just love it! I feel like I can capture special moments through the lens, those that the eye may not catch. I also love to travel. I want to travel to a different country every year with my future soulmate or best friend."
If you could raid anyone's closet, who would it be and why? "I would raid Tory Burch's closet all day, every day!"
In a couple of words, how would you describe yourself? "Charismatic, loyal, humble, and passionate!"
Elements of Komal's Outfit
1. Shawl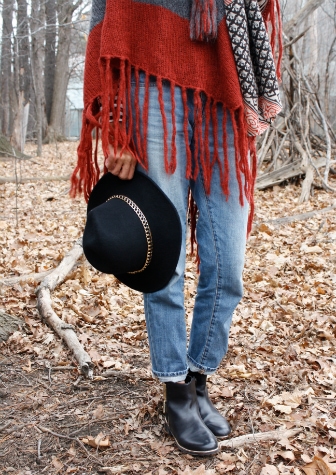 One of her "literally" 20 shawls, this knit bohemian combo is from H&M, but was actually handmade in Karachi, Pakistan, the town where Komal was born!
2. Gold Watch + Mixed Prints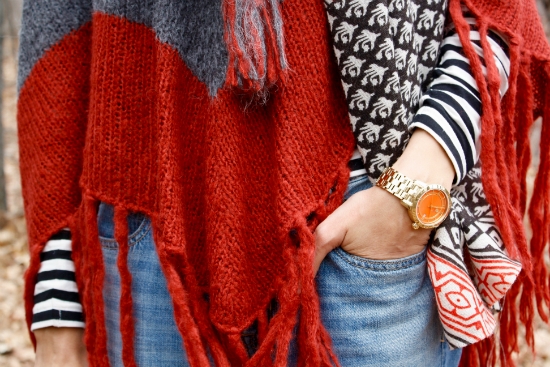 Komal is big on pops of colors and loves her watches. Try dressing up a typical watch with a bright face to make a statement with any outfit. Despite her mixed patterns, this outfit fits together flawlessly.
3. Boyfriend Jeans + Flat Booties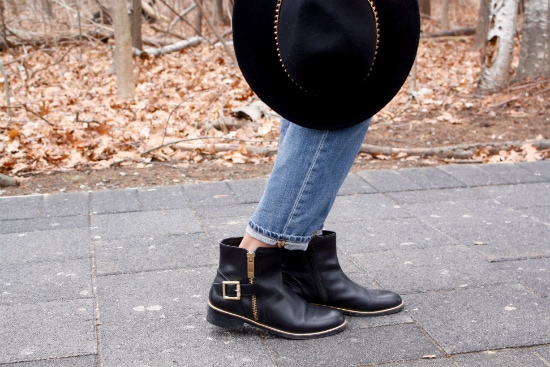 One of Komal's current favorite trends is ankle booties. This take on the Chelsea boot is glammed up with gold brass, a perfect complement to the gold rim on her hat as well as her watch.
What do you think of Komal's look?
Do you think she put together a great outfit? Would you wear her flat booties? Comment below and share your thoughts with us!