Ladies and Gents, I present to you Miss Kelsey Silva. She is a one-of-a-kind type of gal who lights up a room as soon as she enters. Her big smile and easy-to-talk-to personality enhances her classic, worldly sense of style. Luckily, I was able to stop and capture her relaxed, glam look when I saw her gliding through the park on UC Irvine's campus. Read on to learn more about Kelsey!
Kelsey 101
Name: Kelsey
Year: Senior
School: University of San Francisco
Major: International Studies of Latin America
Hobbies: Traveling, reading, exploring San Francisco, and jewelry-making.
Let's Talk Fashion
Who or what inspires your style? "San Francisco definitely influences my style. Not just the city, but also the people here – people in San Francisco have their own ideas and their own individual styles, just [comprised of] thrift store finds. I'm also a really big fan of color. I rarely wear black."
Where do you like to shop? "I shop at Macy's when they have sales because they have good quality stuff and they have really cute boots. I wear boots a lot in the city. Otherwise, I shop at a lot of thrift stores. Occasionally, I will shop at Forever 21."
How would you describe your sense of style? "Um, Kelsey, I guess? I'll read magazines and pay attention to what's in right now, but a lot of times I can't afford it so I may pick one or two things I'll wear. I would say I'm colorful."
Why did you choose this particular outfit? "I got this skirt in El Salvador, which is where I just returned from studying abroad. I just like having constant reminders of my time there. I also like the leopard tank top because it's hot today."
What fashion advice would you give to other students that are looking to improve their style? "I would just say always wear what you're comfortable in. If you're not comfortable, then it shows through your outfit. Also, make sure things fit well. And dress to the occasion – if you're going somewhere professional or semi-professional, make sure you're wearing something appropriate for that environment."
What are your favorite trends right now? "I really like that glitter on shoes is coming back again, even on some of the more professional shoes. I am also big on the colors and patterns coming out right now. I'm a huge fan of the tribal print and turquoise trends."
Do you have any favorite fashion designers? "I don't really shop fashion designers. I do like Marc Jacobs, though. I always, always love his ads in the magazines and Marc by Marc Jacobs is one of my favorites. But, I really try not to pay attention to it because it just makes me sad that I can't afford it!"
What do you do for fun? Do you have any unique hobbies or interests? "I really love traveling when I have the money for it or if it's a school-sponsored trip. All of my traveling has to do with social justice. I'm not big on travel vacations; it's all about where I can learn and what information I can bring back to the U.S. to help the world or improve the world. On another note, I LOVE frozen yogurt, I like making jewelry, and I like to read."
If you could raid anyone's closet? Who would it be and why? "Blake Lively. Love her. She always has great earrings. Other than that, I would raid my friend's closets. I don't know anyone else; everyone's so skinny. Although I love Nicole Richie's sunglasses. I also like the outfits seen on Pretty Little Liars."
Elements of Kelsey's Outfit
1. Snow Leopard Print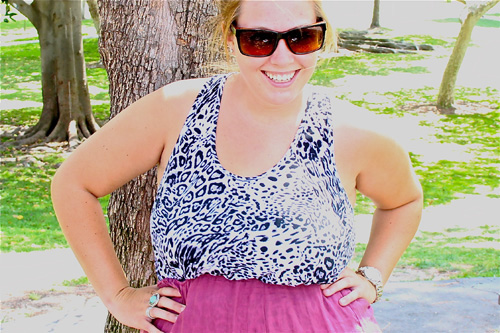 This classic leopard print tank gives Kelsey's outfit a pop of drama. The tank's light and thin quality is perfect for dealing with the sweltering heat waves that Southern California has been experiencing.
2. Skirt from Abroad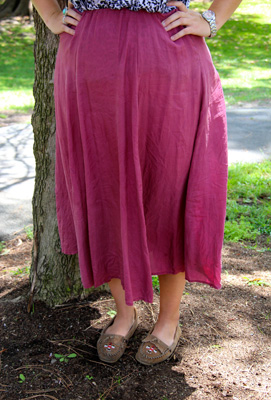 Kelsey's magenta maxi-turned-midi skirt is pulled up to her waist, creating an hourglass shape. Also, the fact that this item was brought back from El Salvador adds some unique flavor to her look.
3. Classic Accessories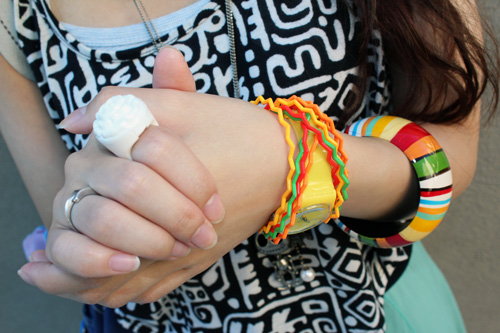 Kelsey's white-silver watch and turquoise ring are perfect additions to her look. Mixing and matching different styles within an outfit is a great way to experiment with old and new trends to develop your own unique look.
What do you think?
What do you think of Kelsey's outfit? Are you inspired by city lights and interesting people? Do you have any favorite pieces you've brought back from other countries? Let us know with a comment!