One day in early March, I rushed past Kelsey on my way to class and immediately regretted not stopping to speak to her about her style. So, it felt like fate when I ran into her a second time on campus. Although now it may be a tad warm to be sporting tights and a jacket in most parts, her outfit can inspire those of you in colder temps, and can be modified to fit warm weather.
Kelsey is a noteworthy fashionista due to her refreshing takes on personal style and fashion sense– read on to learn more!
Kelsey 101

Name: Kelsey
College: University of Maryland, College Park
Year: Junior
Major: Art (Graphic Design)
Hobbies: Graphic design (working for college newspaper), photography, illustrating
Let's Talk Fashion
Who or what inspires your style? "I love the blog Flashes of Style — I follow it religiously."
Where do you like to shop? "Love Urban Outfitters, but also Chicwish and ROMWE. I love Dolce Vita, too."
How would you describe your sense of style? "Entirely impractical — I wear whatever I want. And I love florals, I could wear them all day long."
Why did you choose this particular outfit? "It's kind of a fall day (weather-wise), so I'm going for fall colors. I wanted to do something different. I hate jeans, I only own a black pair. Being 5′ 0" it's hard to find a pair anyway."
What fashion advice would you give to other students looking to improve their style? "Honestly, just wear whatever you want. College students should express their style — if you like it, wear it."
If you could raid anyone's closet, who would it be and why? "In a heartbeat, Bonnie Barton from Flashes of Style. Or Kate Middleton — but she's an amazon, so nothing would fit me anyway!"
Elements of Kelsey's Outfit
1. High-Waisted Shorts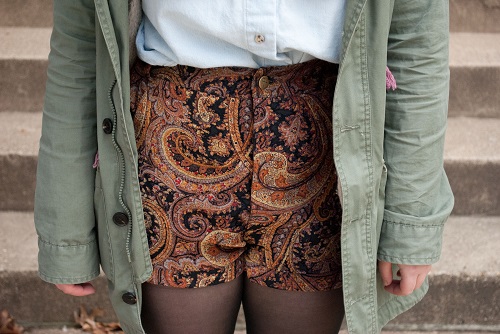 Personally, I've always been a fan of tucking in button-downs into high-waisted shorts, and Kelsey takes it a step further by wearing a chambray top and a bold pair of bottoms. The olive green jacket also complements both pieces nicely. When the weather is warmer, just subtract the jacket and tights for a trendy springtime look!
2. Oxfords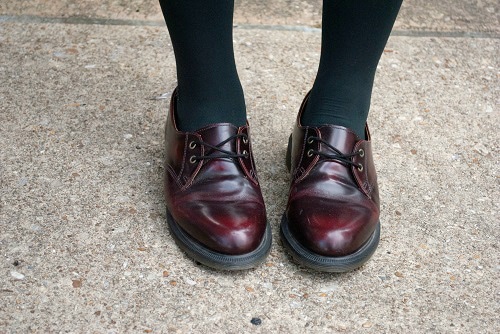 I don't know about you, but I've never seen this particular color of Docs on campus before! Thanks to their distressed-quality and oxblood hue, these brogues are total winners.
3. DIY Headband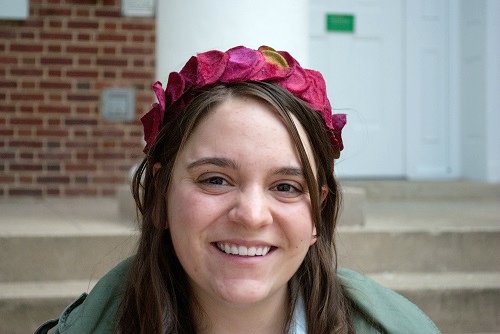 The result of a DIY project from Flashes of Style, Kelsey's 'flower crown' is a total eye-catcher. Its color and ingenuity puts the cherry on top of an already stylish outfit.
What do you think?
How do you like Kelsey's outfit? Have you ever made a DIY article of clothing? What's your take on the idea of wearing whatever you want? Let us know in the comments below!