With the first snowfall comes the time when everyone digs into the back of their closet for their North Face jacket to bundle themselves up for the brutal cold weather. Winter is my least favorite season, and although I love my fleece for keeping me comfortably warm through these icy months, stylistically, I might as well be wearing a sleeping bag.
So that's why Kelsey caught my attention with her unique choice of wearing a winter cape coat amongst a sea of North Face jackets. What a stylish alternative! Read on to learn more about her style.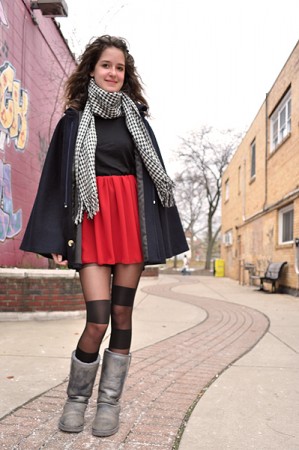 Kelsey 101
Name: Kelsey
School: Michigan State University
Year in College: Freshman
Major: Marketing
Hometown: Pennsylvania
Hobbies/Interests: "Photography, Photoshopping, shopping… college is taking up a lot of my time so it's limiting my hobbies."
Let's Talk Fashion
Who or what inspires your style? "I love Audrey Hepburn and her classic style. I like mixing that with all the new age hipster style stuff, sometimes a little preppy, depending on my mood I guess."
Where do you like to shop? "I like a lot of re-sale stores, plus Urban Outfitters, American Apparel, and J. Crew."
What are your favorite trends right now? "I'm loving tights right now! Mine are striped at the moment, and I have fishnet ones, and two color leg ones. I also really like things with lace, and over-the-knee boots!"
How would you describe your sense of style? "Oh man… my sense of style… I'm a little bit out there, a little bit avant-garde, trying new things, sometimes a little strange."
What fashion advice do you have for other students? "I really advise people to be themselves, even if it's a weird crazy sweater that you love… just wear it! I don't like people who try to fit in to the cookie cutter mold."
What motivates you to dress up? "I just like dressing up, really! Every day is like a dress up day for me; I'm like a little kid!"
What's your opinion on practicality versus being fashionable? "That is my dilemma right now… I mean, I'm wearing tights in the dead of winter! But I think you can find a happy medium between looking good and keeping warm if you make the effort."
Elements of Kelsey's Outfit
1. Winter Cape Coat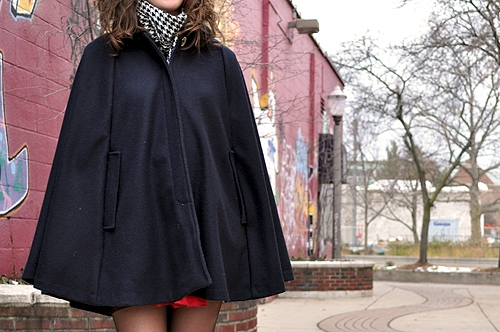 A fun and quirky alternative to your average typical winter coat, Kelsey's cape coat stood out in the crowd. A winter cape coat is a great way to show individuality and fashion taste while keeping warm through the season – even in Michigan!
2. Metallic Winter Boots and Patterned Tights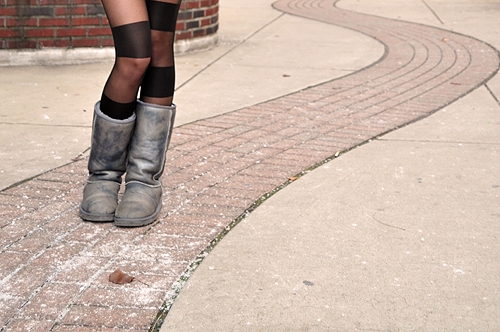 Maybe it has something to do with our double x chromosomes, but what girl can resist having shiny objects in her wardrobe? These metallic UGG boots are comfy and warm while adding a bit of glamour to Kelsey's outfit. They're also totally unexpected – when was the last time you saw a girl on campus pair UGGs with something other than leggings or skinnies (and still look awesome)?
Patterned tights are also an easy way to add something extra to an outfit, and they come in zig-zags, stripes, polka dots, colors, textures- the list is endless, giving you unlimited options to add an extra kick to your style while you keep warm.
Share Your Thoughts!
What do you think about Kelsey's sense of style? What's your advice for staying fashionable while keeping warm in the winter? Would you wear tights in the winter? Share your thoughts with a comment!