This week I ran into Kelly, a Yale fashionista from the class of 2013! (Proof that nerds can be beautiful AND stylish.) What really caught my eye was Kelly's beautiful scarf, adorned with a great color palette. To my surprise, Kelly also had an amazing statement necklace underneath her scarf. Not only does Kelly accessorize well, she has a great fashion philosophy. Read on to learn more!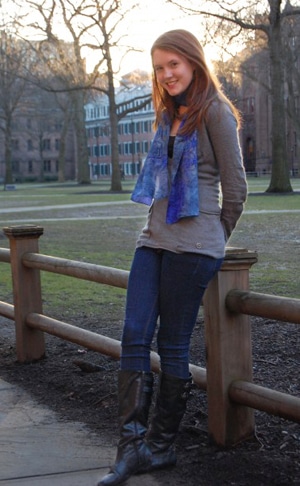 Kelly 101
Name: Kelly
Major: Mechanical Engineering
Some More Details…
Hometown: Yonkers, New York
Hobbies & Interests: "Random things, from performing in theater productions to playing on my Gameboy color. And boys. Definitely boys."
Who or what inspires your style? "My mood and set of personal motives for the day. Oh, and Serena from Gossip Girl."
Biggest Pet Peeve: "When people call me Ginny. Yes, I know I look just like her."
Describe your style: "I feel like my basic looks are the 'going-out' look, self-explanatory, and the 'comfort/cheap' look, which means that I doesn't look like I actually am trying, but I am. When a girl tries too hard, she looks high-maintenance. I want my style to look natural and effortless, even if that might not be necessarily true. When it comes down to it though, it's all about wearing what's appropriate for your vibe."
Where do you like to shop? "Urban Outfitters, Forever 21, Guess… it always changes. As I get older, my tastes mature. Before, I used to be obsessed with Express. And way before, you know, it was all about Limited Too."
Why did you choose this particular outfit? "New Haven in January is cold, so layering is essential. Today, I happened to be moving around a lot, so comfortable and stylish shoes were important. Skinny jeans, an obvious choice. I was on the way to an audition, actually, and needed to look approachable, yet classy. That's why I went with more basic hues. The scarf is something I picked up from back home over break – it adds a splash of personality to an otherwise bland outfit."
Elements of Kelly's Outfit
1. Statement Necklace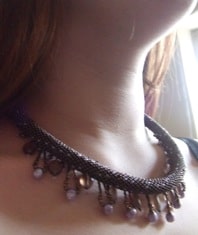 Kelly's necklace is definitely unique and adds a lot to her outfit. I really like the juxaposition of the tight/choker effect along with dangling beads. When I asked Kelly about the necklace, she said, "It was a gift from an old friend, a jewelry maker. It's quirky, but somehow manages to be elegant. The color goes great with my skin, I've been told. I always get compliments on it."
2. Riding Boots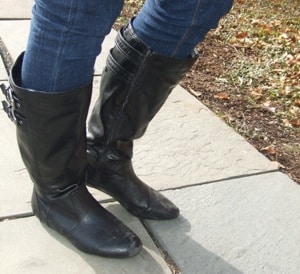 Riding boots are a great investment and can go with just about anything! Kelly agreed that they are very versatile and said, "I hope you can't tell from the picture, but they're filthy. I use them ALL the time, from going out dancing to going out to brunch. The back boots are a quintessential accessory that transform any outfit. Oh, the wonders of boots."
Looks Inspired by Kelly
Here are some outfits that showcase some key elements of Kelly's style. If you like any of the pieces, be sure to share your thoughts with a comment! I wanted to show how you can take the two core pieces of Kelly's outfit and transition them from look-to-look.
Outfit 1: Casual Cool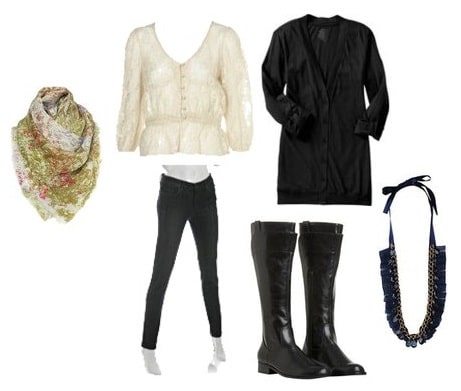 Product Information: Button Front Top – Topshop, Bootcut Denim – Bluefly, Cardigan – Old Navy, Necklace – Forever 21, Scarf- Topshop, Boots – Arden B
Outfit 2: Baby It's Cold Outside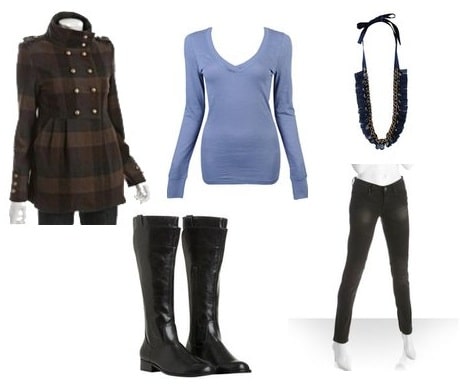 Product Information: Boots – Arden B, Necklace –Forever 21, Long Sleeve T- Forever 21, Jeans- Bluefly (gotta love their discounted prices!), Coat- Bluefly
What Do YOU Think?
Now that you've seen your first glimpse of Yale fashion, what do you think? Do you have any unique pieces like Kelly's necklace? Let us know with a comment!