In Reno, fall is just around the corner. The weather is still warm during the day, but has gotten noticeably cooler in the evening. Kaylene shows her enthusiasm for the impending fall season by wearing autumnal clothes and sporting all the trends. Going into her senior year at the University of Nevada Reno, Kaylene is known for invariably looking fab for class, and this look is no exception.
Kaylene 101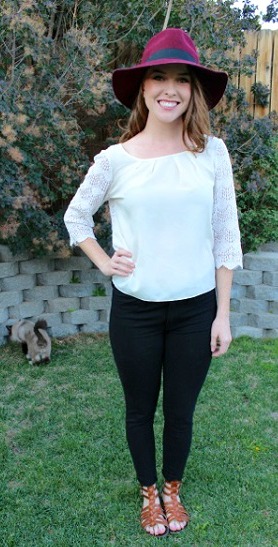 Name: Kaylene
School: University of Nevada Reno
Major: Human Development & Family Studies with a Substance Abuse minor
Year: Senior
Hobbies: Shopping, school, crafting, and hanging out with friends
Let's Talk Fashion
What are your favorite places to shop? "Nordstrom, H&M, and Forever 21."
What are you most looking forward to for fall fashion? "Definitely hats, jackets, boots, and sweaters: the fall essentials."
What is your favorite season to dress for? "Right now I am looking forward to winter, but I'm sure once it gets cold I will want it to be summer again."
Where do you find inspiration? "Tumblr, Pinterest, [and] Instagram fashion accounts. I just find outfits I like and piece together similar looks with what I have in my closet."
Do you have any advice for students on how to look nice at school? "Find a style you like. It's really not as hard as you think to wear the clothes you like. I buy so many clothes that I always want to wear [and I wear] them as often as I can."
What is your favorite trend right now? "I am obsessed with hats! I love this burgundy one, but even those summer floppy straw hats – I just love them all. And also booties."
Elements of Kaylene's Outfit
1. Burgundy Hat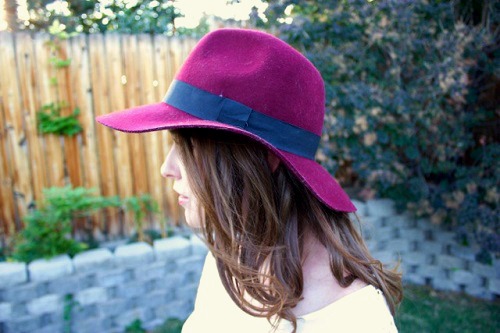 Kaylene loves her hats and this burgundy one is perfect for fall. It adds some fashion-forward flair to her ensemble and the color and material look so luxe. This is Kaylene's favorite hat and it's easy to see why.
2. Lace Embellished Shirt
With so much attention on her bold accessory, Kaylene balances it out with her seemingly "plain" white tee. But check out those pretty lace sleeves! This top adds so much texture and depth to her outfit, as well as a dose of femininity.
3. Gladiator Sandals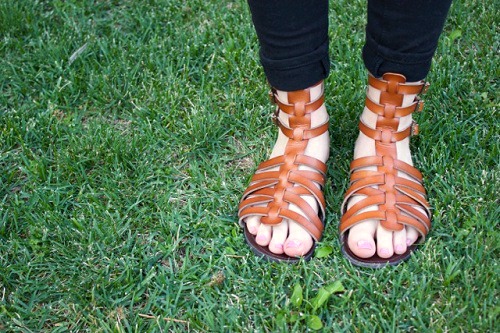 The weather is still fairly warm here in Nevada, and these sandals are a stylish way to ease the transition to the cooler months of the year. Kaylene wore her Target sandals all summer and isn't ready to pull out her boots quite yet. These shoes are the perfect finishing touch to this early fall ensemble.
Are you a floppy hat fiend?
Do you love her burgundy head-topper as much as we do? What are your foolproof ways to transition from summer to fall? What do you think about Kaylene's shirt with lace sleeves? Let us know what you think by leaving a comment below!