Whether she's playing rugby alongside her classmates or cooking with her friends, Kayla's unique style is hard to miss. This Santa Barbara native brings the soulful swagger of the West Coast to our chilly campus here in upstate New York. With such a cute pair of boots in a sea of Uggs and Sorels, I had to stop and ask her about her style. Kayla has a free-spirited approach to her look – read on to learn more!
Kayla 101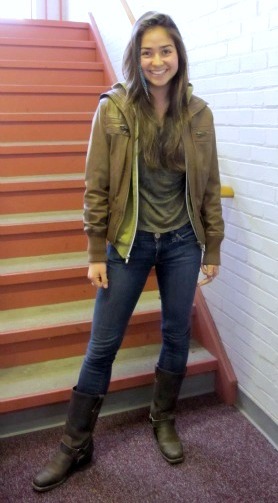 Name: Kayla
School: Union College
Class Standing: Senior
Major: Sociology
Hometown: Santa Barbara, California
Hobbies/Interests: "Playing rugby, cooking, entertaining guests, planning fundraisers, and being president of the senior class."
Let's Talk Fashion
Who or what inspires your style? "I come from Santa Barbara, a surf town, and I work at surf camp so that's what dictates my style in some ways. I do my own thing as well, so while at school I don't wear mainstream clothing."
What fashion advice would you give to other students looking to improve their style? "Dress for yourself; don't be afraid to not wear what everyone else is wearing."
If you could raid anyone's closet, who would it be and why? "My friends have great style so I'd have to say their closets. Also, I'm love sharing with others, so I'm happy to swap my clothes."
What inspired this outfit today? "Well these are my favorite pair of jeans; they have a rip in the back that my grandma fixed for me. My sweatshirt is from the Oregon Country Fair and I got the leather jacket from the consignment store Crossroads on Haight Street in San Francisco."
What motivates you to dress up? "I'd have to say the sun because when it's sunny out I'm at my happiest. When I wake up in the springtime and it's beautiful out, I can't help but dress up."
Elements of Kayla's Outfit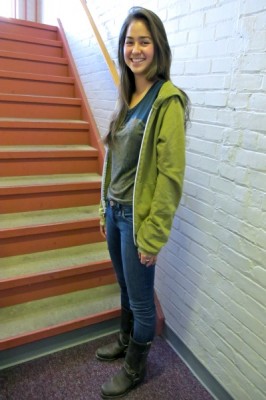 Kayla's outfit showcases her ability to stay warm by layering while looking effortlessly put-together at the same time. She mixes punches of color with shades of brown and pulls it all together with simple accessories.
1. Feather Hair Accessory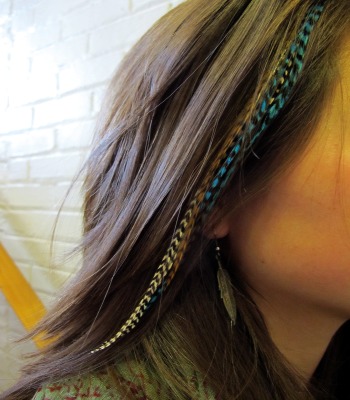 The turquoise and beige feathers that weaved in and out of her hair were such a pleasant surprise. These trendy feather hair extensions gave Kayla's look a funky edge and nicely complemented her gold feather earrings.
2. Boots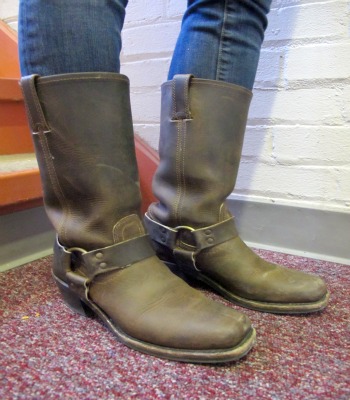 Kayla's boots were the first accessory that really stood out. They have a trendy motorcycle vibe but are also functional in the cold weather.
What do you think?
Do you like Kayla's style? What kind of boots are you wearing this winter? Would you wear feather hair extensions? Let us know in the comments!