Fall has finally reached Chapel Hill. It's the time of year when we finally get to wear those new boots and sweaters we've been keeping in our closets for months. And with temperatures dropping slowly, we're all looking for ways stay warm and on-trend.
Katy is in one of my classes and I couldn't help but adore her simple, vintage-chic sense of style. I loved her perfect fall outfit – it's a fantastic mixture of feminine and menswear-inspired pieces.
Katy 101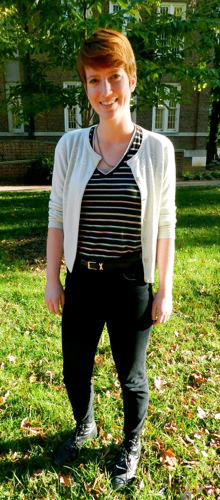 Name: Katy
College: UNC Chapel Hill
Hometown: Brooklyn, NY
Age: 20
Year: Junior
Major: Art History
Hobbies and Interests: "Creative writing, windsurfing, music, art."
Let's Talk Fashion
Describe your style in three words: "Simple yet quirky."
Who or what inspires your style? "Kate Moss, Karen O., punk and indie music."
Where do you like to shop? "Thrift stores, H&M."
Who is your favorite designer? "Coco Chanel."
What are your favorite fall trends? "Boots. Boots with high socks. Boots with dresses and tights. I also love big cozy sweaters."
Is there a specific article of clothing that you can't wait to buy? "A new coat – maybe wool, probably black."
What fashion advice would you give to other students looking to improve their style? "Try imitating someone else's style (to get a feel for what works). Most of all, keep it simple."
Why did you choose this particular outfit? "Honestly, I was running late this morning and just threw on some basics that I knew were comfortable and reliable."
Elements of Katy's Outfit
1. Beaded Cardigan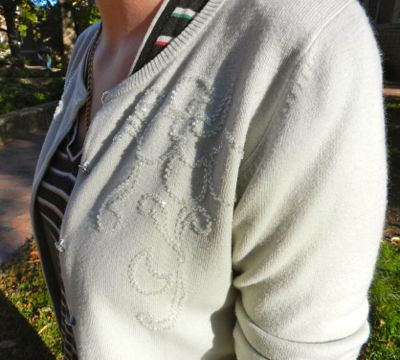 I immediately fell in love with Katy's beaded cardigan when I spotted her in class – it adds such a pretty hint of sparkle to her outfit. I also like the way Katy's girly cardigan contrasts with her dark, graphic striped shirt and black skinny jeans.
2. Vintage Belt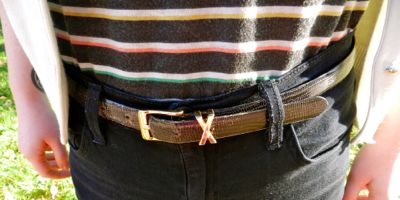 A skinny alligator belt is a classic piece that will always be in style. Katy's belt is actually a menswear piece, but in this look, it functions to add polish and a hint of sparkle to her basic skinny jeans.
3. Lace-Up Boots
Lace-up boots are absolute must-haves for this season because of their versatility. You can use them to add edge to everything from a dress and patterned tights to your favorite pair of skinny jeans – the possibilities are endless. Katy's lace-up boots are combat-inspired and tough, yet they pair perfectly with the feminine pieces in her look.
Share Your Thoughts!
Do you like mixing menswear-inspired pieces with girly details? Do you own a pair of combat boots? What kind of boots are you wearing this fall? Share your thoughts with a comment!