Seattle is usually slightly warm during the month of June, with typical highs ranging from the 50's to low 70's. But on this day, a miracle happened: clear blue skies and sunny 78 degree weather!
I found Katie lounging in the long-forgotten Seattle sun with a friend as I was wandering around the beautiful University of Washington campus. While she seemed a bit shy at first, it turned out she was sweet and bright, just like her outfit!
Katie 101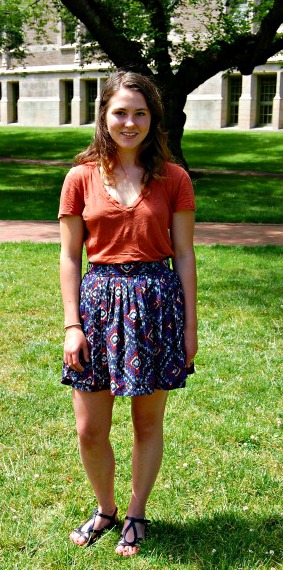 Name: Katie
Major: Cellular Biology
Year: Junior
School: University of Washington, Seattle campus
Let's Talk Fashion
What inspires your style? "Comfort, really."
Where do you like to shop? "I like to shop at Buffalo Exchange and consignment shops."
How would you describe your sense of style? "It's more casual and outdoorsy. I don't usually wear skirts that often."
Why did you choose this particular outfit? "I just got back from Alaska, my home [state]. The weather was nice outside, so I decided to wear a skirt!"
What fashion advice would you give to other students looking to improve their style? "Dress comfortably. Wear something that makes you happy."
What do you like to do for fun? Do you have any unique hobbies or interests? "I like to hike and ski. Also, I like to bake a lot. During finals I do a lot of stress baking for my roommates."
Elements of Katie's Outfit
1. Color Contrast
Katie's bright orange J. Crew v-neck and dark blue patterned skirt from Urban Outfitters instantly caught my eye. In this look, the orange tee grounds the outfit, and the unique patterned skirt takes center stage. Also, the contrasting colors takes her casually cute outfit to a terrifically fashionable level.
2. Lackadaisical Bow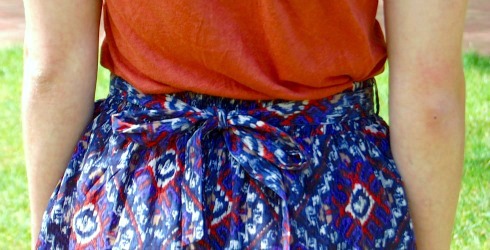 The bow on the back of Katie's skirt lends a feminine touch to her outfit and quite literally ties the look together. Its effortlessness is another indication of her fashionable and casual sense of style.
3. Minimalist Jewelry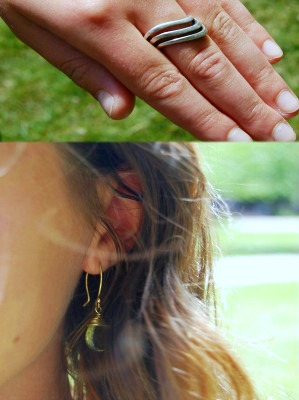 Katie's minimalist jewelry really shows her personality. Her earrings were a birthday gift from her mother and resemble the ovals in the pattern of her skirt. The elegant lines of her ring are balanced, while the silver coloring flows with the tones in her outfit. It's the little details like these that really make this ensemble stand out!
What do you think of Katie's sunny-day style?
Do you love her bold patterned skirt and delicate jewelry? What do you wear on gorgeous summer days? Let us know what you think by leaving a comment below!