I met Katie on a sunny November day. Her bright smile and funky socks were the first things to catch my attention and when I asked her if I could take her photo, I realized what an awesome lady she is! Her confidence shines through all that she does and her style was adorable.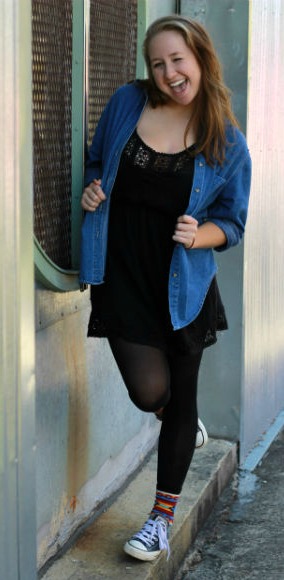 Who's That Girl?
Name: Katie
School: University of Georgia
Class Standing: Freshman, Class of 2018
Major: Economics and Finance
From: Covington, GA
Let's Talk Fashion
Who or what inspires your style? "Growing up in a more country part of the South, I wasn't really surrounded by high fashion clothing. So I mostly just keep what I wear casual and comfortable with a mix of patterns or color. Honestly, I don't care what people think of me and I just tend to go for outfits that suit my mood for the day. Whether I'm feeling cozy or quirky, I find an outfit to match."
Where do you like to shop? "A lot of thrift or consignment shops which offer up cheaper clothes that are still in fashion. The 'real store' I visit most often is Ann Taylor LOFT, because I love mixing their clothes into my wardrobe for a more professional touch."
What fashion advice would you give to other students looking to improve their style? "Wear whatever you want, as long as it's weather and occasion appropriate. Clothes are meant for you to be creative and show off your creative side. Patterns are fun! So are stripes and bold prints. Don't be afraid to mix them up and be different. And wear clothes that flatter your figure. If you look frumpy, you will feel frumpy and that will translate to the rest of your day and just give off bad vibes."
What are your favorite trends right now? "I LOVE tights and layering with bigger flannels and denim shirts that are just cozy and comforting and warm. But they are just so flexible and can go with boots, flats, or tennis shoes, like I wore them. Also, since it's getting colder, it's fun to mix in patterned socks as a little surprise."
What do you do for fun – do you have any unique hobbies or interests? "I'm really into typography, so that expresses my creative side. But I love being outdoors, as well, and going hiking, swimming, running, and slacklining all over campus."
If you could raid anyone's closet, who would it be and why? "Blake Lively is the classiest woman on this planet. First of all, she is gorgeous and secondly, she simply has the greatest sense of style and can pull off any outfit, pregnant or not. I especially loved the GORGEOUS Gucci dress she wore to the Angel Ball in October. She can pull anything off."
Elements of Katie's Outfit
1. Dark Elements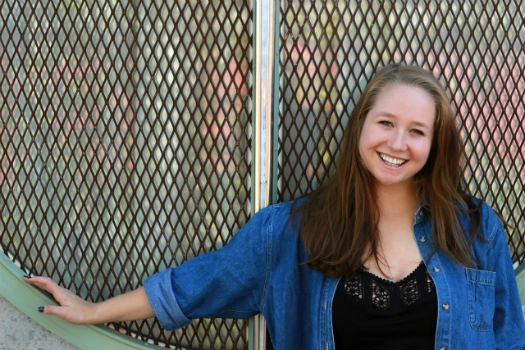 Even though Katie isn't sporting many accessories, her black nail polish gives her lacy Target dress an edgier vibe. Also, her denim shirt, which she found at a local thrift store, makes the outfit more casual and laid-back.
2. Printed Socks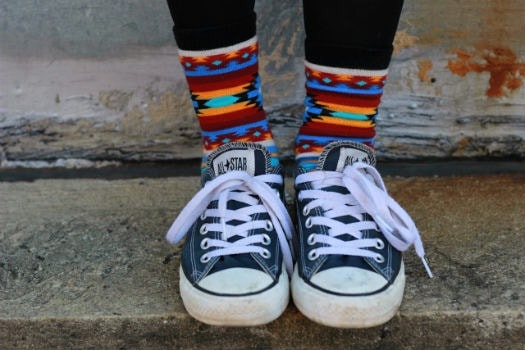 Katie's fun patterned socks, bought from a small boutique in Arizona, incorpoate pops of both color and print into this otherwise neutral look. Also, her worn-in Converse give the dress and tights combo a sportier, urban vibe that works well for daytime.
What do you think of Katie's campus-friendly style?
Do you love her laid-back look and patterned socks? Would you wear her outfit? Let us know what you think in the comments section below!