I met Katie this summer. Both of our parents live in Princeton, New Jersey, so we reached out via Facebook and met up a few times before starting our Freshmen year at Sarah Lawrence College in New York. We had long discussions about our favorite fashion designers, Woody Allen films, and macaroons.
Since I've known her, I have truly admired her sophisticated and classic style, which she always embellishes with fabulous accessories.
Katie 101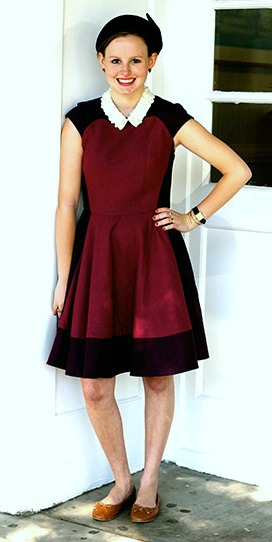 Name: Katie
School: Sarah Lawrence
Year: Freshman
Focus: Economics and Costume Design
Let's Talk Fashion
Who/what inspires your style? "I'm inspired by Nancy Drew, Audrey Hepburn, and the world of Edith Wharton and F. Scott Fitzgerald."
Where do you like to shop? "Gilt, J. Crew, Century 21, Ted Baker, Kate Spade."
How would you describe your style? "I'd say my style is a crossover between classic silhouettes and modern trends."
Why did you choose this particular outfit? "I have a habit of reaching for dark colors in the fall. This dress mixes deep fall hues with a splash of color. As for accessories, I have these shoes in six different colors because they are so comfortable! I wear this vintage watch every day. It was my father's and it reminds me of my goals."
What fashion advice would you give to other students looking to improve their styles? "Wear what you want to wear, not what others think you should wear. Fashion is about expressing yourself and who you are."
What are your favorite trends right now? "Definitely leather! I love little leather details, like on the sleeves of jackets or the pipings of zippers. It's becoming very accessible. I always love fur for fall and winter, it's so fabulous!"
Who are your favorite fashion designers? "As far as vintage designers, Chanel and YSL in the 1960s. As for modern day, Oscar de la Renta and Monique Lhuillier are the most exquisite designers out there."
What do you do for fun/what are your hobbies? "I love to sketch and design clothing. I want to have my own fashion label someday! I'm also a huge fan of period films about the history of monarchies. Elizabeth and Marie Antoinette are two of my favorite movies. The costuming is stunning and they are shot so beautifully."
If you could raid anyone's closet, who would it be and why? "I love Charlotte York's style from Sex and the City; she always looks so polished. Of course Lily Bass and Blair Waldorf from Gossip Girl always dress impeccably!"
Elements of Katie's Outfit
1. Pearl Collar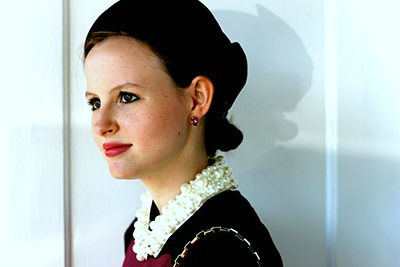 This pearl collar is a prime example of Katie's masterful accessorizing. It is a bold statement piece and an ideal accent for her vintage look.
2. Kate Spade Bag & Vintage Jewelry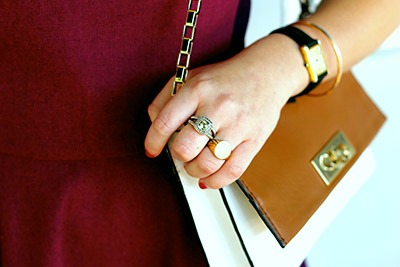 Sometimes a girl just needs a beautiful bag, and the chain detailing on this one looks exquisite against Katie's burgundy dress. She also piled on vintage rings and her father's old watch to stay true to the overall theme of her outfit.
3. Sam Edelman Flats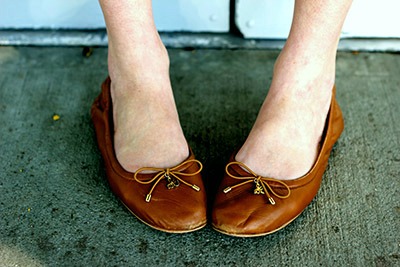 These flats, as Katie attested, are extremely comfortable – a true college girl essential for trekking across campus! In addition, their basic brown shade makes them perfect for pairing with any fall outfit. If you haven't found your perfect pair of ballet flats yet, what are you waiting for?
Now we want to know what you think!
Do you love Katie's vintage look? Do you seek out used gems or are you a more contemporary dresser? What items of Katie's would you like to have in your own closet? Leave a comment below and let us know!