On my way to Chinese after class, I spotted Katie out the corner of my eye – it was hard to miss her bold red pants, long black hair, and skull-patched top. After running across the street and scaring her half to death, I had a chance to talk to Katie about her awesome outfit and creative college street style.
Katie 101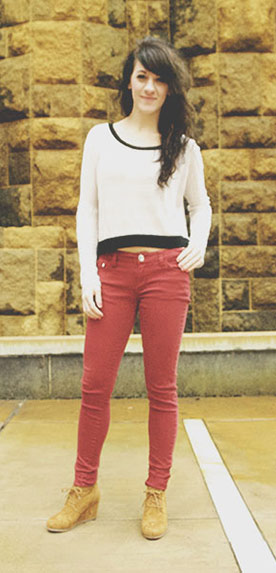 Name: Katie
College: Point Park University
Year: Junior
Major: Cinema and Digital Arts
Let's Talk Fashion
Who or what inspires your style? "No specific person inspires my style, but I can honestly say that Point Park students and living in downtown Pittsburgh have inspired me to dress the way that I do. I always feel the need to measure up to the stylish art students that walk around."
Where do you like to shop? "I love shopping at Forever 21, Charlotte Russe, and Urban Outfitters. But I mostly do online shopping and get a lot of my clothes from Love Culture, Necessary Clothing, and eBay. I'm a big eBay shopper – gotta make the old turn into the new."
How would you describe your sense of style? "I would say that my style is very statement-based. I love wearing heels and boots on days when people shouldn't be, [as well as] wearing big patterns and bright colors. I used to only wear black, but I branched out within the last year or two and have turned my style 180 degrees."
Why did you choose this particular outfit? "I chose this outfit because it is fashion-forward, but at the same time, it's still comfortable. The pants are the pop of color that everyone should have in their daily wardrobe, and the skull-patched shirt gives it an edge that defines my personality through my outfit."
What fashion advice would you give to other students looking to improve their style? "My advice is to wear color. Wearing black all my life never got me many compliments and [according to some] made me seem unapproachable. I think wearing color sends the message that you're fun and easy to talk to, and who doesn't want to be looked at in that way?"
What are your favorite trends right now? "My favorite trends right now are crop tops (but not too revealing), skinny jeans and bold prints. I think these trends will always be around and fresh for the young crowd."
Do you have any favorite designers? If so, who? "I don't have any favorite designers. I was never into designer clothing. I try to choose clothing stores that are stylish and hip, but for an affordable price."
What do you do for fun? Do you have any unique hobbies or interests? "I make Youtube video shorts for fun. It started me on my way to becoming a cinema major. I also online shop a lot. Almost every day I'll be on one of my favorite websites, searching for another item to add to my wardrobe."
If you could raid anyone's closet, who would it be and why? "I honestly don't really follow celebrity fashion. I try to make my own style from what I personally like and feel would suit me well. However, as much as I dislike them as people, I actually think the Kardashians have good style and wouldn't mind raiding their shoe closets."
Elements of Katie's Outfit
1. Lace-Up Wedges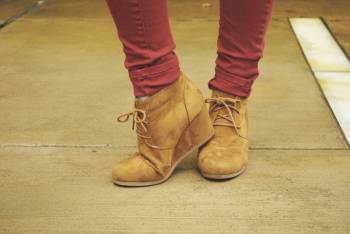 Katie's shoes are adorable and totally perfect for late winter on campus – they're cute, give her a bit of height, and – Katie assured me – are really comfortable for walking! In addition, they look great with her bright red pants.
2. Skull Elbow Patches
These elbow patches! They were, without a doubt, my favorite part of Katie's outfit. As seen above, cool skull patches give a simple, soft-colored top a much-needed hit of edgy contrast. Unexpected details like these help move Katie's outfit beyond basic.
3. Touch of Silver
A classic silver Claddagh ring adds a soft touch to Katie's look and is a perfect everyday accessory.
4. Floral Backpack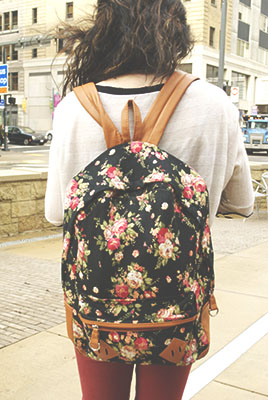 Katie's floral backpack is super cute and perfect for toting school books in style! In addition, I love that its straps match her shoes.
Your Thoughts?
What do you think of Katie's look? Do you love her wedges as much as we do? What kind of bag do you use to carry your books to class? Let us know with a comment!