The library isn't where most people would go to find fashion inspiration. Most students dress for coffee-fueled nights at a cramped desk by opting for the classic sweatshirts/jeans/boots combination. But when I saw Katie tucked away in a quiet corner of the book stacks, paging through a gold-bound book of Shakespeare, she proved to me that academia doesn't have to be the antithesis of fashion. Read on to find out more about her look!
Katie 101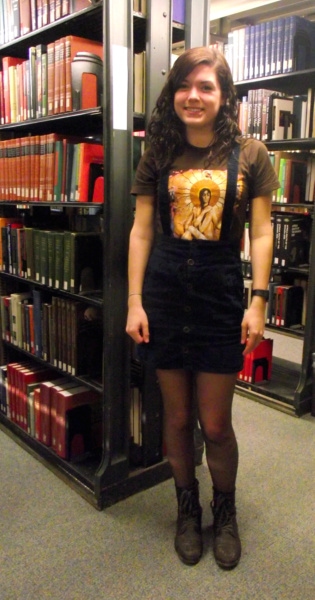 Name: Katie Katsikos
Major: Double major in Art History and Classical Civilizations, minor in English
Year: Sophomore
School: Loyola University Chicago
Hometown: Flagler Beach, Florida
Hobbies/Interests: "I don't really have much free time lately! But I like to draw, that's always been a thing that I like to do. I also like graphic design stuff. I like to bike ride a lot, but someone stole my bike."
Let's Talk Fashion
Why did you wear this outfit today? "I really wanted to wear a skirt because it was nice weather out. This is one of my favorite band shirts, it's RX Bandits. Plus it was too cold to wear anything but boots. It just fit well together I guess."
Where do you like to shop? "I really like Urban Outfitters just because they have a little bit of everything, and I really like their dresses – I'm a big dress fan. I also really like Free People but I'm too poor for that. I also really like the store Nevermind (off the Belmont Red Line stop); they're reasonably priced."
How would you describe your sense of style? "It's kind of different every single day. My roommates say I have a very eclectic wardrobe because sometimes I look really preppy and sometimes I feel like I look like a '90s grunge person, like today. Sometimes I just wear sundresses and flip flops. It's just whatever my mood is."
What fashion advice would you give to other students looking to improve their style? "I like layers, especially since it is so cold here. [I also like] earrings. I hate it when people don't wear earrings and they clearly have pierced ears – it completes the outfit. My mom raised me like that – whenever I'd leave she would say "You don't have any earrings in!" and I'd be like "Sorry, I'll go put some in…". There are also certain fashion no-no's: if you're going to wear leggings make sure your shirt covers your butt!"
What are your favorite trends right now? "I really like high-waisted jeans and skirts."
If you could raid anyone's closet, who would it be and why? "There was a girl who went to my high school and she has always been fashionable since 7th grade. You look at her and you have no idea where any of her clothes came from, which I like. She always looked so cute and put-together, even if she was like 'Oh, I just woke up five minutes ago' she'd still look perfect."
Elements of Katie's outfit
I love Katie's look. Her unique skirt is what first drew me to her outfit – it's like the college-girl version of the overall skirt we had in second grade; the deep navy corduroy, antiquated gold buttons, and high-waisted fit add sophistication to an ordinarily juvenile design.
1. Band T-shirt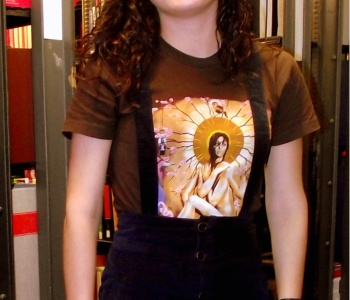 The RX Bandits t-shirt keeps the skirt from looking too prep-school and has a really beautiful design and color. Katie gets extra points for having good taste in music as well!
2. Worn Lace-Up Boots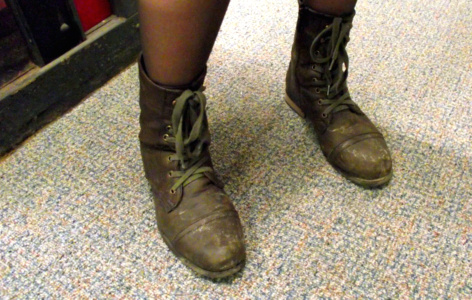 Again, wearing an overall skirt runs the risk of looking too prim or too cowgirl, but by adding sheer tights with worn-in boots, Katie adds edge to the look. The boots are a little rock and roll, but also a bit "Little House on the Prairie"- these contrasting aspects really tie the whole look together.
3. Bookish accessories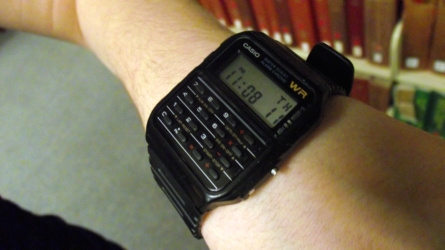 What is a girl in the library without her trusted Casio calculator watch? I love that Katie embraces the nerdiness of this piece – she said she wears the watch every day. "Its like a piece of my body," she said.
What do you think?
Do you like Katie's style? How do you feel about the 90's grunge look? Do you love her overall skirt as much as we do? Let us know in the comments!