I spotted Kathryn studying for a journalism exam in Memorial Union, her favorite place to study. Her outfit had several intriguing details and colors that really made her look stand out. Kathryn helped reinforce the theory that the journalism students at Mizzou are usually the best and most uniquely dressed.
Kathryn 101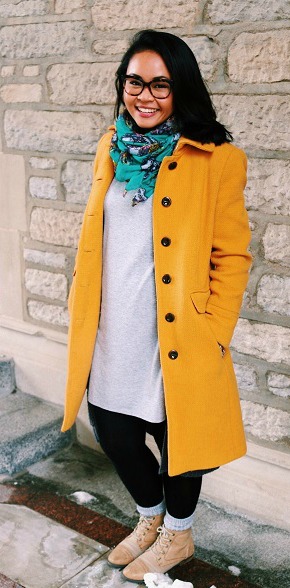 Name: Kathryn
Year: Freshman
Major/minor: Journalism major, Art History minor
Hometown: Chicago, IL
Let's Talk Fashion
Where is your outfit from? "Coat is Calvin Klein. I'm wearing a cardigan under it, which is from ASOS, the dress is Mossimo, tights are Hue, pretty sure those socks came from a three-pack from Costco, shoes are G.H. Bass, and the scarf is from a boutique in Haight-Ashbury."
Who or what inspires your style? "When it comes to who inspires my style, I would say Amal Clooney, Emma Watson, Duchess Kate Middleton, and my mom. All of them ooze class and femininity when it comes to style, but then they all can hold their own as individuals. In terms of what inspires my style: utility and comfort. I like functional pieces that are also not difficult to wear."
Where do you like to shop? "I wouldn't say I have any favorite places in particular. Rather, I go for favorite pieces. But I do find myself shopping at Gap, Madewell, J. Crew, ASOS, and Macy's often."
How would you describe your sense of style? "I would describe my sense of style as, no joke, 'what can I wear that feels like pajamas but doesn't look like pajamas.' I am the ultimate lazy girl when it comes to getting dressed. I believe it to be blasphemous having to sacrifice comfort for style. Por que no los dos, am-i-rite?"
Why did you choose this particular outfit? "Winter isn't my favorite season to dress for – mostly because I'm huge on dresses and skirts, and the cold isn't very permitting of that. However, despite the cold, I really did not want to subject myself to wearing pants, so I put on some sweater tights, a.k.a. my favorite things ever, sweaters for your legs, this t-shirt dress, which is actually sleepwear from Target, and a cozy waffle-knit cardigan over it. And then, to liven it up, I added the scarf and my yellow coat.
Fun fact about the coat: A lot of people think I got it out of sheer school spirit. In actuality, this has been my favorite color since elementary school, and I just happened to luck out with coming to Mizzou. It allows me to fashionably show my school spirit. And it'll also come in handy when I'm done with training and am giving tours in colder weather next year!"
What fashion advice would you give to other students looking to improve their style? "I often hear people tell me, 'oh, I could never wear that,' and I simply never believe it. Anyone could wear whatever they want to. At that point, it becomes a question of confidence. My only advice to them would be to own your clothes; don't let them own you."
What are your favorite trends right now? "I'm not huge on trends. Instead, I'm very much in to classic pieces. However, as of right now I'm really digging that athletic wear is making a comeback. I can wear New Balances and not feel like a total dweeb."
Do you have any favorite fashion designers? If so, who? "I wish I was, but I'm really not well-versed in the world of high fashion! I admire them all, though. Truly it's an art and a craft and I think people often dismiss that because they can't see past how 'weird' or 'dysfunctional' their pieces are."
What do you do for fun – do you have any unique hobbies or interests? "For fun, I Skype with my friends, I read a lot, watch some TED Talks, and listen to podcasts on NPR. I kinda do Netflix, but not really. I also try to learn a lot of raps because they make great party tricks. I live for party tricks. Generally, though, I will try to find something to go to or do that'll make me laugh. Laughing's my favorite thing to do."
If you could raid anyone's closet, who would it be and why? "Amal Clooney hands down. Pre- and post-marriage, her outfits were on-point and I would adore getting to raid her closet. But more so, I think I would actually prefer to raid her mind. She is impeccably intelligent."
Elements of Kathryn's Outfit
1. Mustard Coat and Colorful Scarf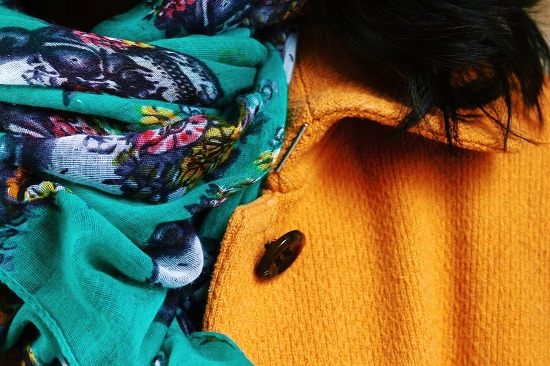 The subtle matching of the yellow flowers and mustard coat was a key component to Kathryn's ensemble. The skull and flower combination found on her scarf is always an interesting, contrasting design, plus you can never go wrong by pairing mustard yellow with teal.
2. Colorful Tortoiseshell Glasses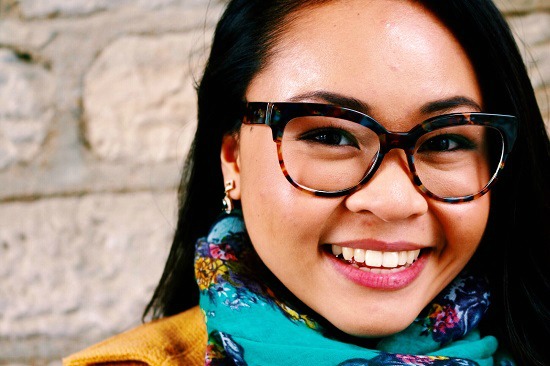 Again, the subtle color coordination really helped to tie this outfit together. Kathryn has a couple pairs of glasses that she enjoys mixing and matching with different outfits, and they act as both a practical need and fashionable accessory.
3. Dainty Earrings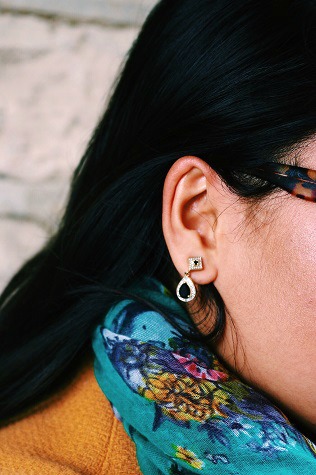 Even though Kathryn's outfit is relatively casual and laid-back, it is the little details like this that elevate the look. Her drop earrings add a dose of sophistication and glamour to her on-campus ensemble.
What do you think of Kathryn's outfit?
Would you wear her yellow coat? What do you think of her bright scarf? How about her tortoiseshell frames? Comment below and let us know your thoughts!