I've seen Katey from across the room in multiple classes but didn't know her name – I just knew her as the girl who was always dressed up and looking fabulous. One warm spring day, she was looking especially fashionable on campus, so I decided I just had to talk to her about her style. Read on to find out more about Katey!
Katey 101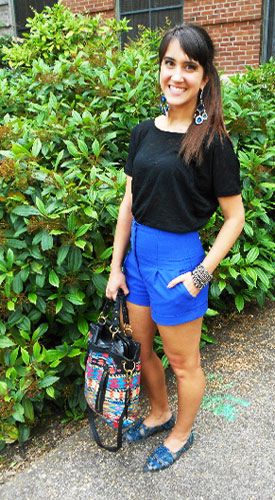 Name: Katey
College: Oregon State University
Major: Apparel Design
Year: Sophomore
Let's Talk Fashion
Who or what inspires your style? "I really like Vanessa Hudgens' and Rihanna's styles. And then all the things I find on Pinterest. I also really like Jeffrey Campbell's shoes and the way girls are dressed in his advertisements."
Where do you like to shop? "Urban Outfitters is my favorite, and then of course Forever 21. Also, I work at Aldo Shoes, so I buy a lot of my shoes there, and there is this cool Portland boutique called Sloan that I really like."
How would you describe your sense of style? "I would say it's a little preppy, because I like blazers and polished skirts and dresses, but also a little bit hipster because I'm into high-waisted shorts, bandeau tops, that kind of thing. I really like wearing bright pieces, too – I try to add at least one to every outfit."
Why did you choose this particular outfit? "Well, I bought these shorts specifically because I wanted a bright solid color instead of a print and I knew they would go with a lot of my other clothes. And I love these shoes – I had to go to four Forever 21 stores until I found them in my size! And it's finally nice again in Oregon so I had to dress for warmer weather."
What fashion advice would you give to other students looking to improve their style? "Don't be afraid to try something new, you will never know if you can pull something off until you try it!"
What are you favorite trends right now? "Definitely high-low skirts – I just bought one the other day and I'm really excited to try it out! I also love the corset-like structured tops that really define the waist, high-waisted shorts, and oxford shoes."
Who are your favorite designers? "Oscar de la Renta's dresses are fabulous, and of course I love Jeffrey Campbell's shoes."
What do you like to do for fun? "I really enjoy sports, so I go to a lot of the games around campus – most recently, baseball. I also try to get involved in the fashion department, going to the fashion shows, and I've been in the sewing lab a lot recently for my apparel construction class."
If you could raid anyone's closet, who would it be and why? "Rihanna, for sure. I love her style and all the crazy things she does with her hair!"
Elements of Katey's Outfit
1. Blue High-Waisted Shorts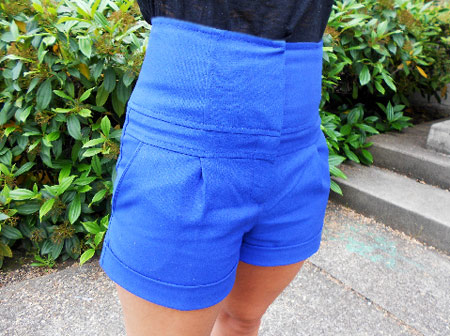 Katey's cobalt blue high-waisted shorts really make a statement and help her stand out in a crowd. In addition to being eye-catching, they're super flattering – the pleats and seaming details really cinch in the waist and create definition.
2. Wrap Bracelet and Sparkly Nails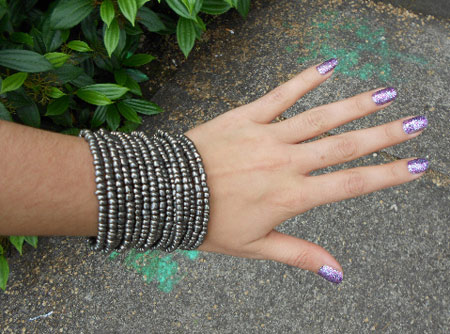 As we always say, accessories make the outfit. Katey gave extra sparkle to her look by adding a steel-gray wrap bracelet and super glittery purple nail polish. (Like we also always say, nail polish is an accessory!)
3. Statement Earrings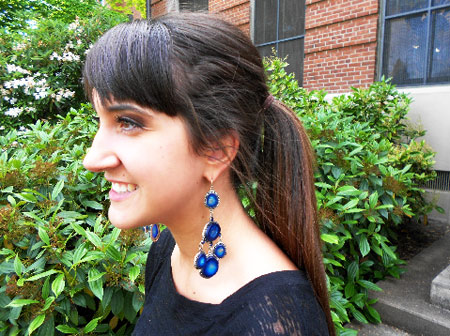 Katey's long, dangling blue statement earrings really bring her blue and black look together, while elevating her simple ponytail hairstyle beyond basic.
4. Oxford Shoes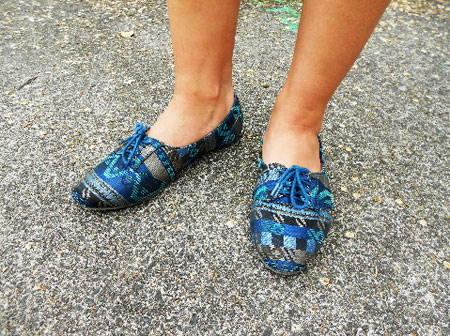 How cute are Katey's funky black and blue oxfords?! A fun print, cute laces, and flat heels… what more could you want for just $20?
What do you think?
What do you think about Katey's style? Would you wear bright high-waisted shorts? Super glittery nail polish? How about the printed oxfords? Let us know with a comment!