Finals week has had students all around campus bundling up and buckling down to make the grade. For most, fashion is the last thing on their minds as they spend hours in the student learning center cramming for their toughest exams.
This was not the case, however, for Kate, who I ran into on my way back from class. She instantly caught my eye with her radiant red locks and bright pink shirt. I absolutely love the dynamic of Kate's outfit. She pairs feminine elements with tougher, more masculine details in a perfectly balanced ensemble. Read on to find out about Kate's style that is equal parts grunge and glam!
Kate 101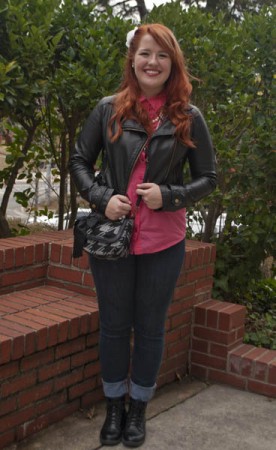 Name: Kate
College: University of Georgia
Major: Journalism
Year: 2015
Let's Talk Fashion
Who or what inspires your style? "I love everything about the 1950s – the music, the makeup, and especially the fashion. You'll find me throwing on a vintage floral dress with a Greaser-esque leather jacket and antique, often cameo jewelry."
Where do you like to shop? "I usually mix vintage clothes with bigger brands like H&M and Urban Outfitters, but lately I've been surfing eBay like crazy."
How would you describe your sense of style? "A combination of a million eras – '90s grunge combat boots play just as well with a modern blazer as they do with hippie garb."
Why did you choose this particular outfit? "It's a testament to two sides of my personality. The button-up and pearls are classic and feminine, while the leather jacket and combat boots give me a tough, masculine edge."
What fashion advice would you give to other students looking to improve their style? "Start with fit – nothing makes fashion potential crash harder than a bad fit. Make sure your jeans are hemmed right and fitted correctly (not too loose or too tight), and remember that belting a top can give you instant hourglass appeal. From there, accessorize!"
What are your favorite trends right now? "Houndstooth, lace-up boots, color-blocking, and every kind of blazer imaginable."
Do you have any favorite fashion designers? If so, who? "Alexander McQueen, of course, and Karl Lagerfeld, no matter which design house he's working for. I bow down to him, the man's a fashion god!"
What do you do for fun – do you have any unique hobbies or interests? "I write everything from articles to short stories. I also love ceramics and sculpture. I haven't gotten a chance to do it since I've come to college, but I'm looking forward to starting a class in downtown Athens next semester!"
If you could raid anyone's closet, who would it be and why? "All of the Sex and the City girls toward the end of the series. I'll never understand how Carrie afforded all of her shoes on a writer's salary, but they were absolute perfection."
Elements of Kate's Outfit
1. Black Lace Up Boots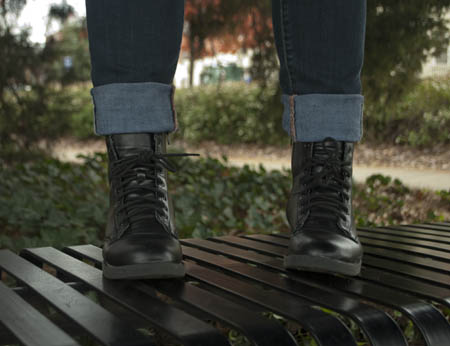 Lace-up boots have been popping up everywhere lately, and I just can't help falling in love with them. They are edgy while remaining practical, and most importantly, are very comfortable. Kate's cuffed jeans give her an excellent opportunity to show off her H&M purchase.
2. Houndstooth Mini Bag and Pearl Ring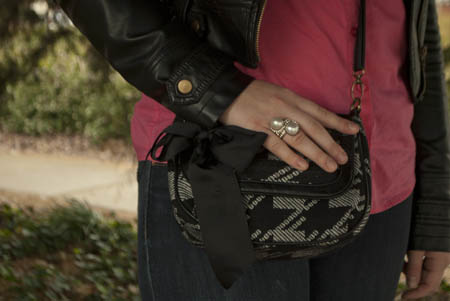 Kate's houndstooth bag is the perfect sidekick to hold all her essentials – the silky ribbon bow complements it nicely, adding a dainty feel, which looks great next to her elegant pearl ring.
3. Black Leather Jacket and Pink Blouse
Kate's tough leather jacket, worn over a girly pink blouse, creates a balanced, well-thought-out look. The structured blouse (another H&M find) peeks out from underneath her jacket and gives her outfit a pop of color. It's a simple combination with a great effect that Kate pulls off beautifully.
4. Flower Hair Piece and Earrings
The large white flower Kate placed in her hair stands out as her most feminine accessory. Although it's an unexpected pairing with a leather jacket, I appreciate the bold choice. My favorite items, however, are her intricate and vintage-looking flower earrings. The studs provide a hint of glam without overdoing it.
5. Layered Necklaces
Layering necklaces has long been one of my go-to tricks for spicing up any look. A few simple pieces can completely transform a plain outfit. Here, Kate did just that by pairing ladylike pearl strands with masculine-looking chains. The combination is simply elegant and adds a touch of shine while softening the boyish aspects.
What do you think?
Were you impressed by Kate's balancing act? Did you feel that all the details of her outfit worked to create a well-rounded look? Let us know your thoughts in a comment below!