The weather is slowly turning warmer here in the great state of New York! I noticed Kate looking totally cute while doing her homework and knew I had to interview her for Looks on Campus.
As a fellow freshman, I can't believe I haven't seen her out and about before now. With her fantastic sense of style, she's hard to miss!
Kate 101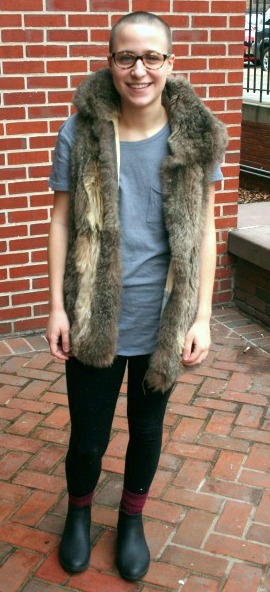 Name: Kate
Year: Freshman
Major: Industrial Design
Let's Talk Fashion
Who or what inspires your style? "I just try to be comfortable."
Where do you like to shop? "I shop a lot at Gap."
How would you describe your sense of style? "Casual."
Why did you choose this particular outfit? "I didn't really feel like wearing pants today. It was a little warm outside, so I decided I could wear a short-sleeved shirt."
What fashion advice would you give to other students looking to improve their style? "Wear clothes that fit! So many people wear clothes that don't fit and it just looks ridiculous."
What are your favorite trends right now? "I like the loose tops a lot of people are wearing. And stripes!"
What do you do for fun- do you have any unique hobbies or interests? "I like to bake, knit, and crochet."
If you could raid anyone's closet, who would it be and why? "That's a really hard question, there's so many people! The person I'm thinking of right now is a person who goes to Pratt – her name is Yulu. I love her style. I want to steal all her sweaters and tops."
Elements of Kate's Outfit
1. Chelsea Boots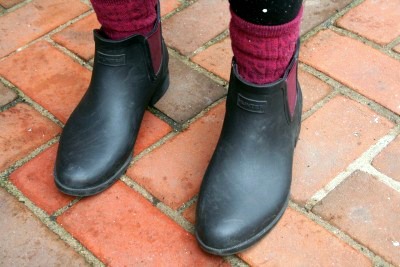 Kate's Hunter boots are perfect for the rainy weather New York has been having. Looking cute in the rain is always a trying task, but these boots are ideal for wet weather looks. The fact that they're ankle length keeps them modern and on-trend, and also allows her adorable red socks to peek out over top!
2. Glasses and Earrings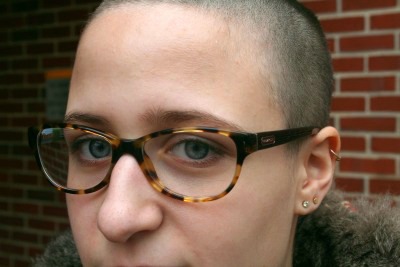 Tortoiseshell is a total classic for you girls who wear glasses! They are a fun contrast to traditional solid black or brown frames and they pair well with everything. Kate's multiple piercings are fun detail that you only notice up close. We can only imagine the number of possibilities she has with earrings!
3. Fur Vest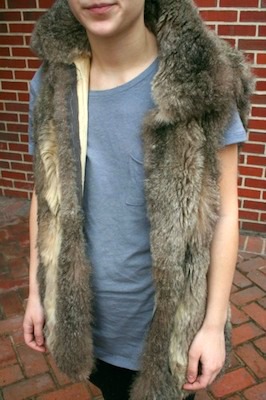 This vest is the ultimate cool girl piece. Kate found this fuzzy favorite attached to a jacket at a thrift shop and worked her DIY magic on it! This statement-making vest really spices up her casual t-shirt and leggings combo, and is perfect for the transitioning weather.
What do you think of Kate's standout pieces?
Do you love her DIY-ed faux fur vest? What about her darling glasses? What have you been wearing during this transitional weather across campus this spring? Leave your thoughts in the comments!