Winter break is coming to a close, which means that many students are returning to their respective schools. Besides hanging out and catching up on sleep, there's not much to do before class starts, so it's easy to fall into a fashion slump of sweats and t-shirts. Luckily, I ran into Kassidy whose mindset is just the opposite! With the cold weather still beating on, she knows how to stay warm and look great at the same time.
Kassidy 101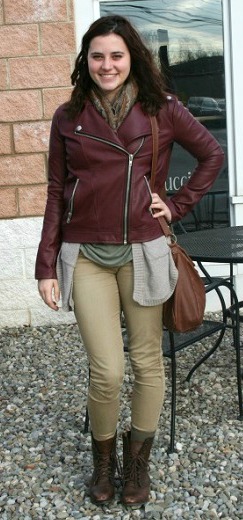 Name: Kassidy
School: Kutztown University
Year: Freshman
Major: English/Professional Writing/Cultural Media
Let's Talk Fashion
Who or what inspires your style? "I look on Pinterest for inspiration and other people that I see."
Where do you like to shop? "PacSun, H&M, Forever 21. Actually, the Gap, too."
How would you describe your sense of style? "Depends on the day. Sometimes I go typical casual-comfy and other days I go sort of hipster-hippie-bohemian."
Why did you choose this outfit? "I just got this coat and I like it and wanted to wear it. It's comfy and it's cute. Then I just layered to keep warm."
What fashion advice would you give to other students looking to improve their style? "Comfy, I always say that. Like, jeans so tight you can't even bend over in them? I hate that. Just dress to express."
What are your favorite trends right now? "Scarves, I'm big on scarves. Boots, especially since it's winter. I'm really into like, leggings and over-sized sweaters."
Do you have any favorite fashion designers? If so, who? "No, I don't really know any fashion designers… I don't really follow designers."
What do you do for fun- do you have any unique hobbies or interests? "I dance, I read. I'm pretty crafty, like scrap-booking and sewing. I'm trying to learn how to knit."
If you could raid anyone's closet, who would it be and why? "Can I raid my Pinterest closet? If that a thing? I put the outfits that I like on my Pinterest and I just want to take them."
Elements of Kassidy's Outfit
1. Combat Boots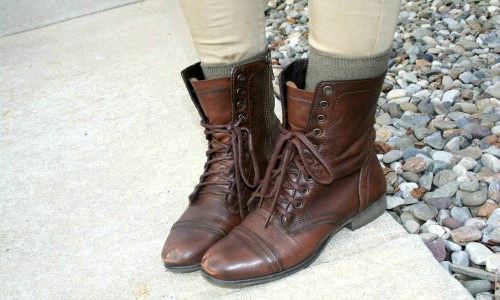 Combat boots are a popular choice for college students because they go with almost any outfit and transition easily from season to season. Kassidy's brown pair has some distressed detailing that makes them stand out from the rest. Lacing them only halfway and letting her socks peek out keeps the style fresh for the season.
2. Detailed Bag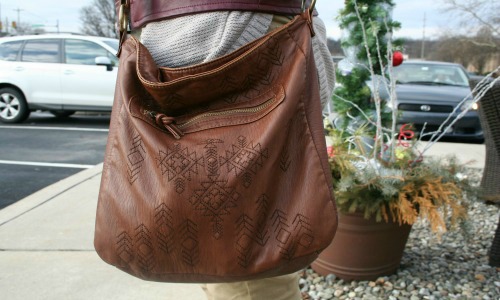 Having a bag that's big enough to carry your everyday items is essential, and Kassidy's brown satchel is her go-to. In addition to the typical wallet, cell phone, and keys, a carry-all this size is ideal for stashing an extra notebook or makeup bag, too. The geometric details update this piece from a classic staple to a trendy accessory.
3. Custom Bangles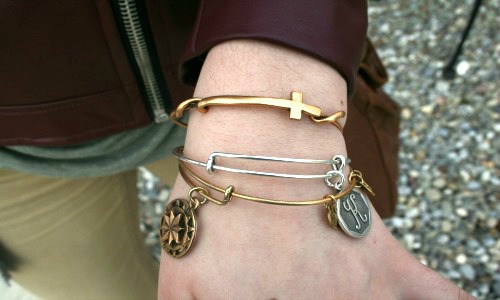 These Alex and Ani bangles are a stylish addition to any outfit. They can be sized to fit anyone and come with unique charms to fit everyone's tastes. Mixing metals, like Kassidy did here, adds a cool twist.
What do you think of Kassidy's winter look?
Are you obsessed with her carry-all bag or bangles? Do you have combat boots? What have you been wearing in the cool temperatures? Let us know by commenting below!