May is coming to an end and many students are home for break, including Karla, who attends Arizona State University. I spotted Karla looking cool (despite the rising temperatures!) and ready to celebrate the season in a floral romper and cut-out oxfords.
Karla 101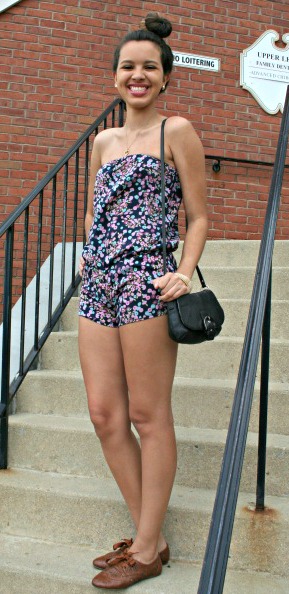 Name: Karla
School: Arizona State University
Major: Journalism & Mass Communication
Year: Freshman
Let's Talk Fashion
Who or what inspires your style? "My friends, people I see around campus, and Pinterest. I've also been watching a lot of fashion vloggers on YouTube lately."
Where do you like to shop? "I really like H&M and Forever 21. Those are good [for] cheap staples. I like a lot of online places, like Tobi and Rue La La."
How would you describe your sense of style? "I think it changes. I like to be comfortable, but I like to be cute, too. I have a lot of kind of pretty, classic pieces."
Why did you choose this particular outfit? "I think this romper is really cute, and I like stuff that I can just throw on. It's just one piece that's easy to wear, and I don't have to mess too much with it."
What fashion advice would you give to other students looking to improve their style? "Be yourself – that's so cliché. Everyone says dress for your body type, and I agree with that. Also, know how to kind of cheat it, because you can always find a take on a certain style that will look good for your body type if you do it right. So don't be afraid to try something that maybe people say 'you can't wear this or that.' There's a way you can work it out."
What are your favorite trends right now? "Collars, I love collars. High-waisted pieces with crop tops."
Do you have any favorite fashion designers? If so, who? "I don't really know many fashion designers, but I always see Elie Saab stuff on Tumblr, and it just looks like it's straight out of a modern-day fairytale and looks perfect."
What do you do for fun- do you have any unique hobbies or interests? "I like to sing and read, and play the piano."
If you could raid anyone's closet, who would it be and why? "Serena van der Woodsen, post high school."
Elements of Karla's Outfit
1. Delicate Jewelry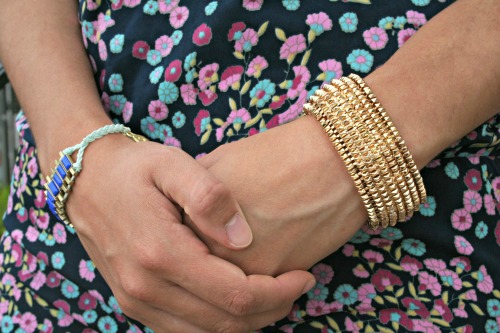 Karla's jewelry is simple enough to keep the focus on her busy romper, but still adds enough flair to be noticed. Multiple gold layers and fun color combinations make her bracelets unique, just like her!
2. Black Bag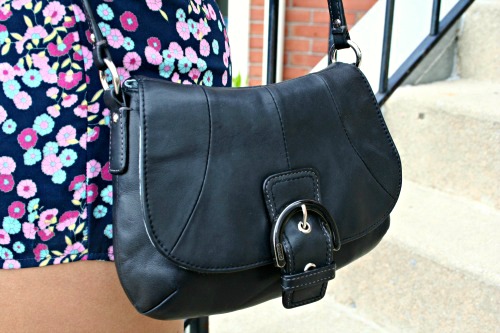 A small black bag, as mentioned many times before, is a classic college girl staple. Karla's buckled bag is roomy enough to hold just the essentials, can be worn across the body for added ease and movement, and goes with just about everything. It really is the perfect everyday purse.
3. Brown Oxfords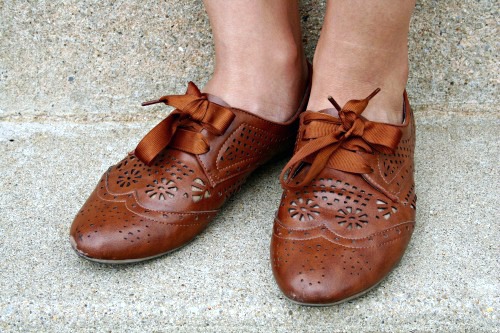 Who says you can't mix a black bag with brown shoes? Karla breaks this old fashion rule in the best way possible. Cut-out oxfords are ideal for summer – they're a comfy choice for busy girls on the go, plus they'll keep you cool in hot weather. The ribbon ties and dainty flower details on Karla's pair make them extra stylish!
Do you love Karla's summertime style?
Do you ever wear rompers? What do you think of her black bag and brown shoe combo? What's your favorite hot weather go-to outfit? Drop a comment below to let us know your thoughts!