This post may contain affiliate links, which means we may receive a commission if you purchase through our links. Please
read our full disclosure here
.
Kamila embodies simplicity and European style using basics to create timeless combinations. She graciously took some time out of her busy jet-setting lifestyle to pose for some photos in this classic autumn ensemble.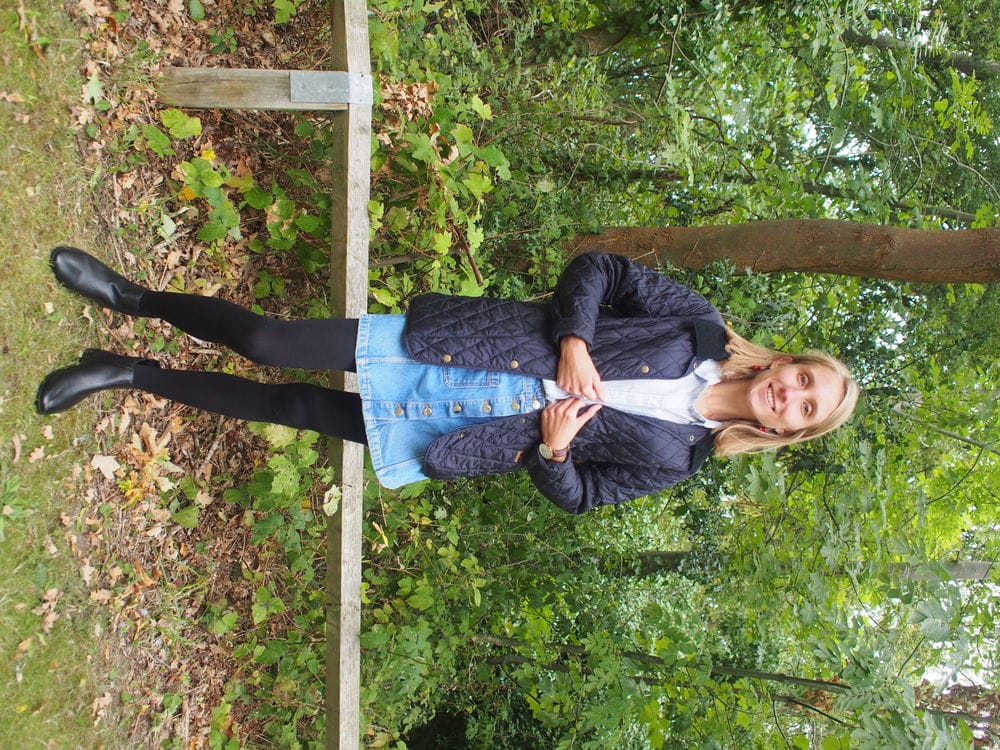 Kamila 101
Name: Kamila
Hometown: Warsaw, Poland
School: University College, Durham University, England
Year: Second Year
Major: Economics & Management
Let's Talk Fashion
Who or what inspires your style? "I take inspiration from various people [including] Audrey Hepburn [and] a Polish blogger, Katarzyna Tusk. I try to follow the simplicity of the French chic [style]: effortless, very natural yet classy, and formal to a slight extent."
Where do you like to shop? "It depends where I am. If I am in my local area, I choose either Zara or Mango; maybe Jack Wills for some pieces of clothing. If it is in Durham where I study, I usually go for the basics series at H&M, due to the fact that this chain there is very well organized and has a large range of my preferred series in store. Yet, if I visit France or Poland, Camaïeu or Etam are my usual choices."
How would you describe your sense of style? "As mentioned in the first answer, I try to keep it very natural. I use the plain range of colors: black, white, navy, and gray with some elements of red. I try to keep it classy, yet effortless. I always prepare my clothing in terms of the weather and activities of the day."
Do you have any favorite fashion designers? If so, who? "I don't think I have any favorite designers in particular. For me it is the quality that matters more than labels. I, myself, have some accessories from Michael Kors, Longchamp, and Tommy Hilfiger, yet it was once again the quality that has led me with my choices, not the name."
What do you do for fun – do you have any unique hobbies or interests? "I am very passionate about sport[s], particularly any racket sports. I really enjoy the amount of tactics that need to be put in the games. I am also a French cinephile. The New Wave is my favorite period in the French cinema."
If you could raid anyone's closet, who would it be and why? "It would probably be of Katarzyna Tusk, my favorite Polish blogger. She always mentions this kind of simplicity in her wardrobe, yet I constantly see new pieces of clothing, so I am wondering where does she fit it all…"
Elements of Kamila's Outfit
1. Oversized Button-Up + Denim Skirt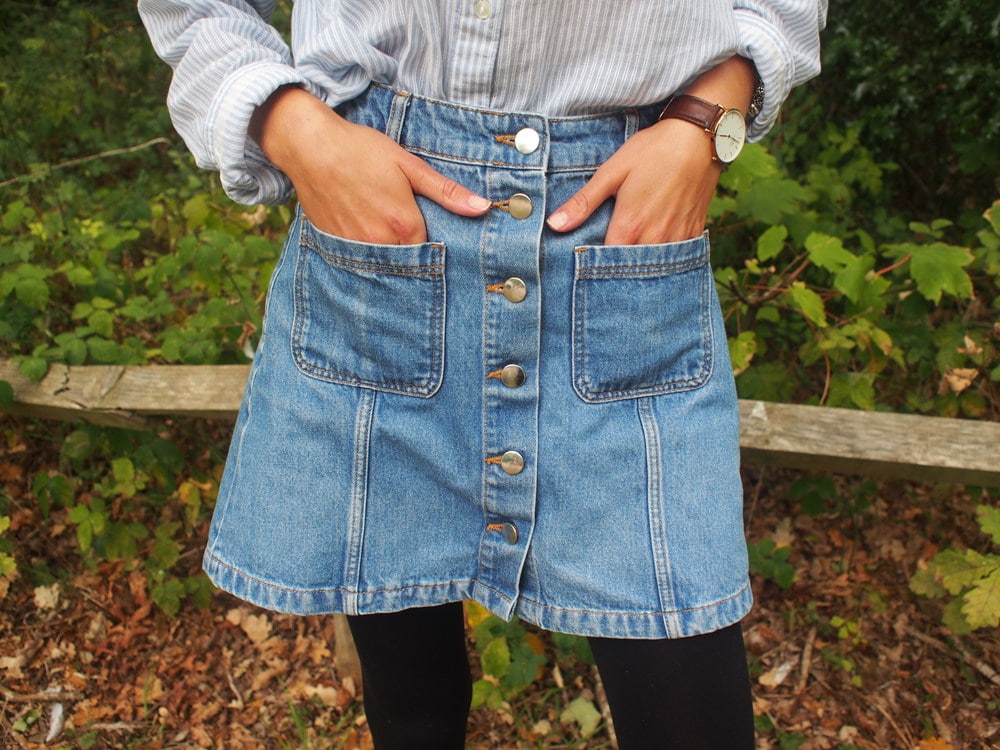 The billowing sleeves of this pinstripe H&M shirt add volume to an otherwise plain silhouette. I can imagine Kamila rocking this to lectures looking chic yet put-together. She pairs the top with an on-trend denim skirt featuring bold stitching, buttons down the front, and pockets. The skirt keeps her look fresh, while her top remains professional.
2. Earrings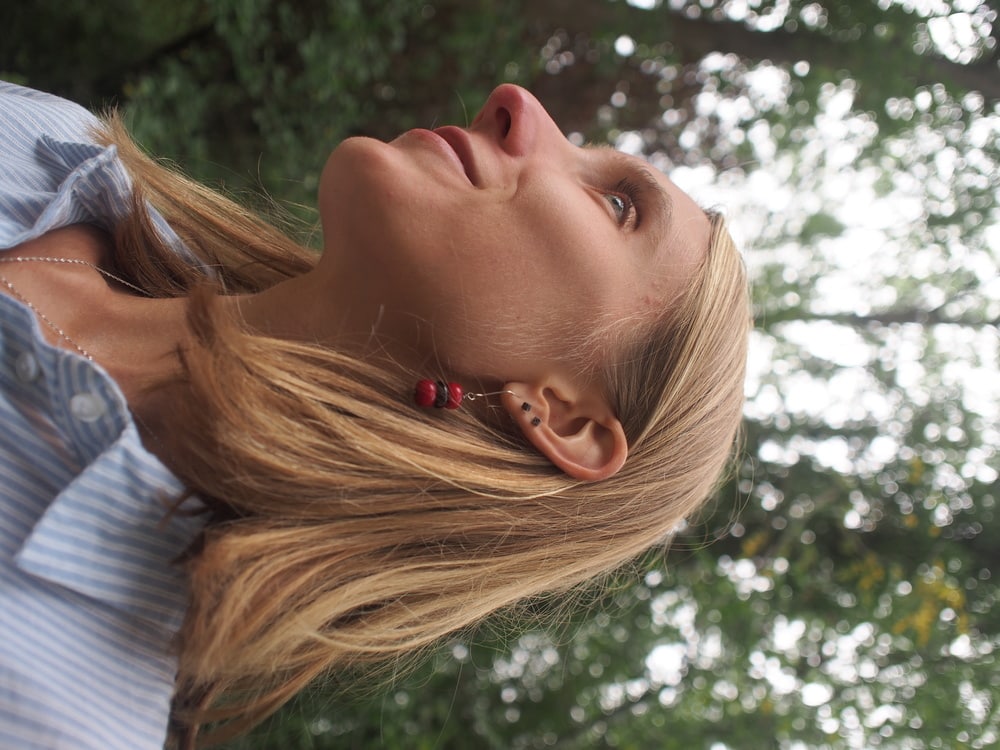 These handmade red earrings – a gift from a family friend – stand out amongst Kamila's palette of neutrals. It's also a good reminder that jewelry does not have to be expensive; get crafty and creative!
3. Chelsea Boots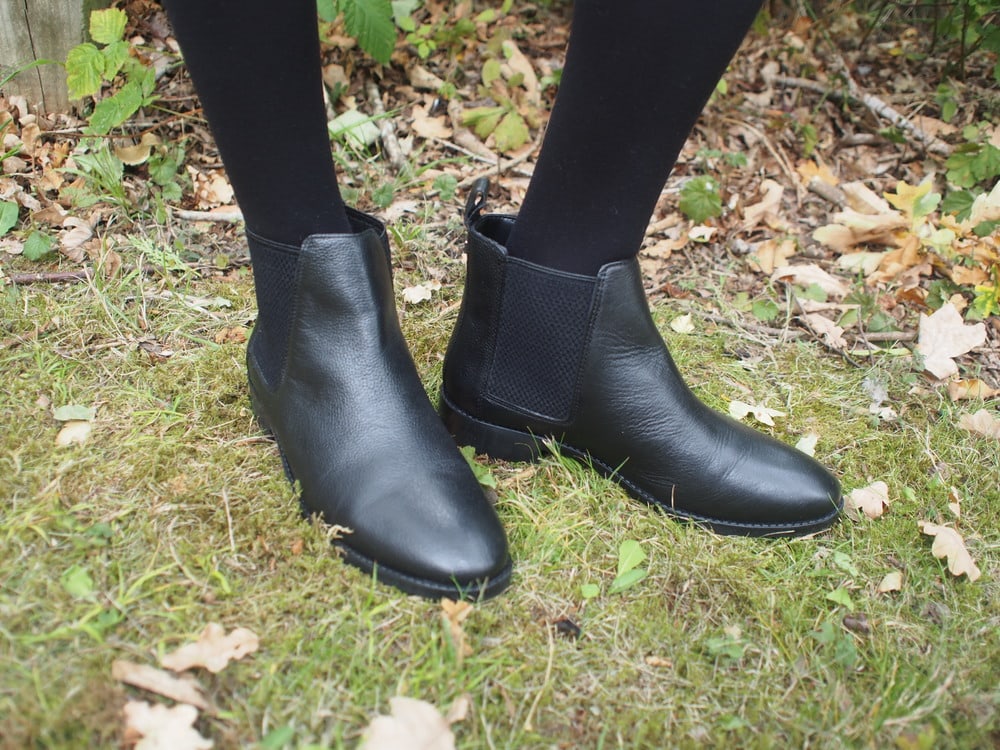 Black Chelsea boots are a staple for Kamila, and they should be a staple for all college students. They are versatile and perfect for rainy days or (relatively rare) sunshine in England.
What do you think of Kamila's style?
Do you love her European taste? Are you as obsessed with her boots as we are? Let us know below in the comments!