Now that the spring semester is in full swing, everyone's been hitting the books like crazy! Luckily, the weather has eased up a bit, and we've been able to release some post-winter stress! During one of my study breaks, I decided to take advantage of the warmer weather to take a walk across campus. I ran into Kallan, who also decided to use the weather to break out an outfit perfect for the warmer weather (and studying in comfort).
Kallan 101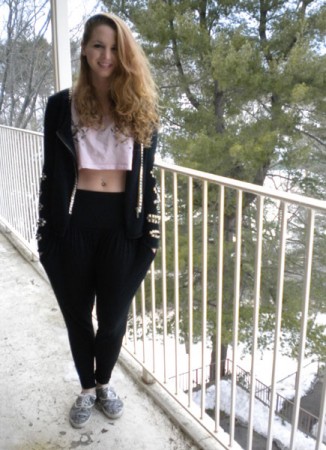 Name: Kallan
School: Wesleyan University
Hometown: Lake Forest, Chicago, IL
Class Standing: Freshman
Major: [Prospective] Film Major
Hobbies/Interests: "Singing, reading, and playing guitar."
Let's Talk Fashion
How would you describe your personal style? "I would describe myself as a mix of mild-eclectic and Earthy-hippie. I come from a very preppy town in Chicago, so I always try to stand out from the crowd and dress differently from everybody else."
What are your favorite places to shop? "I love Free People and Topshop, and I get lots of my shoes from Urban Outfitters. I also like to shop at Target and thrift stores. I can be pretty random at times – if I see something I like, I'll buy it!"
Who are your favorite designers? "I like Marc Jacobs and Alexander Wang. I'm also a fan of Wildfox Couture."
What is your style inspiration? "I really like Sienna Miller's and Kate Moss's styles. I'm also really inspired by European trends (especially the French!)."
Elements of Kallan's Outfit
1. Studded Sweater, Crop Tee, Harem Pants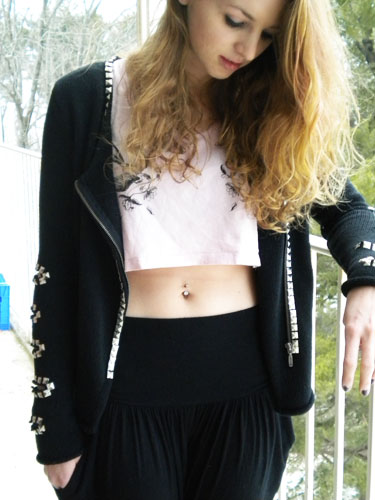 The combination of studs and cutout sleeves make this simple black cardigan into a trendy statement piece. Kallan told us, "I love this sweater a lot – I actually got it in Paris! And it looks great with anything – including my Topshop tee!" Kallan's cotton harem pants by Silence & Noise harmonize this look by keeping it both casual and trendy.
2. Multiple Rings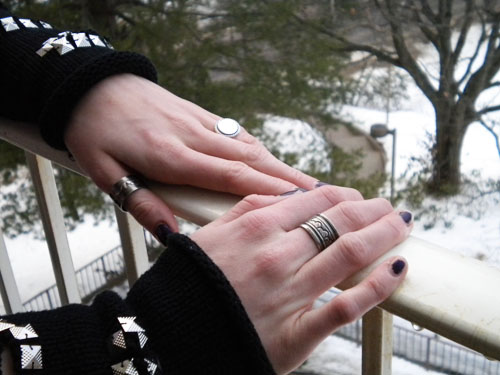 Rings are a great, easy way to add style to a simple outfit – plus you can get away with mixing and matching them! "I love rings," Kallan says, "Two of the ones I'm wearing now are by Marc Jacobs, and the third is actually a custom ring my sister bought me from a local designer."
3. Spring Sneakers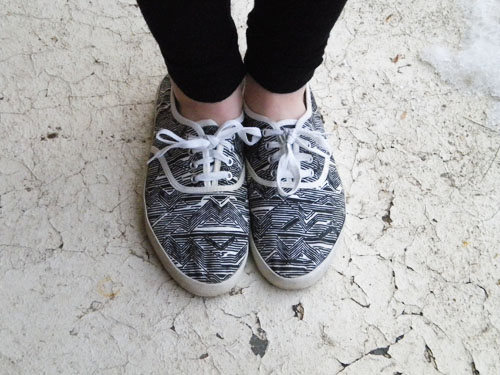 I love Kallan's graphic print sneakers from Urban Outfitters. They're super fun and quirky, and the simple black/white color palette allows them to be paired with dozens of outfits!
Share Your Thoughts!
Do you love Kallan's style as much as we do? Would you be brave enough to try the harem pants and crop top trend? What do you think of Kallan's graphic print sneakers? Share your thoughts with a comment!