The sun is finally casting its rays over us and Minnesota is no longer in a polar vortex! The shift in across-campus attitude has been noticeable – students are happier and more willing to take more risks in their wardrobe choices when it warms up.
I have always admired Kaila's bold style, from her long printed skirts to her chunky, thick jackets, she stands out from the crowd no matter what time of the year.
Kaila 101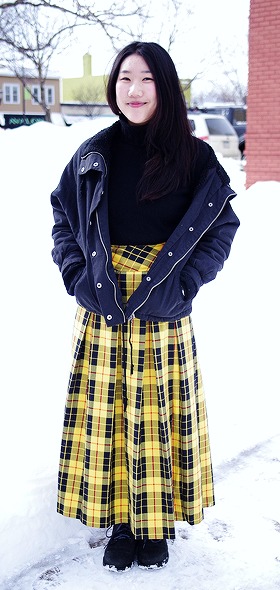 Name: Kaila
Year: Senior
Major: English/Creative Writing
Hometown: The Bay Area, California
Let's Talk Fashion
Who or what inspires your style? "Currently, I am reading this blog called Stop It Right Now. She's a woman from LA who has a great sense of humor and doesn't really take fashion seriously, and I really like that. I get inspired from fashion exhibits and events, and as well as architecture and Catholic churches."
Where do you like to shop? "I shop a lot online, surprisingly at eBay or Amazon. [They are great places] to look if you know exactly what you want. I shop at thrift stores a lot as well. I also like to look at brands such as Acne, Alexander Wang, and Opening Ceremony to get inspired, but they are too expensive for me."
How would you describe your sense of style? "I think my style is rather random and I would probably say it's pretty loud. It's also pretty inconsistent; some days I will wear very simple pieces, and some other days I will just wear all of my crazy things at once. I guess it depends on the day. It's probably best described as a conglomerate mass of random things."
Why did you choose this particular outfit? "I chose this outfit because I like to be warm. I'm not someone who would suffer for fashion, so I'll just pile on clothes. The skirt is very long and loud, and I like how I can pair other plain things with it. I also really like fluffy jackets, so this jacket is perfect for me."
What fashion advice would you give to other students looking to improve their style? "If fashion is fun for you, then you should definitely go for it! But a great way to improve your style is to keep some nice basics in your collection. You can never go wrong with simplicity, and I think a lot of simple things paired together can create something really nice and interesting."
What are your favorite trends right now? "I really like when Asian people have bleached blonde hair. I would never do it to myself because I know I'd look bad, but I just love seeing it on others. I also really like furry things, such as furry jackets or sweaters. I also really like the simple sports style right now, too."
Do you have any favorite fashion designers? If so, who? "I have already mentioned Alexander Wang and Opening Ceremony, but I also really like Kenzo – they do some awesome prints."
What do you do for fun – do you have any unique hobbies or interests? "I really love watching movies, not the Hollywood blockbusters, but the older movies with a lot of history and artistic elements to [them]. I enjoy writing about food, and I sometimes write for the school newspaper, The Mac Weekly."
If you could raid anyone's closet, who would it be and why? "G-dragon! He's a K-pop artist and I just love everything he wears."
Elements of Kaila's Outfit
1. Plaid High-Waisted Skirt
Kaila mentioned she's inspired by fashion exhibits, and this particular look was inspired by a Jean Paul Gautier exhibit. She found this skirt at a Goodwill in San Francisco, and it definitely fits the JPG-vibe. It is a really bold piece that pairs nicely with solid-colored items, which is exactly what Kaila did here.
2. All-Black Top & Jacket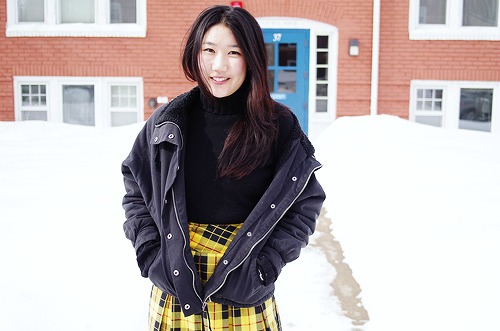 Kaila's turtleneck is originally from Banana Republic and her jacket is from a Buffalo Exchange in Berkley, California. These pieces are both practical for the weather and also provide a nice contrast to her eye-catching yellow skirt.
3. Timberland Boots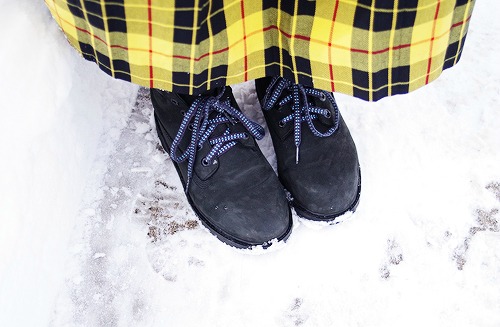 Kaila spiced up these classic Timberland Boots by adorning them with Opening Ceremony shoelaces that have a unique eye pattern. Not only are the boots are ideal for cold weather, but they also dress down the skirt for a day full of classes. They're the perfect finishing touch to a well-balanced winter ensemble.
What do you think of Kaila's bold skirt and neutrals?
Do you think she aces cold-weather apparel with this look? Would you wear her outfit? What have you been wearing in the cold weather? Let us know by leaving your comments below!