Winter is quickly approaching, so here in Boston, we all want to savor the last few weeks of fall weather!
Justine's style is a perfect example of how to mesh fall and winter pieces together to take advantage of the not-quite-winter temps. All at once, her ensemble both savors warmer weather and looks ahead to the cooler months. Read on to learn more about her look!
Justine 101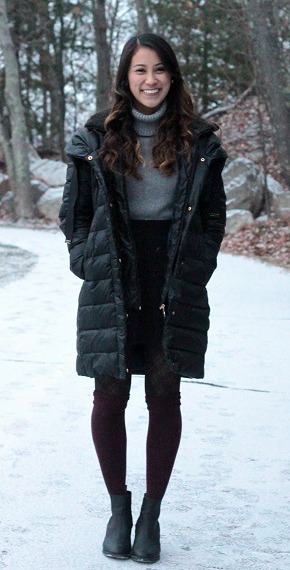 Name: Justine
College: Boston University
Hometown: New Jersey
Age: 20
Year: Junior
Major: Accounting
Hobbies/Interest: "Shopping and hanging out with my friends!"
Let's Talk Fashion
Who or what inspires your style? "Kourtney Kardashian because she can be bold with her outfits but still look effortlessly casual and comfortable."
Where do you like to shop? "Urban Outfitters, H&M, and 344 (a New England boutique chain). Because Newbury Street is so close to Boston University, it's really easy to just get on the T and start shopping!"
What are your favorite trends right now? "Crop tops, nude colored shirts, and wedge heels."
If you could raid anyone's closet, who would it be and why? "I would raid Kim and Kourtney Kardashian's closets because they know how to look very stylish and classy with simple pieces and/or statement accessories."
Elements of Justine's Outfit
1. Jean Jacket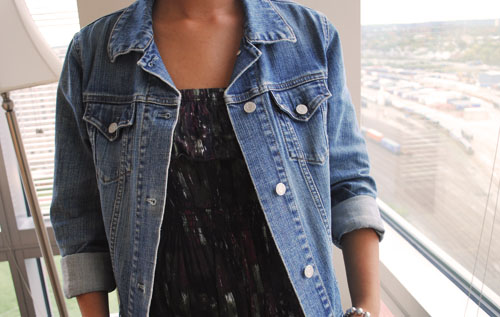 Justine's vintage jean jacket is the perfect casual outerwear choice for fall weather – pair one with a cute dress or a tunic and leggings to for a perfect November ensemble. The best thing about a jacket like this? You can wear it through spring and summer, too – talk about a versatile piece.
2. Bold Boots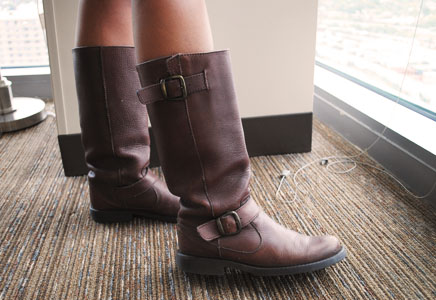 Boots are everyone's favorite fall/winter shoe style of choice because they are so versatile and perpetually stylish. Justine's mid-level brown motorcycle boots are the ideal shoe to pair with a patterned dress during the fall season because they add a casual element to every look.
3. Simple Accessory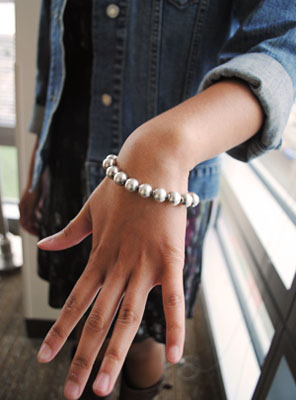 To complete the simple outfit, Justine adds her signature bracelet that is both bold and modest at the same time. A signature piece of jewelry like this can be a great everyday staple that goes with every look.
What do you think?
How do you transition your summer pieces into fall? Do you own a pair of motorcycle boots like Justine's? What's your signature piece of jewelry? Leave a comment below!