On a particularly gorgeous summer day, I ran into Julie walking across campus. This fashionable recent Columbia grad was spending the weekend in Ithaca to visit her boyfriend, but she took time out of her trip to chat about her classic, minimalist style.
Like many college students, Julie manages to strike a great balance between the clothes she'd like to wear and the clothes that suit her body type, and this outfit perfectly reflects her fun yet polished wardrobe.
Julie 101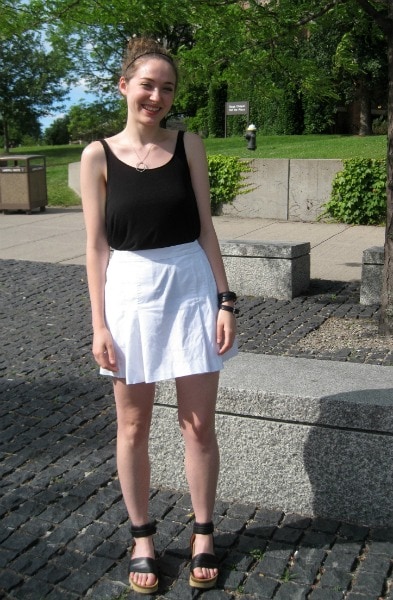 Name: Julie
Year: Just graduated!
Major: Comparative Literature
School: Columbia University
Hometown: New York City
Let's Talk Fashion
Why did you choose this particular outfit for today? "I chose the outfit because the weather's perfect. Like, it's pretty much an ideal day and I wanted to have as much sunny, breezy stuff happening against my skin as possible. So I wanted basically to expose as much skin as possible, but still be able to go to the library."
Where did each piece come from? "Everything… well, these [skirt and shoes] were both thrift store finds. This one, [skirt] I think was part of a school uniform because that's what the brand is. I'm from Manhattan so the thrift stores are really good there.
This [shirt] was from the brand Weekday. I bought it in Berlin about three years ago and it's, like, one of the only clothing items I bought then that I'm still wearing. And then I've got on a bandeau that I think is from Urban Outfitters, on sale."
What about your accessories? "This [bracelet] is from the brand Hope Stockholm, and that was a gift from my boyfriend when we were in Stockholm. And it's a different brand from this [necklace] but this was also a Stockholm jeweler, because he's Swedish so all of his gifts are from the much better design houses of Sweden."
Just out of curiosity, how did a Swedish PhD student and a Columbia undergraduate meet? "In Berlin. I was studying abroad and he was doing a fellowship."
How would you describe your sense of style? "It is probably [leaning] towards minimalism, but coping with the fact that I'm really short. I generally really only wear black and sometimes white and sometimes gray.
So I'm not particularly adventurous with color, but I do really like silhouettes. But I wish I could experiment more with some of the more classic minimal silhouettes, but I have to keep in mind that I'm really short, so a lot of waist-cinching instead."
Where do you like to shop? "Thrift stores. Housing Works in New York City. And that's, like, pretty much it these days, except for I get my intimates at various stores where it's not second-hand!"
Do you have any favorite trends? "I am loving crop tops right now. But also I am loving, like, no bra, which I am super-happy is making a comeback because I really hate underwire! And I've switched exclusively to bralets or crop tops that don't need bras. Exposed back? Love it!"
What about favorite fashion designers? "I do! Well I guess I have to separate this from designers that I really like and designers that I can wear. So I really like Acne and also COS. H&M's, like, a more fashion-conscious brand but their silhouettes never look good on me so I admire them from a distance. But I have to say that I've been finding a lot of vintage Prada and I love that."
Do you love that to wear or just to admire from a distance? "I love that to wear because I can find pieces that are at very affordable prices when they're secondhand."
What do you like to do for fun? Any hobbies? "Uh… lounge? Walk around? I recently started doing yoga and lifting, and I've been enjoying exercising. And reading a lot."
Elements of Julie's Outfit
1. Bold Bracelet + Schoolgirl Skirt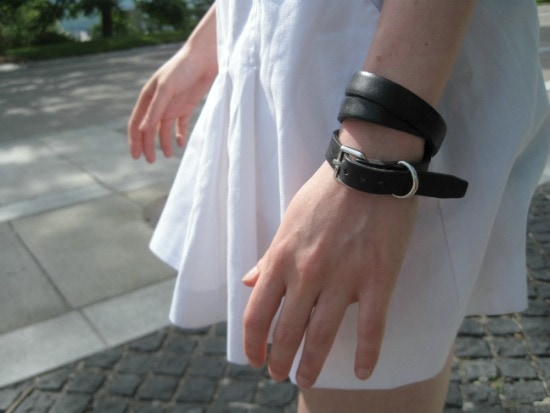 I'm going to be honest: when Julie told me her skirt used to be part of a school uniform I was pretty shocked! The light, breezy fabric was perfect for a hot summer day and it contrasted beautifully with her bold Hope Stockholm bracelet.
2. Delicate Necklace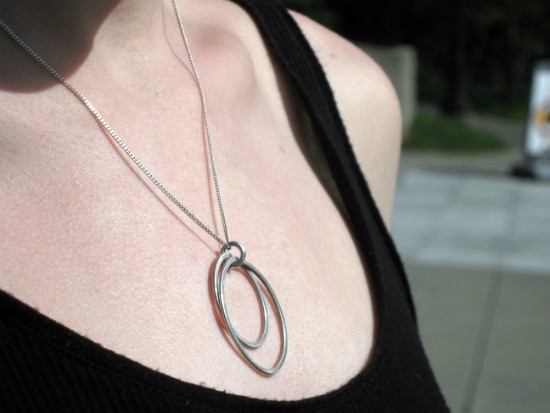 In an outfit dominated by stark contrasts and sleek silhouettes, Julie's simple silver necklace kept the look from feeling too heavy or overwhelming. It perfectly embodies her minimalist sense of style.
3. Black Sandals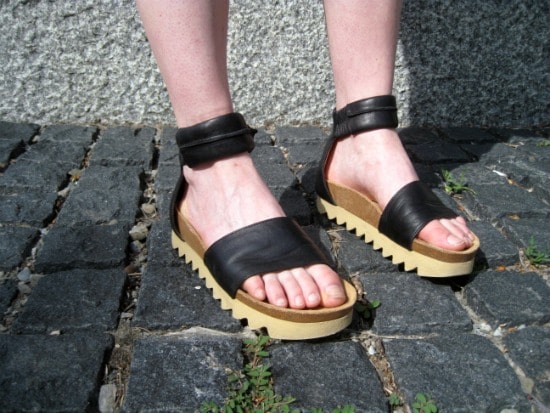 These thrift-store finds matched Julie's bracelet so perfectly that at first I assumed she must have bought both pieces at the same time. The sandals are just bold enough to add some extra impact to Julie's look without overpowering the rest of her outfit.
We want to know what you think!
Are you obsessed with her chic shoes and sleek style? Would you wear her outfit? Do you like wearing black-and-white looks? Comment below and let us know.