While waiting for my History of Western Art and Civ class to start in my (thankfully) air-conditioned classroom, I couldn't help but notice Juliana's outfit the moment she stepped into the room. I love her simple and chic maxi dress combined with the rugged look of her denim vest. Her ensemble gives off a perfect balance of femininity and sporty chic, perfect for a day of classes. Read on to learn more about Juliana and her style!
Juliana 101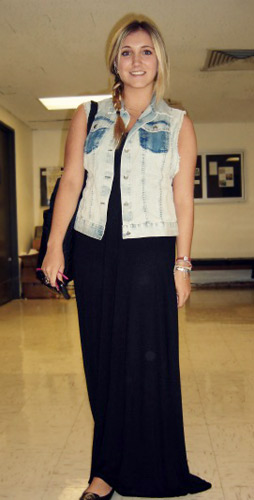 Name: Juliana
College: Fashion Institute of Technology
Major: Fashion Marketing and Merchandising
Year: Sophomore
Let's Talk Fashion
Describe your sense of style. "It's kind of casual-chic, but I like to step it up a bit so it's bohemian, I guess."
What inspires your style/fashion taste? "Mostly looking at blogs for inspirational pictures. I usually go on my favorite sites every day to just get ideas."
What are your favorite fashion sites? "My friend has a really good site called RemyToWear. (EDIT: As of today, 8/17, the site looks to be down.) And I follow a lot of my friends' blogs."
What are your favorite places to shop? "My favorite places to shop are Zara, Topshop, Forever 21, and just little boutiques in Soho."
What is your favorite item in your wardrobe right now? "As of now, these bracelets. Especially in the summer, I am addicted to just putting them all up my arm. These are Shashi and my sister works for them, so she gets a bunch of free samples all the time. So me and my friends just trade and share."
If you could raid anyone's closet, who would it be and why? "If I could raid anyone's closet…hmm…there are so many choices. It'd probably be Blake Lively. Not just because she's a big fashion icon right now, but because she's really unique. She doesn't even have her own stylist since she does everything herself, so it's just all her right there."
What advice would you give others about style? "It's not all about buying high designer names and trends. I like mixing H&M and Forever 21 with the little stuff from Bloomingdale's and stuff like that. You don't have to wear everything designer. A lot of my friends wear a lot of vintage and new to create their own styles so they don't look the same as everyone else."
Elements of Juliana's Outfit
1. Denim Vest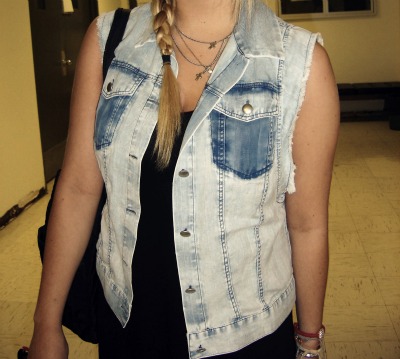 A denim vest can add a bit of edgy coolness to any feminine piece. This summer staple can also tone down a dressy item so it can be worn more casually. Here, Juliana pairs her light wash denim vest with a simple black maxi dress, creating a "dressed down" look that's perfect for class.
2. Simple Necklace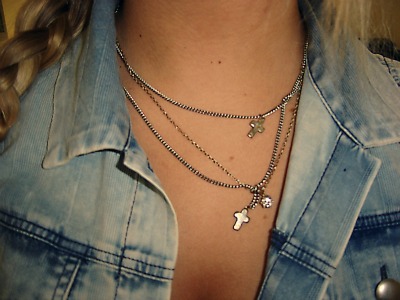 A simple and an understated necklace is a great way to put a finishing touch on your look. Here, Juliana's layered cross necklace is perfect because it isn't too heavy or distracting, and it contributes to the simplicity of her outfit.
3. Basic Flats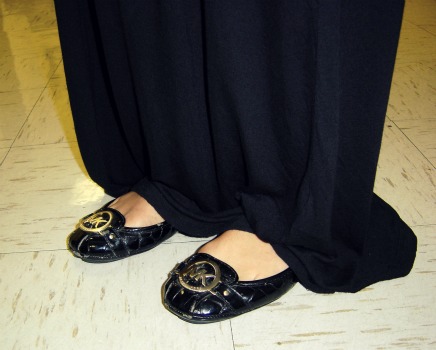 Juliana keeps the rest of her outfit simple with these basic Michael Kors flats. Subtlety is important when wearing a strong statement piece like a denim vest.
Your thoughts?
Do you love Juliana's casual cool look as much as we do? Do you own a denim vest? Have you been rocking the maxi dress trend? Let us know with a comment!