As I was walking to breakfast in my residential college, I couldn't help but notice the fierce style (and hair) donned by Jordan, a sophomore at Yale University. The photogenic Jordan was more than happy to participate in a photo shoot and answer a few questions about her style.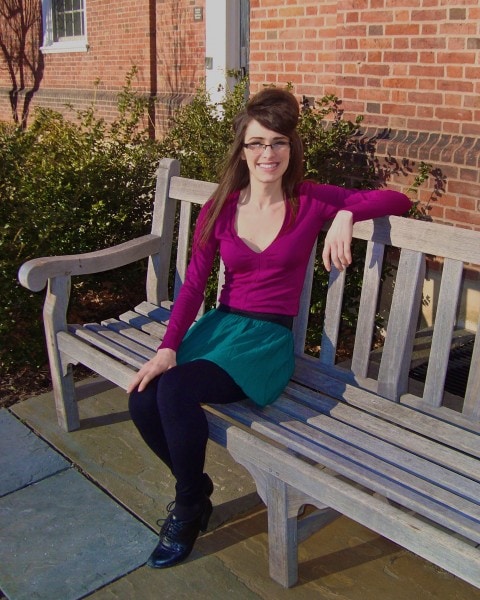 Hometown:
"Mesquite, Texas… suburb of Dallas, and home of the Mesquite Championship Rodeo. Yeah, I AM serious."
Major:
"American Studies with a 'Visual, Audio, Literary, and Performance Cultures' focus"
What are your hobbies and interests?
"Theater, baking apple crumb pies, watching football, reading as much Tennessee Williams and Jane Austen as I can get my hands on, and drinking WAY too much Starbucks coffee!"
How would you describe your style?
"Simple pieces and bright colors for bold statements. Oh, and it's really all about the effect from the shoulders up- a dash of makeup and attention to the hair."

You only have three words to describe your style. Go.
"Simple, yet intentional. I take pride in my appearance. I put myself together EVERY morning, without exception. Too many people confuse attention to detail as excess, which is simply not the case."
Where is your favorite place in the world to be?
"That has to be in a car of Trenitalia, chugging through the Tuscan countryside, looking out of the window at ENDLESS fields of sunflowers."
Favorite style decade?
"I'd like to say the 50's; if you look back on any of the major advertisements of the day, it was all about bright colors or bold patterns, but always, ALWAYS classy, feminine, and again, intentional. Pearls while vacuuming? Why, yes. Women back then CHOSE to look good, and consequently, did. Thank you, June Cleaver."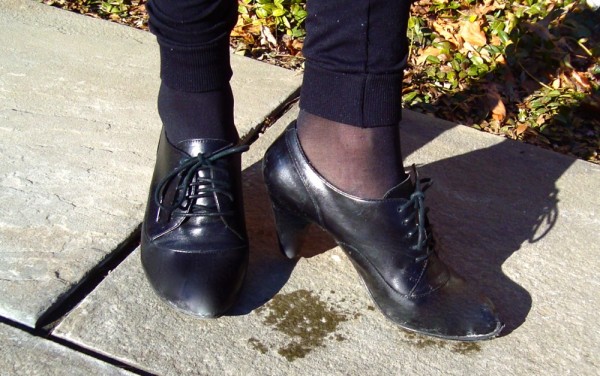 Pet peeves?
"Laziness and apathy. Sure, there are things that don't spark my fancy, but I just choose to spend my time being productive and working on things about which I am passionate. Passion is so attractive in a person."
Favorite stores to shop in?
"If I had the bank account for it, I would be ALL OVER Ralph Lauren – classic, colorful style. But stores such as Express, H&M, and Forever 21 are friendlier on the wallet… "
How and why did you choose this outfit?
"I think it illustrates my bright-yet-simple philosophy. It makes a strong statement while keeping me warm in this crazy New Haven weather. And the glasses are my staple, so I tend to wear black accents to match the black frames. Okay, okay, so that's a little neurotic… "
As for the most distinctive, interesting aspect of her ensemble (in my opinion)…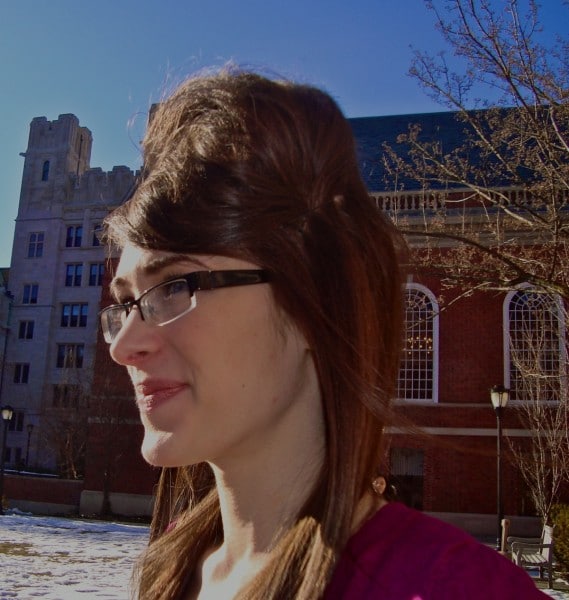 I have to ask. You probably knew this was coming. The hair?
"You know, I get asked that a lot. I tend to just laugh and say, 'Hey, when you grow up in the land of blondes, tans, and beauty queens, you LEARN to use your hairspray and teasing comb!' (laughs) But, really, I do think of my hair as essentially part of my daily outfit, an accessory of sorts. Notice, I don't wear many accessories, so I work it in this way."
My thoughts on Jordan's look
What I really enjoyed about Jordan's outfit was its overall strength, which comes from the bold colors, unique glasses, simple yet classy shoes (I suppose this is the black accent she was talking about), and incredible hair. The shoes are a particularly wise choice because they go with everything, but look different from what most girls wear on campus. Next time I have the opportunity to hit the mall, I'm definitely purchasing some Jordan-inspired oxford kicks.
Jordan's hair is also worth another mention. At most universities, Yale included, many girls are afraid to experiment with their hair. What girls need to realize is that hair is one of our best assets, an easy means of flattering your face shape and grabbing attention. Jordan has urbanized the southern-belle look, something hugely creative and inspiring for fashionistas everywhere!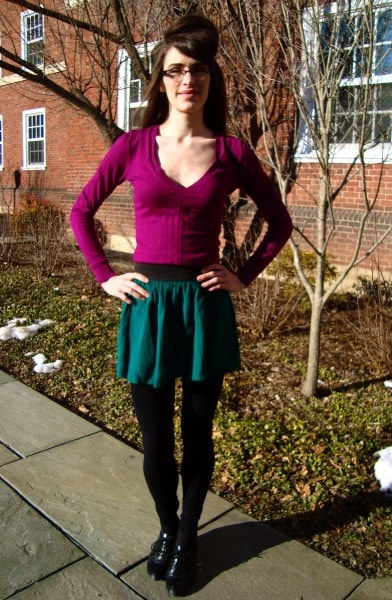 What do YOU think?
Do you admire Jordan's daring sense of style as much as we do? Do you share any of her same interests or fashion philosophies? Let us know with a comment!