Jordan is currently studying abroad in London, and I caught sight of her good sense of style by chance. She always keeps it simple and semi-casual, and her classy yet playful look serves as great inspiration for other study abroad students.
Jordan 101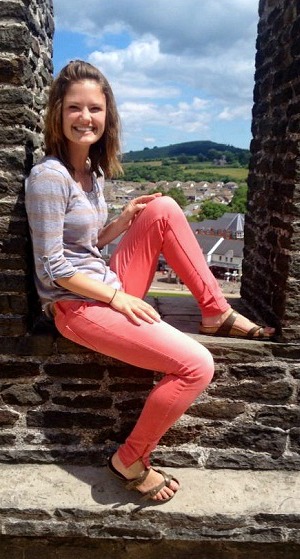 Name: Jordan
Year: Sophomore
Major: Marketing & International Business
Hometown: Rochester, MN
School: University of Iowa
Let's Talk Fashion
Who or what inspires your style? "I would say my mom inspires my style. She tends to stick to monochromatic colors with her choice in clothes, and I find that to be a very clean and classic look."
Where do you like to shop? "I would say right now I love to shop at Banana Republic, LOFT, and White House | Black Market. For more casual looks I like Gap and Nordstrom."
How would you describe your sense of style? "It depends on the occasion, but I would say that my style in general is very 'sporty-classic,' meaning I love to look cute and be comfortable. I have a bit of a tomboy side, so I usually stick to clothes that are simple and refined. I am also a huge jacket and cardigan person; I love them!"
Why did you choose this particular outfit? "I chose this outfit mainly for the pants. I knew we were traveling to a beautiful country and I thought the bright pants would stand out and go with the landscape. It is also a very relaxed look. I didn't spend too much time with this outfit, but it still looks nice. Whenever I wear colored pants I pair it with a simple top because the pants are the star of the look."
What fashion advice would you give to other students looking to improve their style? "Keep it simple. I would say students in particular should work with what they have and stretch their wardrobe. Because my closet is more monotone, I feel I can do more with it.
For instance, I took five colored tops with me to London, five pairs of colored/patterned pants, and three jackets, and with that I am able to pull together 20 different outfits because my items are versatile."
What are your favorite trends right now? "Definitely the European style, which is a much more relaxed and baggy look."
Do you have any favorite fashion designers? If so, who? "I wouldn't say I have one particularly designer that I consistently wear. Some of my favorite stores are the LOFT, Banana Republic, and Gap."
What do you do for fun – do you have any unique hobbies or interests? "I like to run and dabble in the arts. That's about it!"
If you could raid anyone's closet, who would it be and why? "My interviewer! I appreciate what she wears a lot of the times."
Elements of Jordan's Outfit
1. Bright Pink Pants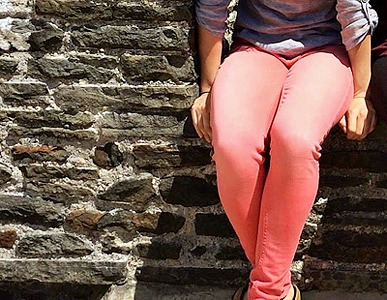 Jordan wore these bright pants so she could effortlessly stand out while abroad. Brightly-colored pants are great for summer: they're polished, comfortable, and add a playful touch to any outfit. She paired these pink-hued trousers with a simple striped top from Target for a relaxed yet put-together ensemble.
2. Unique Birkenstocks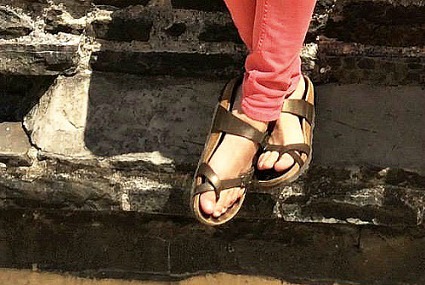 Jordan shows off her "sporty-classy" look with these sleek Birkenstocks. Not only are these casual sandals comfy enough to stroll around in all day, but they're also having a total fashion moment this season, which makes them a trendy pick for summer.
What do you think of Jordan's travel outfit?
Do you ever embrace European style? Have you tried out the Birkenstock trend yet? What do you think of colored pants? Leave a comment below and let us know what you think!