In my opinion, men's fashion is always in need of more James Dean inspiration. Even in a white T-shirt and fitted jeans, Mr. Rebel Without a Cause had the look of an icon… not to mention really great hair. I spotted Johnny on his way home after class and felt the same suave vibe, so we stopped to talk some style. Unfortunately, he cruised away afterward on the University shuttle, not a motorcycle, but no harm in pretending, right?
Johnny 101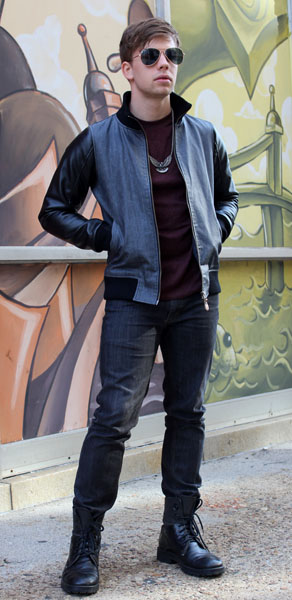 Name: Johnny
School: Point Park University
Year: Senior
Major: Advertising and Creative Writing
Hometown: Woodstock, VA
Any fun facts? "I'm working on becoming a rap superstar. Look out for me."
Goals for the future? "To have many adventures."
Let's Talk Fashion
Favorite places to shop? "Soho, The Promenade and any thrift, vintage or consignment shop."
Describe your personal style: "I like fancy things and shiny things and unusual things. I will always be overdressed before being underdressed. My favorite accessory is a watch and I'm almost always wearing one. I wear lots of blazers and hats and patent leather when I can. Beyond that, I don't tend to stick to any particular look or style. I'm not afraid of color. I like to mix it up, take a few risks and wear what I like."
Who or what inspires you to wear what you do? "My mood. If I feel like being a bum, I will wear more comfortable clothes, except sweatpants."
If you could raid anyone's closet, whose would it be and why? "Maybe Brad Goreski, because we have similar styles, but mostly for the myriad of bow ties."
What are your favorite trends right now? "I don't pay close attention to trends. I really like super loose knit sweaters right now, and I always love pieces that are military inspired."
What fashion advice would you give to students trying to develop their own look? "Don't worry about trends or what is in. Don't be afraid to wear what you like. There are no rules in style."
Elements of Johnny's Outfit
1. Leather Sleeved-Jacket & Aviators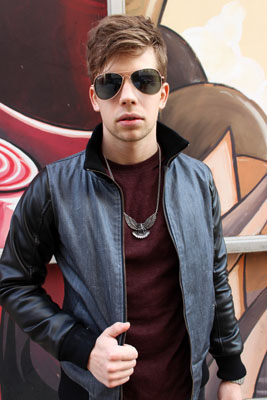 Johnny's gold-rimmed aviators a la Tom Cruise in Top Gun are a great fit for his face, which is key when sporting a pair. And who said leather sleeves are only for letterman jackets? The sleeves on Johnny's jacket add enough edge to his outfit without going overboard.
2. Winged Necklace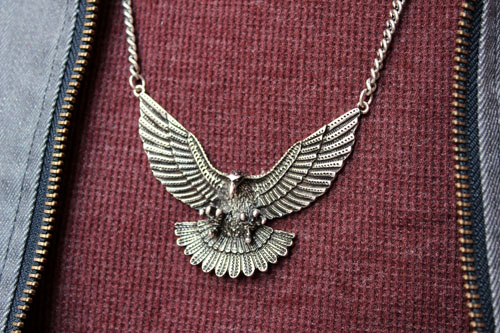 Talk about an intimidating piece of jewelry. Just look at those talons! The burgundy shirt adds a welcome pop of color to the outfit, too.
3. Classic Watch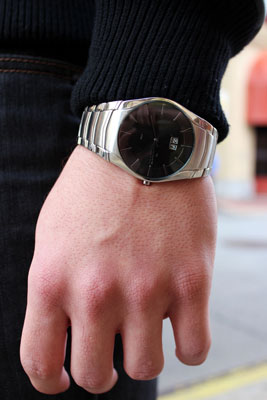 I am the biggest fan of large-faced, everyday watches. They're so practical and have a way of adding instant maturity to any look.
4. Combat Boots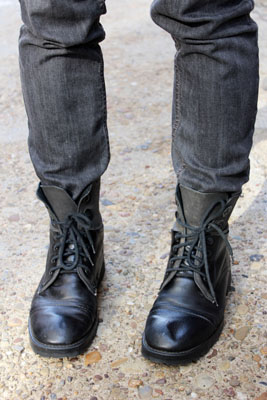 Combat boots are still super versatile, and an instant way to up the badass quotient of an ensemble. I love how Johnny's boots pair perfectly with his leather sleeved jacket and dark, grey washed jeans.
Share Your Thoughts!
What do you think of Johnny's style and perspectives on fashion? Do you get fashion inspiration from men? Which aspect of his outfit do you like most? Let us know with a comment!